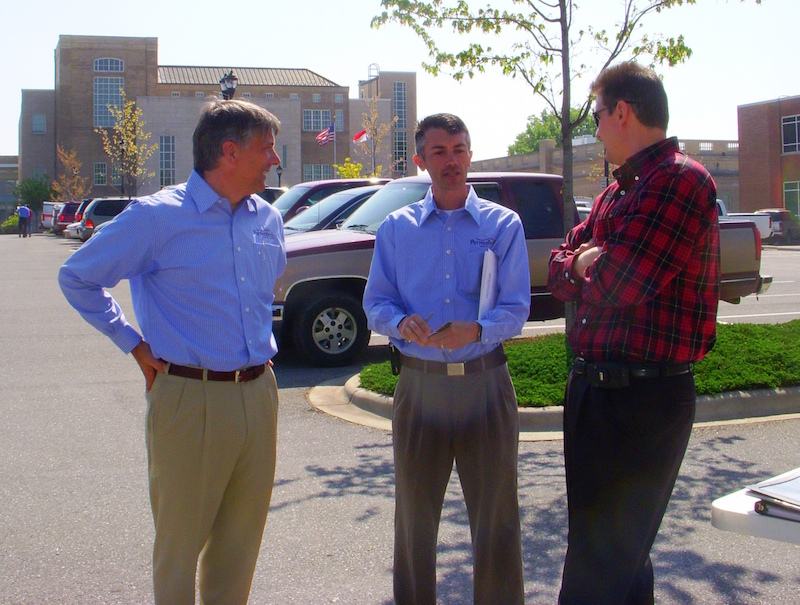 PermaTrak North America was founded in January of 2010 in the United States to introduce the unique PermaTrak system to the North American market. Stewarded by a highly-seasoned team of executives, PermaTrak North America has brought together the best of the best in the precast concrete industry. This ensemble cast includes leading experts in design, manufacturing, supply, marketing and sales of precast boardwalks, greenways, buildings and bridges.
The founders of PermaTrak North America, Tim Beach and Jason Philbin, had previously experienced the satisfaction of introducing innovative infrastructure products into the marketplace as owners of CON/SPAN™ Bridge Systems: Tim as President and Jason as Southeast Regional Manager. Together they were instrumental in CON/SPAN's success throughout the United States.
This talented duo teamed up again to introduce another exciting product to the North American marketplace, PermaTrak systems. In support of PermaTrak North America's efforts, these gentlemen have assembled a highly seasoned and talented team of professionals–engineers, designers, marketers and sales professionals.
Timothy J. Beach, P.E., S.E
Past President

Tim founded PermaTrak North America after serving as President of The Beach Consulting Group, where he consulted with companies throughout the United States on engineering, management structure and startup business plans. Prior to that, Tim served as the President of CONTECH® Bridge Solutions, managing manufacturing, product development, engineering and marketing teams. Before that, Tim was the President of CON/SPAN® Bridge Systems, a recognized leader in the precast bridge market. While President of CON/SPAN®, he was heavily involved in the startup and continued with board responsibilities for BridgeTek, CON/SPAN's largest licensee. Beginning his career with LJB Inc., an Engineering and Architectural firm, Tim's responsibilities grew quickly and ultimately led to the position of Managing Partner. A registered P.E. and S.E., Tim held a BSCE degree from the University of Dayton and an MSCE degree from the University of Cincinnati.
Unfortunately, Tim was diagnosed with a malignant brain tumor, called Glioblastoma Multiforme in June 2010. He passed away from a Glioblastoma MultiForme brain tumor at barely 53 years of age, in April 2012. After his initial surgery he was given 3-6 months to live, possibly a year with treatment. Through clinical trials, knowledgeable physicians and tremendous willpower to live and share his message of hope, we were blessed to have him for 21 months. You can read about his family's ongoing efforts to raise money for brain tumor research here.
Today PermaTrak's leadership team carries on Tim's vision for PermaTrak as a successful national company with an innovative, valuable boardwalk product.
Jason V. Philbin, P.E., M.ASCE
President

Jason joined Tim as a partner to start PermaTrak North America after serving as the Director of Preconstruction Services for Barrier Geotechnical Contractors. Prior to that, Jason was the Southeast Area Engineer and Branch Manager for CONTECH® Bridge Solutions.

Jason began his career with LJB Inc. in Dayton, Ohio and served both CON/STEEL Building Systems and CON/SPAN Bridge Systems prior to moving to Charlotte to work for S.C. Hondros and Associates, a design-build contractor. His passion for innovation and, in particular, the precast concrete industry led to his decision to return to a senior management position at CON/SPAN® Bridge Systems – leading to Jason becoming an owner in the company. He subsequently joined with CONTECH® management team upon its purchase of CON/SPAN.

Jason is currently a member of ASHE, ASCE and ASLA. He has held each of the officer positions with the Southern Branch of the North Carolina Section of ASCE. Jason's passion for sharing engineering with others has led to his ten years' service as North Carolina's E-Week coordinator. A registered P.E., Jason holds a BSCE and an MSCE from the University of Kentucky.
Rodney Uhlenhake
CAD Manager/Production & Logistics Manager

Rodney joined PermaTrak in 2014 to serve as the CAD/Logistics Manager.Rodney has over 15 years of experience with precast concrete products. Prior to coming on board with PermaTrak he spent over 5 years working for HDR, Inc. in the power and rail divisions.

Rodney began his career with CON/SPAN Bridge Systems in Dayton, Ohio and after 6 months was transferred to Charlotte, North Carolina to help start the company's first remote office. After 13 years in Charlotte, Rodney moved back to Ohio to be closer to family. Rodney is a big sports fan and spends his time rooting for the Browns, Buckeyes, & Reds. Rodney also enjoys movies, camping and golfing with family and friends at his local golf course.
Aoife Kavanagh
Sales and Marketing Coordinator

Aoife joined the PermaTrak team in 2018 as a Sales and Marketing Coordinator, following previous positions in a variety of industries, from clothing manufacturers to the food and beverage industry. Aoife's hobbies include running, training for triathlons, and playing Gaelic football (Ireland's national sport). She also enjoys a good bourbon on the rocks or a glass of red wine, and travels to Ireland as much as she can to visit her family.
Emily Davis, PE
Structural Engineer

Emily joined the PermaTrak team in early 2017 as a Structural Engineer. Her engineering career began in Portland, Oregon in the industrial building design industry. She moved "back home" to Charlotte, NC after two years in the building design industry and worked as a structural bridge engineer at Parsons Brinckerhoff for three years before coming on at PermaTrak. Emily's hobbies include playing with her sports-enthusiastic toddler as well as spending time outdoors either hiking, camping or exploring with her family.
Kyle Stanton
Structural Engineer

Kyle joined the PermaTrak team in 2018 as a Structural Engineer. Kyle joins us from Tampa, Florida and previously worked as an Engineering Intern at The Structures Group and as a Foreman at Veteran Sod, LLC.

He has been playing soccer since he was six years old, and is a devoted supporter of English soccer club Manchester United.
Jarrett Westfall
Technical Field Support

Jarrett works in construction support throughout the Southeast region. Previously, he worked as an independent general contractor. With an impressive background in the precast concrete industry, he now handles production supervision and quality control efforts at PermaTrak's precast plant in Texas. He also coordinates production details with PermaTrak Production Manager, Rodney Uhlenhake. Jarrett is valuable to PermaTrak in the field, interacting with installing contractors and sharing PermaTrak's recommended installation techniques. Jarrett and his family live in Gustine, Texas.
Ron Ball
Shareholder, Board Member, Mentor

Ron joined the team after the sale of his business, Auction Software Inc. At Jason's request Ron became an investor, board member and mentor to PermaTrak in 2014 - the objective being to provide some of the business experience and financing lost with Tim Beach's death. Ron started his business career in the 60's with electronics in Silicon Valley, then moved to plastics with Mobil Chemical in the early 70's. In the mid-70's he was intimately involved with a startup company that developed the stretch wrap palletizing business. After a 20-year career as VP of Operations with Lantech, it had become the leader in its field. In 1994 Ron started a software company to support independent auto auctions nationwide, growing that company to a dominant 80+% market share. In 2012 he sold that business to a consortium of the users.
Fritz Fromherz
South Central Region Sales Manager

Fritz leads the company's efforts in the Gulf coast area and the South Central regions of the U.S. Fritz has over 25 years of experience with marketing and sales of precast concrete products. Fritz enhances the PermaTrak team's ability to consult with designers and specifiers of new products on civil engineering and architectural projects. A New Orleans native, Fritz can tell you plenty about Mardi Gras celebrations and crawfish season...and you might find it difficult to come across a bigger college football fan. Fritz also enjoys sailing with family and friends through the channels found in south Louisiana and south Mississippi.

In the video below, Fritz shares his precast concrete industry background with BridgeTek and CON/SPAN Bridge Systems, before joining PermaTrak.
John Pyle
Regional Sales Manager

John joined the PermaTrak team in 2019 as Regional Sales Manager. In his role, he's looking forward to helping clients find the best solution for their needs. "I believe in tailoring a solution to a project's unique challenges as opposed to forcing a product to a site," he explains.

John graduated from Clemson University with a Bachelor's degree in Civil Engineering and is a registered engineer in the state of South Carolina. He's married with two daughters and a dog, and lives in Greer, SC. In his free time, he enjoys boating, hiking, time at the beach, and live music. He's also recently taken up photography as a hobby, and enjoys capturing wildlife, architecture, and landscapes.