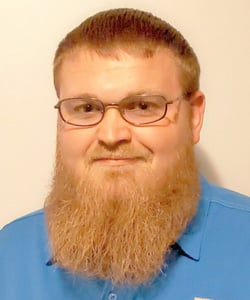 Our team continues to grow with the exciting addition of Joseph Wilkins, who recently joined PermaTrak as our National Contract Manufacturing Manager. In his role, Joseph will be working closely with our manufacturing partners to promote consistency and efficiency with the production of our concrete boardwalk product.
Joseph comes to PermaTrak from Oldcastle Infrastructure, where he began as a laborer and moved through the ranks to become Plant Supervisor within six years. He has completed his Field Technician certification from the North Carolina Department of Transportation and is also certified with the American Concrete Institute.
"We're excited to have Joseph on the team," says Jason Philbin, President of PermaTrak North America. "His manufacturing experience and his curious nature make him a perfect fit for this role. I'm confident he'll be an asset for us and our manufacturing partners as well."
In his free time, Joseph enjoys hunting, fishing, playing the bass, and refurbishing cars with his father. Currently, they're working on a 1969 Chevrolet C10 and a 1980 Pontiac Firebird. He also loves taking cruises and surf fishing when he's at the beach.
Please join us in welcoming Joseph to the team!