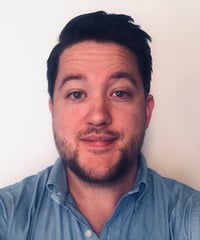 We're excited to announce that Matthew Hefner has joined the PermaTrak team as a CAD Designer.
Matthew comes to PermaTrak with experience in a wide range of projects, from homes and schools to coal, gas, and nuclear power plants. He previously worked as a CAD Designer at Shaw Group, CB&I, and Fluor, and most recently, served as a Senior CAD Designer with Terracon.
It's easy to see Matthew is excited about his new role. "I wanted to work with PermaTrak because I could tell right away it was a company with a great environment to work in and great people to work with," he says. "I'm looking forward to working with the team to design boardwalks and pathways that people will enjoy."
PermaTrak's President, Jason Philbin, adds, "The team is very excited to have Matthew as part of our company. It has not taken long for us to recognize that Matthew is a quick learner and his personal values match with PermaTrak's core virtues. I'm confident he will do well with us."
When he's not working, Matthew enjoys being outdoors, and can usually be found hiking, hunting, fishing, or kayaking.
Please join us in welcoming Matthew to the team!