The timber boardwalk at Jupiter Beach Park on the south side of Jupiter Inlet in Florida has taken a beating over the years from ocean spray, sand abrasion, rough wave action and UV exposure under the FL sun.
Jupiter Beach Park offers a large jetty where inlet fishing is available 24 hours a day, so the boardwalk leading to this jetty/pier has struggled under heavy pedestrian foot traffic. The original boardwalk material constructed of treated Southern Yellow Pine has degraded to such an extent that the boardwalk must now be completely demolished and replaced. As timber planks have continued to rot, check, split and twist, this well-known boardwalk at Jupiter Inlet has required constant management and maintenance funding from the Jupiter Inlet District, a special taxing district.
Over the past several years, the Jupiter Inlet District has experimented with alternative boardwalk materials, testing a composite boardwalk product as well as South American hardwood Ipe planks. The composite boardwalk planks used in the test section have worn down to a smooth finish, creating a slippery walking surface. The South American hardwood planks are deteriorating and splitting, albeit at a slower rate than treated Southern Yellow Pine boards. As these hardwood planks contort, twist and fade over time from the humidity, heat and UV exposure, they force their stainless steel fasteners to strip and pop out. Also, the lack of grip offered by hardwood timber planks results in the same slip concerns.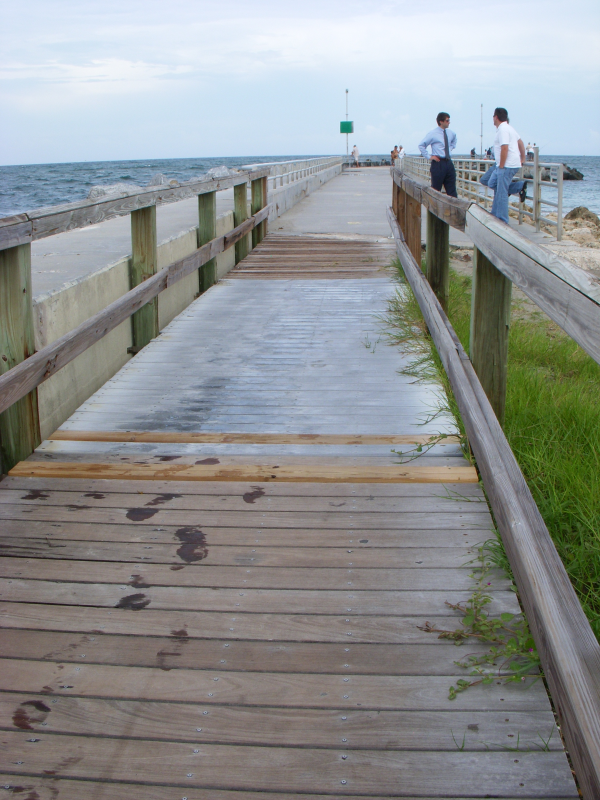 This is where PermaTrak comes in! The beach boardwalk at Jupiter Inlet provides an application where the use of PermaTrak will save Jupiter Inlet District thousands in maintenance life cycle costs. Coastal boardwalk construction quickly and consistently degrades timber or composite products, requiring replacement after 7-12 years.
Reinforced precast concrete offers a more durable, maintenance-free boardwalk material that can stand up to this harsh environment over several decades.
PermaTrak's team of engineers has recently been working with consultant Taylor Engineering to prepare a detailed set of construction drawings. Construction is scheduled to begin in the next 2 months and we hope to keep you updated with more photos on the progress/end results. The boardwalk will be installed by Murray Logan Construction of West Palm Beach. For cost information or specific project questions, you can email me at jphilbin@permatrak.com. I look forward to hearing from you!