PermaTrak Low Profile Series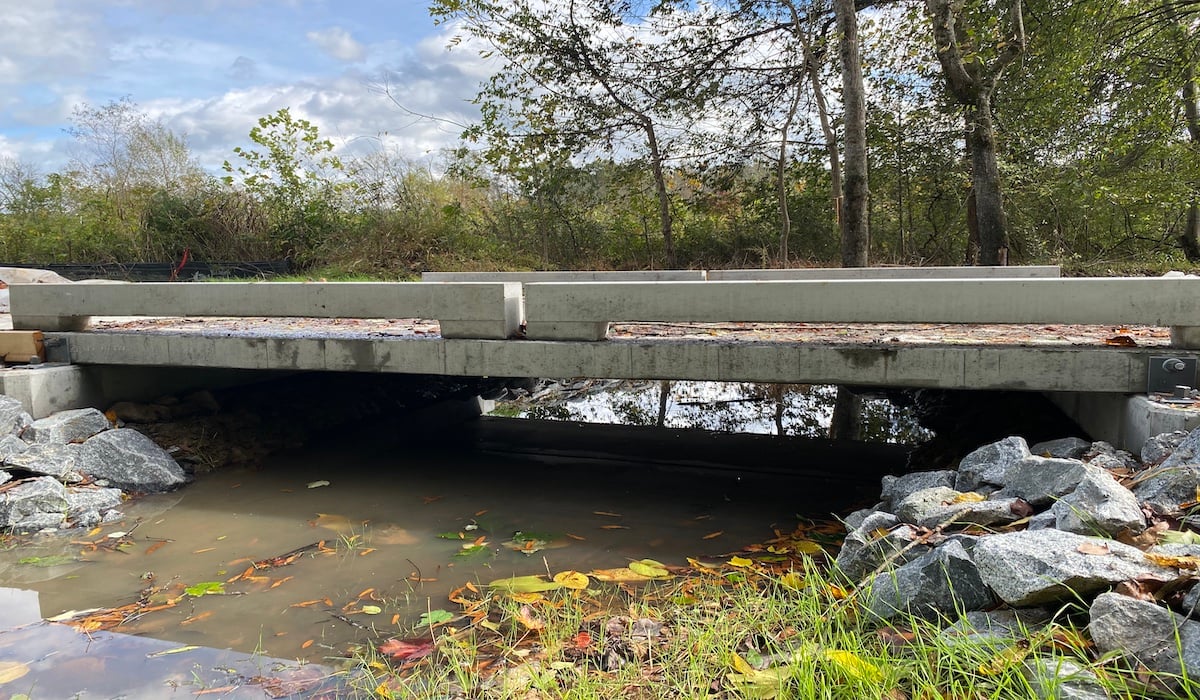 For boardwalk applications that require a shallow structure depth due to limited grade separation from walking surface to finished grade, PermaTrak has developed the Low Profile Series, an innovative design that offers an efficient section with similar structural integrity as a more traditional precast concrete boardwalk.
This complete precast bridge option can be installed as a "bridge in a day" with lower material cost and faster installation time.
How does it work?
Low Profile Series treads are laid in line with the trail and beams act like an abutment beneath the treads, allowing the boardwalk to lie flat with the surrounding trail.
The Low Profile Series is a great fit for projects with shorter span lengths, narrow widths, and low elevations. The traditional PermaTrak options such as color, texture, railing and curb edge treatments are available for the Low Profile Series, however there is a limitation to matching required trail alignment.

Benefits:
Reduced structure depth and walking surface height
Provides maximum hydraulic waterway openings for span to rise ratios
Lower material cost/faster installation
Designed for live loads up to H-10 and can be engineered for construction equipment
May eliminate the need for railing
Common applications:
Shallow grade separations
Over tree roots
Swale crossings
Temporary bridge crossings
Which PermaTrak system is the best fit for your project?
| Feature | Low Profile Series | Traditional PermaTrak Concrete Boardwalk |
| --- | --- | --- |
| Spans bigger than 12' | | ✔ |
| Curvilinear alignment | | ✔ |
| Color selection | ✔ | ✔ |
| Texture selection | ✔ | ✔ |
| Rail/curb treatment | ✔ | ✔ |
| Drop height less than 15" | ✔ | |
| Live load capabilities | ✔ | ✔ |
| No maintenance required | ✔ | ✔ |
| Top down construction capabilities | | ✔ |
Photo Gallery
This product is covered by Patent #5906084 and other Patents Pending. Updated December 2020