Other Notable Multi Use Trails in Indiana
PermaTrak may not have a pedestrian bridge or boardwalk structure as part of these multi use trails. But as engineers who work with professional designers all over the state of Indiana, we closely follow what's happening in the world of trail design and commercial trail projects in general. Below we've included a few notable commercial trails in Indiana.
B-Line Trail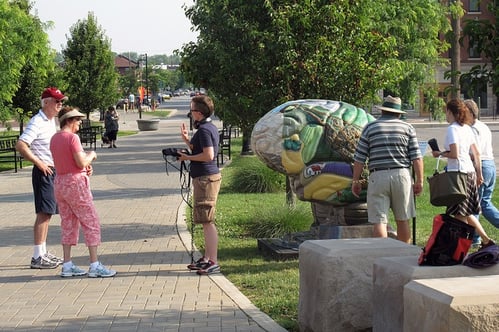 The 3-mile B-Line Trail runs through downtown Bloomington, giving travelers easy access to a variety of local businesses. The trail features multiple fitness stations and four plazas featuring public art, businesses, and theaters, which were made possible through the sponsorship of the Bloomington Board of Realtors.
Photo credits:
Photo 1: lobstar28
Photo 2: WFIU Public Radio
Delphi Historic National Recreation Trail
The Delphi Recreation Trail runs 7 miles and is made using canal towpaths, stream corridors, and abandoned railroads. The trail runs along the only accessible watered section of the canal left in Indiana, and also features the Canal Conference Center, which was built with the help of the Indiana Department of Commerce. The trail itself was built over 9 years by dedicated volunteers.
Monon Rail-Trail
This 8-mile rail trail connects suburban Indianapolis to downtown areas like the Indianapolis Art Center and Indiana State Fair Grounds, as well as local schools and dozens of local businesses. Nearly 1.2 million people use the Monon Rail-Trail, making it one of the busiest in the nation.
Rivergreenway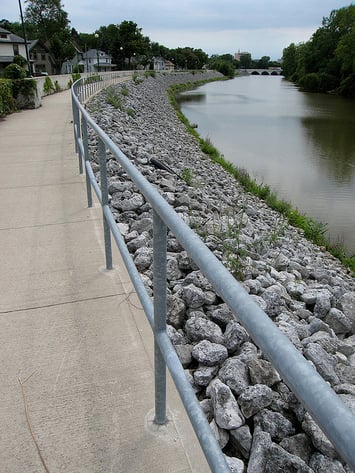 The 23-mile Rivergreenway connects the cities of Fort Wayne and New Haven, running along the St. Joseph, St. Mary, and Maumee Rivers. Perhaps the most interesting part of the trail is the Historic Old Fort, which shows visitors what frontier life was like in the early 1800's. The Rivergreenway was made possible through a partnership of three greenway advocacy groups: the Greenway Consortium, Aboite New Trails and Northwest Allen Trails.
Photo credit: brian kelly