Back in early 2010, PermaTrak made an East Coast Road Tour through 15 cities to introduce a concrete boardwalk system to the United States. Concluding in Florida, some of the designers from the Sunshine State actually took off their socks and shoes to test how hot a concrete boardwalk material really is. Why would a working professional take off their socks and shoes in front of everyone like that? Because signs like this one actually exist!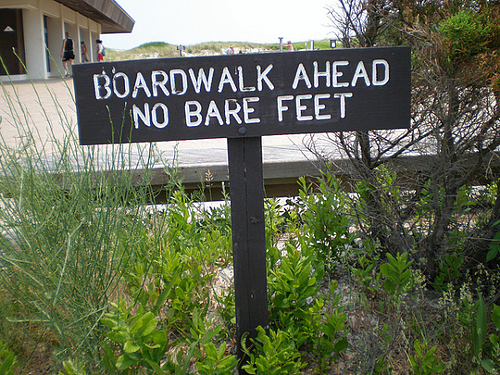 These designers needed to test firsthand just how hot the boardwalk's surface temperature would be. Their reaction was overwhelmingly positive – even in direct sunlight, they could step and walk barefoot on the boardwalk without burning their feet.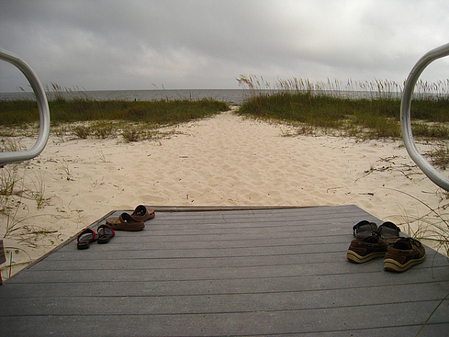 A lot of public beaches have boardwalks, and not just because walking through sand with shoes on is a challenge. Often, elevated boardwalks are installed on beaches to protect the delicate ecosystem from being disturbed — or destroyed — by passersby. Beach boardwalks are a great way to preserve the natural environment, and they make it easy to get from beachfront to parking lot (or to cross entire islands, such as the boardwalk on Ship Island in the Gulf Coast).
So how do the surface temperatures of common boardwalk materials compare?
What does hurt, though, is going barefoot on a boardwalk that has high heat retention. While walking barefoot on a boardwalk is generally discouraged, it's bound to happen, and a scorching hot surface is hazardous. When designers decide which boardwalk materials to use for a coastal location, considering surface temperatures becomes a part of the material specification process.
Comparing Boardwalk Material Temperatures
Wood
Out of the trio, wood boardwalks rest right in the middle of surface temperatures. In this case, the concerns with walking barefoot on a boardwalk have less to do with temperature and more to do with the condition of the boardwalk. If wooden planks are coming loose, sticking up or splintering, there's an increased chance of pedestrians tripping or ending up with splinters that can be just as painful as burned feet. While hot, walking on a wood boardwalk that's been in the sun for a few hours is doable.
Composites
Composites contain a high percentage of plastic, and plastics are notorious for their heat absorption. Whether the composite boardwalks planks are light tan or dark brown, they'll get extremely hot in direct sunlight. For a residential deck, this may not be a huge issue, with tree shade and overhangs from the house shielding the planks from the sun. But for a coastal boardwalk with hundreds or thousands of pedestrians on it daily, composite boards becoming overly hot becomes a major concern.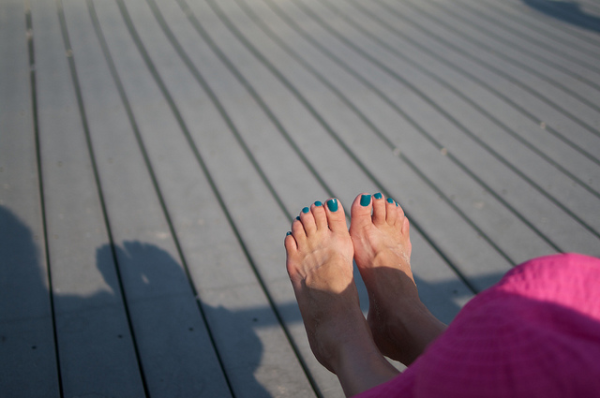 Not only do composite materials get hot, but they retain a significant portion of that heat for hours after the sun goes down. Over time, heat breaks down the core plastic materials in the composite planks. This breakdown can result in sagging or warping, leaching chemicals, or deck board swelling that will result in an uneven walking surface.
So what does this all mean in the big picture? The plastic-based boardwalk material in direct sunlight will be heavily impacted by heating and cooling cycles, resulting in more annual maintenance or a complete repair of the structure in a short amount of time (5-10 years is common). For a commercial boardwalk structure, that's simply far too expensive for most municipalities or federal agencies to keep up with.
Concrete
Precast concrete has a high thermal mass — meaning that it absorbs heat well. As a boardwalk decking material, a high thermal mass means that changing the concrete decking's surface temperature requires large amounts of heat energy. Particularly when the product is light in color, a high-density material like concrete will moderate daily temperature variations.
Wood boards or composite plastic decking allow heat to transfer, rather than absorb, much more readily. While concrete won't stay cool in ten hours a day of direct sunlight, it certainly won't fry an egg or burn your feet at the beach. Overnight, as temperatures cool, precast concrete slowly releases its heat build-up and leaves it ready to absorb more the next day — all without the heat causing the material to break down.
Precast concrete has the advantage of handling heat well, while also keeping pedestrians safe from splinters and nails. Pedestrians accessing the public beach can finally go barefoot worry-free!
Related Articles:
Image Credits:
Photo #1 by whoaitsaimz
Photo #2 by sun dazed
Photo #3 by Nick Harris1