MacDonald Woods Park - Cary, NC
PermaTrak Project Map
Other Notable Multi Use Trails in North Carolina
Our boardwalk design team works closely with landscape architects and civil engineers across North Carolina on commercial trail design projects. So it's safe to say we are advocates for the development of more multi use trails trails in North Carolina. Below we've included several notable commercial multi use trails in North Carolina.
Panther Creek Greenway
The Panther Creek Greenway is a 1.5 mile trail running through Cary, North Carolina. The Greenway will extend from the Cameron Pond Planned Development District to Cary Park Lake. The cost of the project is approximately $1.4 million, and funds were raised from the 2012 Community Investment Bonds referendum. The trail will help link various parts of Cary's greenway system, and will cross over Panther Creek and include a boardwalk as part of the project.
The American Tobacco Trail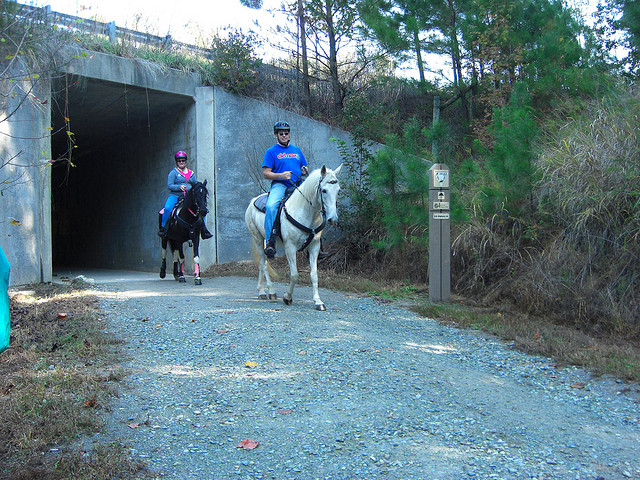 The American Tobacco Trail will eventually run over 22 miles from downtown Durham to New Hill in Wake County. The northern length of the trail is asphalt and allows for runners, cyclists, and rollerbladers, while other sections contain a softer material (screened, crushed stone) that allows for equestrian use. The rail trail allows access to schools, local businesses, and parks. The ATT is a designated segment of the 2600-mile Urban Appalachian Trail connecting cities from Maine to Florida. The ATT was built by the Triangle Rails to Trails Conservancy (TRTC), a state chartered non-profit organization. Its purpose is to work with local and state government officials to preserve local abandoned railroad corridors for uses such as recreational trails. (photo by VirtKitty)
Kings Mountain Gateway Trail
The Kings Gateway Mountain Trail currently runs 4.3 miles from the city of Kings Mountain, but will eventually extend some 10 miles and connect Kings Mountain to Crowders Mountain State Park, Kings Mountain State Park, and the Appalachian Trail. Over 100,000 people use the trail's fitness loop every year. The trail is a combination of asphalt and gravel.The trail is sponsored by almost 30 corporate and private donors.
Little Tennessee River Greenway
The 5-mile Little Tennessee River Greenway features a wide array of activities from cycling, hiking and rollerblading to Frisbee golf, canoeing and picnicking. The trail includes three pedestrian causeways including a historic steel suspension bridge. Built with asphalt and gravel, the trail was initially begun through a partnership between Duke Power and Nantahala Power and Light, and ran along a strip of land bought for a power line. Eventually, community leaders formed the Friends of the Greenway (FROG) to expand and maintain the trail and its facilities.
Dismal Swamp Canal Trail
This 8.5 mile trail runs adjacent to the Dismal Swamp Canal and allows for cycling, running, and rollerblading, and provides easy access points for canoeing and kayaking. The trail also runs through the 112,000 acre Great Dismal Swamp Refuge. The refuge is home to an astonishing array of wildlife, featuring over 200 species of birds, 96 species of butterflies, as well as white tailed deer, black bears, bobcats and river otters. The area has historical significance as well, as it was home to George Washington's Great Dismal Swamp Company, which sought to drain local swamps to create arable agricultural land, and was an important stop for the Underground Railroad. (photo by US Army Corps of Engineers Norfolk District)
Send us a note if you'd like your trail added to the list!