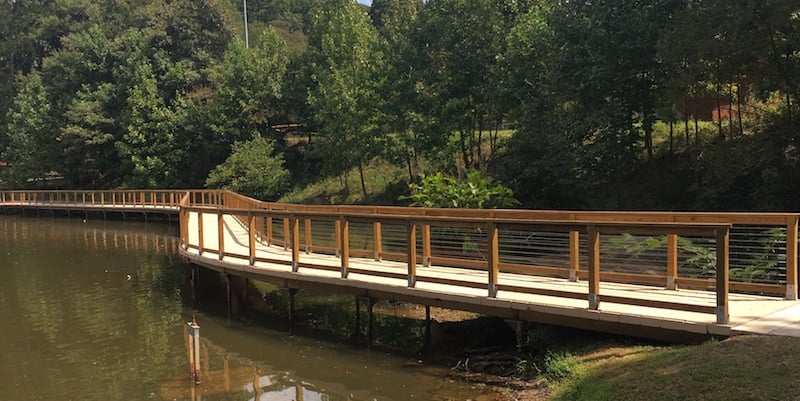 PermaTrak on Helical Pile Foundation
Helical piles, sometimes referred to as screw piles, can make for a durable and environmentally friendly boardwalk foundation. As a pre-engineered foundation system, helical piles require small installation equipment and can be easily modified in the field.
Helical piles may be a good foundation solution for project sites with:
restricted access
high water table
limited vertical head room, or
weak surface soils
They consist of one or more helix plates attached to a central steel shaft.


With a PermaTrak's concrete boardwalk system installed on a helical pile foundation system, owners can benefit from a very durable, maintenance-free structure overall.

Once a pile is installed to the specified capacity, a steel plate is secured to each pile, setting the template for the rest of the PermaTrak boardwalk construction process.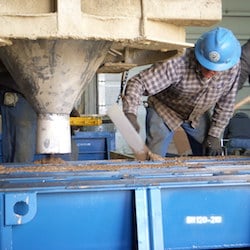 1. The PermaTrak concrete boardwalk system is manufactured by pre-qualified regional precasters throughout the country. We own and maintain these steel production forms to ensure consistent quality control.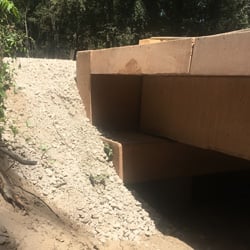 2. The boardwalk's beginning and ending stations typically utilize our precast abutment piece, on an unreinforced concrete leveling pad. Lift inserts allow for easy handling.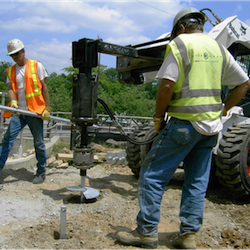 3. Steel helical piles are installed or "screwed" into soil to a specified torque.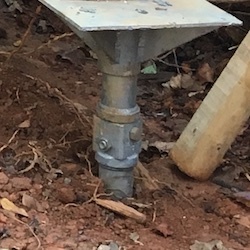 4. A steel cap plate with gusset supports is attached to the top of the helical pile.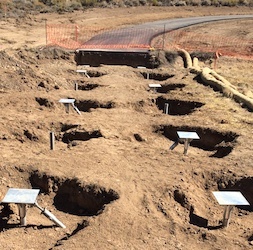 5. In plan view, the helical pile foundations with attached steel cap plates set the template for the PermaTrak beams and treads to be installed.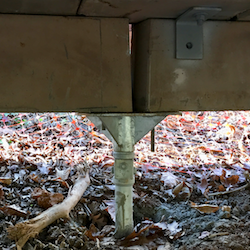 6. PermaTrak concrete beams sit directly on helical steel cap plate.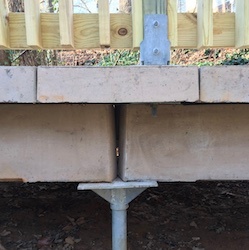 7. Reinforced, precast concrete beams span from helical pile to helical pile.
8. A 1/8'' rubber bearing pad strip is laid on the beams to eliminate any potential uneven bearing (picture shown with different foundation type).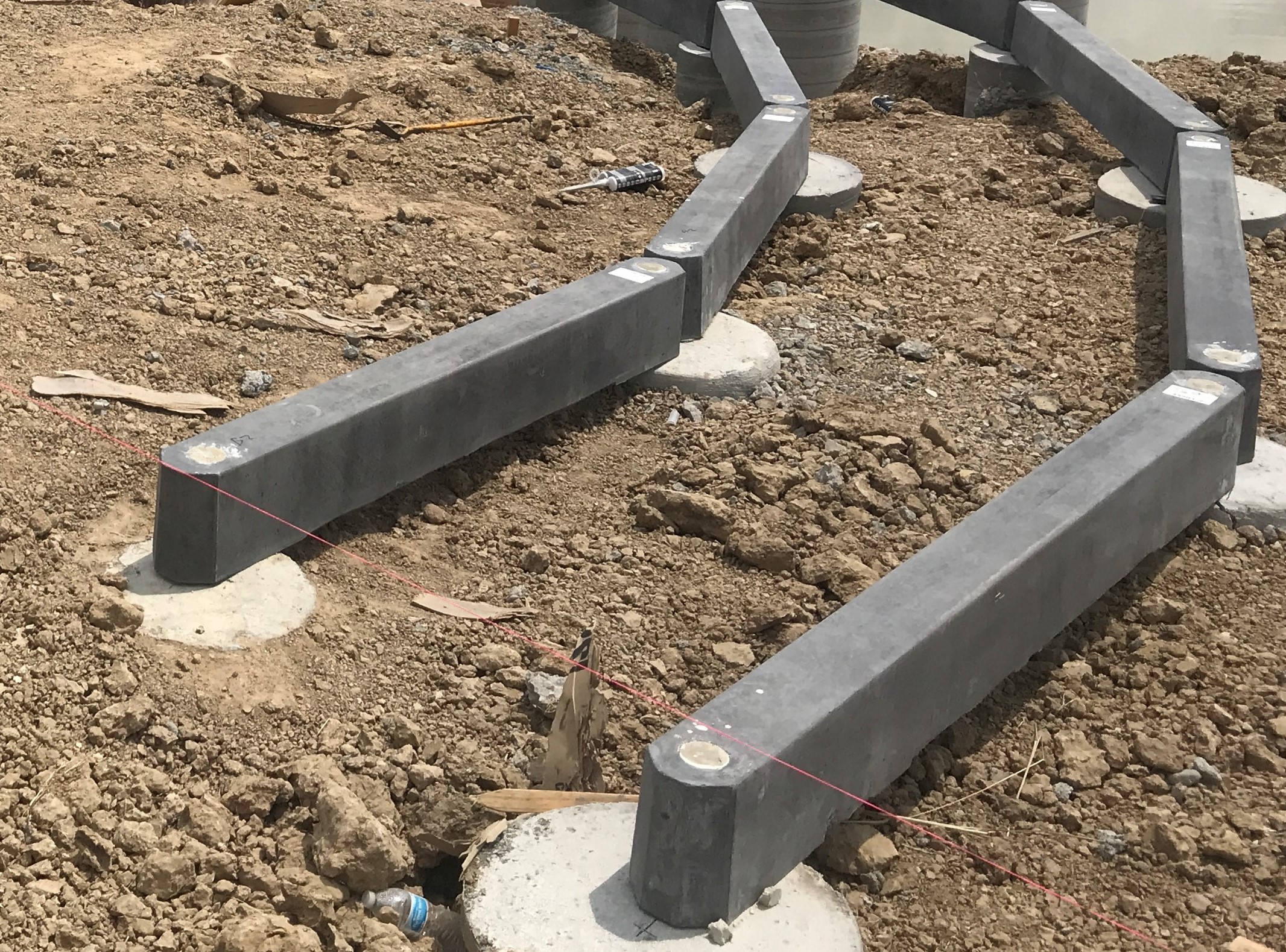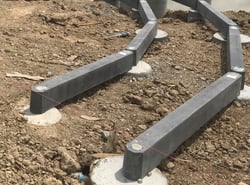 9. Curved alignments are easily accommodated by adjusting the beam lengths of the inside and outside runs (picture shown with different foundation type).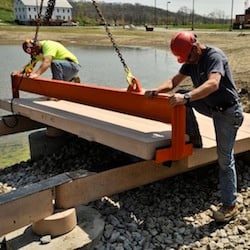 10. Precast treads are easily maneuvered into place with small construction equipment. Spud bars or crow bars used from underneath the boardwalk allow installers to adjust the treads' final position on the precast beams without damaging the finished walking surface (picture shown with different foundation type).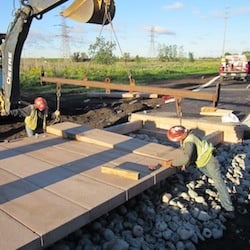 11. Tread installation continues by aligning PermaTrak's interlocking keyway system and maintaining 1/8"-3/8" joint spacing between treads.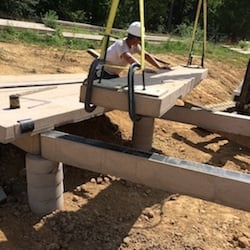 12. Curved alignments are formed by use of tapered boardwalk tread components. See our Engineering Layouts page for more information on horizontal alignment and minimum radii (picture shown with different foundation type).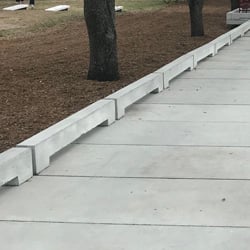 13. Precast concrete curbs (supplied by PermaTrak) are also popular choices as an add-on feature. Connecting hardware is hidden from view and curbs attach without any field drilling.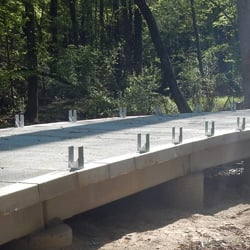 14. PermaTrak's steel brackets are manufactured with a galvanized steel finish. A 4'' x 4'' timber post fits into the bracket to allow for a variety of timber railing designs. Bolts connect to a bottom plate on the underside of the walking surface (picture shown with different foundation type).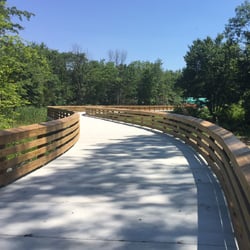 15. Railing options with the PermaTrak boardwalk system span a wide range. See Railings for pricing and design information.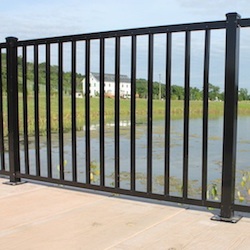 16. Aluminum railings can also be supplied as a cost-efficient boardwalk railing. See "What Types of Railings Does PermaTrak Offer?" for more information.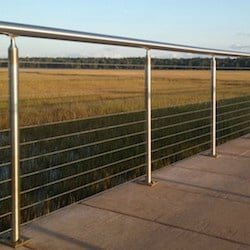 17. A stainless steel railing with cable strands offers a transparent look, but is one of the more expensive options to complete a boardwalk project.