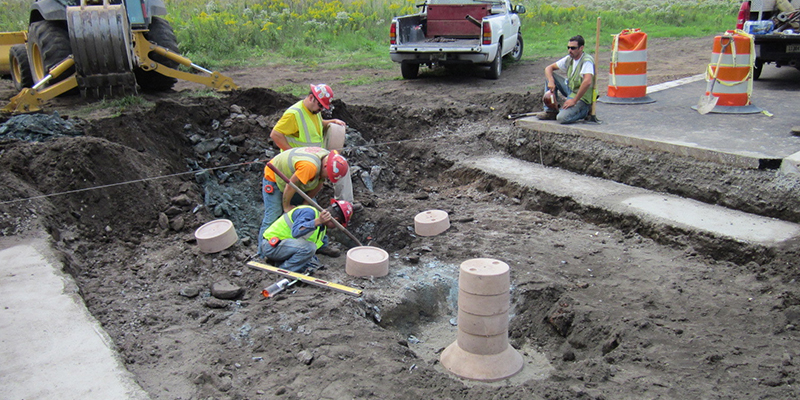 PermaTrak on Precast Concrete Pier Foundation
The steps below show a typical concrete boardwalk construction process using precast concrete piers, supplied by PermaTrak. Depending on the soil conditions and layout of the project, PermaTrak's precast concrete piers can serve as a low-impact, cost-competitive foundation option. Depending on your project budget, location or site conditions, another foundation type may be a better option. See "Boardwalk Foundations: Which Type Is Right for My Project?"
Precast concrete piers supplied by PermaTrak consist of three stackable components: bases, risers, and caps. Excessive excavation of the project site is eliminated, providing owners with a boardwalk foundation suitable for minimal tree root disturbance.
See our main Foundations page to read more about foundation types used with the PermaTrak system.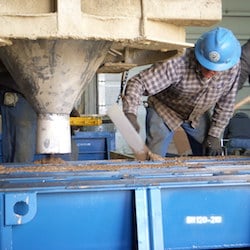 1. The PermaTrak concrete boardwalk system is manufactured by pre-qualified regional precasters throughout the country. We own and maintain these steel production forms to ensure consistent quality control.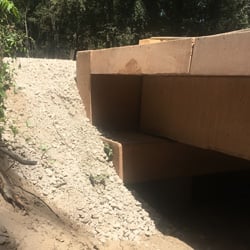 2. The boardwalk's beginning and ending stations typically utilize our precast abutment piece, on an unreinforced concrete leveling pad. Lift inserts allow for easy handling.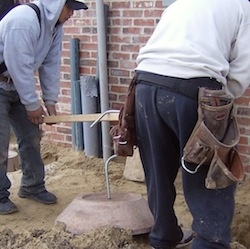 3. The base component of our concrete pier foundation option spreads the load to the sub grade. Weighing 130 lbs. each, bases can be maneuvered by hand into position.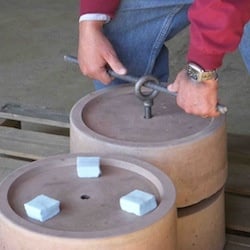 4. "Riser" components can be stacked for elevation changes, without any hardware required. Lifting inserts allow contractors to move these pieces by hand (~80 lbs. each).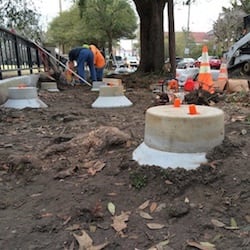 5. "Cap" components transfer the load from the pier to the precast concrete beams. The dimples on the top of the caps accept the spherical polyurethane pins. This pier is installed on a compacted granular base.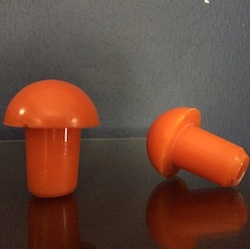 6. Spherical, polyurethane "mushroom" pins connect the precast beams to the foundation elements.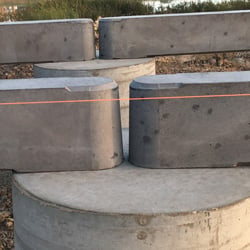 7. Once levelness and position of the concrete pier has been verified, PermaTrak's beam can be set. Typically a 1/2" gap is left between ends. Shim and grout may be required under the beam to ensure proper slope.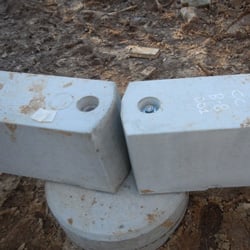 8. Beams may require a mechanical connection to the pier, depending on specific project requirements.
9. A 1/8" rubber bearing pad strip is laid on the beams to eliminate any potential uneven bearing.
10. Curved alignments are easily accommodated by adjusting the beam lengths of the inside and outside runs.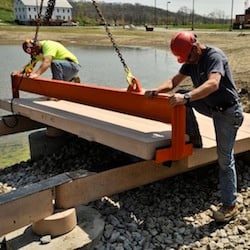 11. Precast treads are easily maneuvered into place with small construction equipment. Spud bars or crow bars used from underneath the boardwalk allow installers to adjust the treads' final position on the precast beams without damaging the finished walking surface.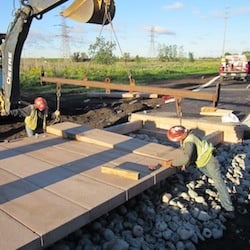 12. Tread installation continues by aligning PermaTrak's interlocking keyway system and maintaining 1/8"-3/8" joint spacing between treads.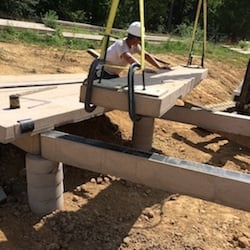 13. Curved alignments are formed by use of tapered boardwalk tread components. See our Engineering Layouts page for more information on horizontal alignment and minimum radii.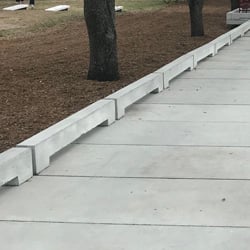 14. Precast concrete curbs (supplied by PermaTrak) are also popular choices as an add-on feature. Connecting hardware is hidden from view and curbs attach without any field drilling.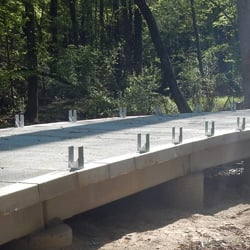 15. PermaTrak's steel brackets are manufactured with a galvanized steel finish. A 4'' x 4'' timber post fits into the bracket to allow for a variety of timber railing designs. Bolts connect to a bottom plate on the underside of the walking surface.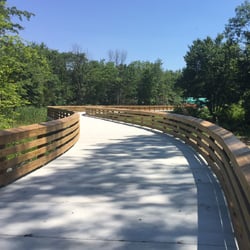 16. Railing options with the PermaTrak boardwalk system span a wide range. See Railings for pricing and design information.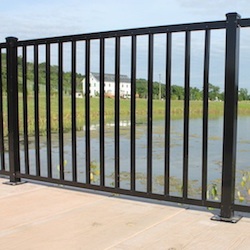 17. Aluminum railings can also be supplied as a cost-efficient boardwalk railing. See "What Types of Railings Does PermaTrak Offer?" for more information.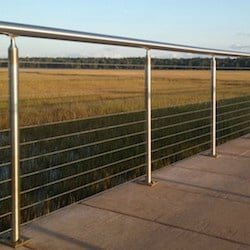 18. A stainless steel railing with cable strands offers a transparent look, but is one of the more expensive options to complete a boardwalk project.