Engineers and landscape architects have plenty of material options in designing a foundation system, including:
Timber (pressure treated piles)
Composite
Concrete (precast piers, cast-in-place, caissons, precast piles, etc.)
Steel (helical, H-pile)
Continue to read through the information below if you're looking to find the answers to any of the following questions:
I have a boardwalk project through a wetland area; what are my foundation options?
Which foundation types are most cost effective?
Can I use timber piles with your PermaTrak system? If so, how do the piles connect?
As always, our professional engineering team is available to discuss boardwalk design and engineering team is ready to assist landscape architects and engineers who are researching their boardwalk materials options. We offer engineering and CAD support details for PermaTrak projects that range in foundation type from precast pier to driven pile.
Foundations for PermaTrak Boardwalk System: Timber, Concrete or Steel
1. PermaTrak Abutment Component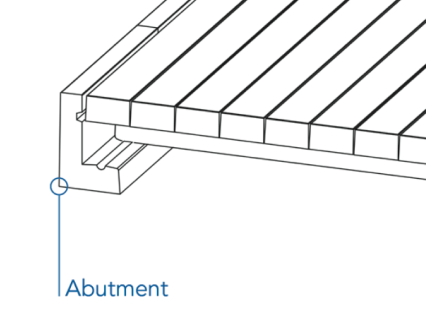 The precast concrete abutment is an "L-shaped" shallow foundation component, much like a conventional bridge beam seat. It is typically used at the beginning or end of the boardwalk run. They are designed for lateral earth pressure against one side and for the load transferred from the beam and tread combination from the first span.

This abutment component may rest on a bed of compacted stone or an unreinforced cast in place pad (aka "mud mat") so that load can be transferred uniformly to the in situ soil.

These abutments contain a horizontal reveal positioned to receive the first groove on the adjacent tread.

The beam seat of the abutment has a semi-circle shaped valley for proper seating of the precast beams.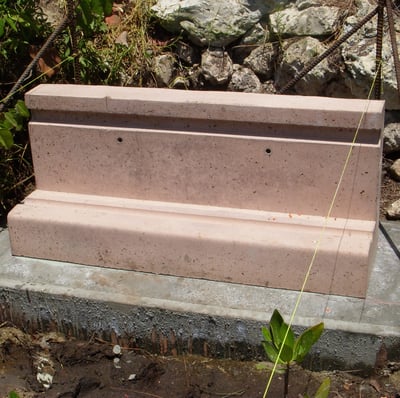 2. Precast Concrete Pier System (supplied by PermaTrak)
Precast piers are advantageous to engineers and designers for many reasons. First, these relatively-light components are easily handled in the field by laborers or small lifting equipment such as a Bobcat®. Taller piers are achieved by adding risers to the precast pier. Typically 42 inches is a maximum total height for a precast pier. Second, precast piers allow for fewer disturbances to the sub grade and surrounding areas than driving deep foundations. Read about projects (specifically Mellow Mushroom, Judaculla Rock, Robertson Park, Kaiki Trail) that have taken advantage of using this low-impact foundation system here.
If feasible, we recommend using this precast concrete pier system; it is the most cost-effective foundation option for a commercial boardwalk. See the step-by-step boardwalk construction process here.
Shallow footing option
Most cost-effective
Stackable components consisting of base, riser(s), and cap
Can stack additional risers up to 3 1/2 feet in height above grade before additional bracing is required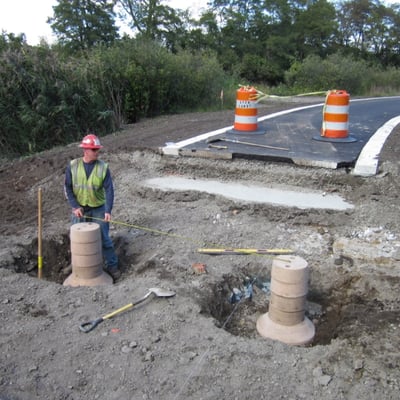 3. Cast-in-Place Concrete Shallow Footings (Sonotube)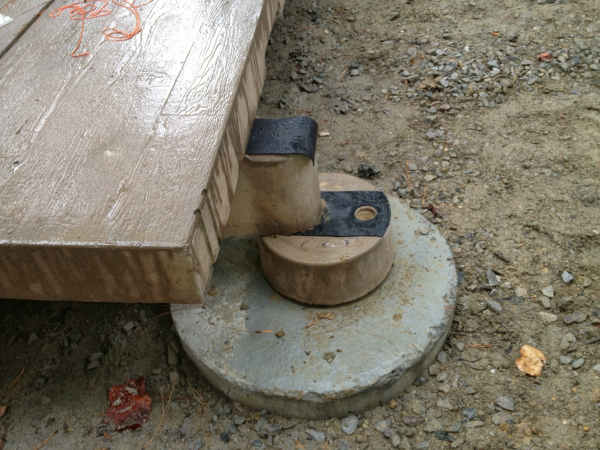 Cast-in-place concrete shallow footings are typically circular or square, and commonly formed with a Sonotube form. The Sonotube (or equal product) acts as a stay-in-place form. The advantages associated with concrete piles (durability & longevity) are realized with this method. Shallow footings may be preferred over deep footing options since they require smaller equipment and are simpler to form and construct, resulting in lower costs. See the step-by-step installation process of a concrete boardwalk on CIP shallow footings here.
Shallow footing option
Typically more cost-effective than a deep foundation option
Circular or square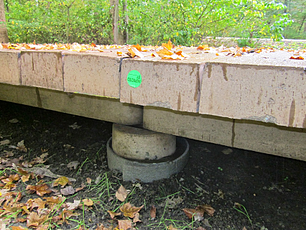 4. Timber Piles
Throughout the Gulf Coast region of Alabama, Mississippi and Louisiana, Pressure Treated timber piles (aka timber poles) are the most common deep foundation option for commercial boardwalks. 12'' diameter piles are often specified.

Several variables will impact the price of timber pile installation: site access, diameter of pile required, required driven depth, geographic region, total number of piles, soil conditions, etc. The PermaTrak precast cap is then affixed to the top of the timber pile with a lag screw. See the step-by-step timber pile installation process here.
Deep foundation option
Typically on the cheaper end of all deep foundation types
10- and 12-inch diameter most common
Typically 10 feet to 40 feet total pile length
PermaTrak cap secured to top of pile transitions from foundation to PermaTrak system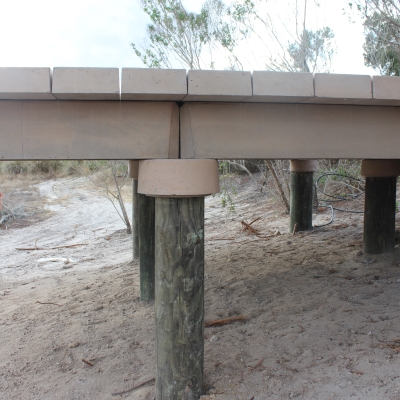 5. Composites - Fiberglass Piles
Deep foundation option
Durable
Lightweight
Shapes similar to conventional deep foundation options (circular
Cost ranges between timber piles and precast concrete driven piles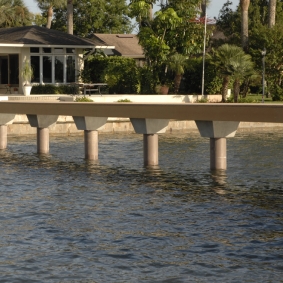 6. Drilled Shaft or Concrete Caisson
This type of deep foundation is a reinforced, concrete member typically formed by advancing a temporary or permanent casing. Once a hole is cased, reinforcing is placed and concrete is poured inside. Sizes typically vary from 12 inches to 42 inches in diameter for PermaTrak boardwalk applications. The PermaTrak cap attaches similarly to the that of a cast-in-place concrete foundation, via a steel dowel and epoxy connection.
When designing a boardwalk on cast-in-place caissons, designers will consider site conditions, industry standard casing sizes, and finished boardwalk elevation (height above grade). All of these factors influence the structural engineer's design for diameter and depth of the caissons. The photo to the right from a multi use path project shows a walking surface at roughly 5-6 feet above grade.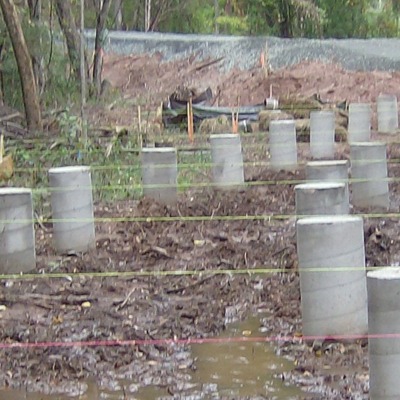 7. Steel Piles (H-pile, Pipe, Helical)
This type of foundation is a steel member. These piling systems offer durability and potential long-term cost savings for harsh environments such as floodplains or over bodies of water. Common shapes are H-piles and open pipe shapes.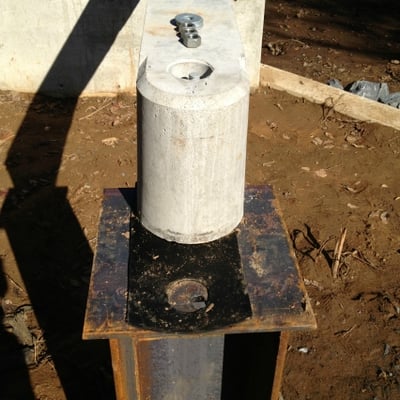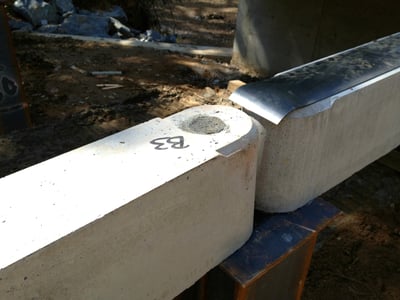 Steel piles may provide several distinct advantages over timber or concrete foundations for your project site. Helical "screw" piles may also provide a solid foundation option. Helical "screw" piles may provide a solid foundation option. These piles are typically advanced in sections, allowing for much lighter driving equipment to be used. For example, this type of foundation lends itself well to a wetland boardwalk application where top-down construction is required.
Minimal disturbance
Typically more cost-effective than a deep foundation option
Circular or square shafts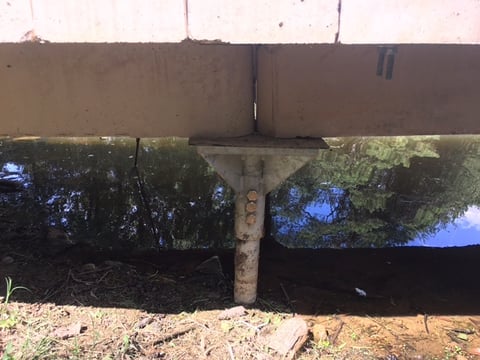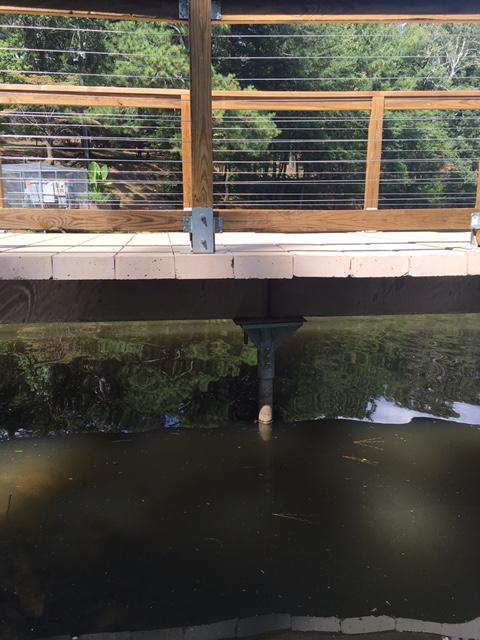 8. Driven Precast Concrete Piles
Similar to steel piles, precast concrete piles are less commonly used for lightly loaded boardwalk applications. Typically manufactured in circular or square shapes, they provide a durable deep foundation option. The PermaTrak cap attaches similarly to other concrete options with a steel dowel and epoxy connection.
Deep foundation option
Durability and longevity
Higher cost than most foundation systems
You can also read more on finding the right foundation type for your project by viewing this blog article - "Boardwalk Foundation: Which Type is Right for My Project?"