Between 2011 and 2012, PermaTrak and Paul Kuhn, Capital Program Manager for the Town of Cary, NC, partnered to complete several community improvement projects.
MacDonalds Woods Park

:

Boardwalk traversing low land + a bridge crossing a creek area
White Oak Greenway

:

Elevated boardwalk in a protected wetland, with a limited vertical clearance under the I-540 bridge, and designed for a large emergency vehicle
Dunham Park: Boardwalk renovations consisting of two single span structures
Panther Creek: 870 LF of 20,000 GVW boardwalk at two site locations, creating a continuous trail between Cameron Pond and Cary Park with grade separation under I-540
| | |
| --- | --- |
| MacDonald Woods - 10 Years Later (Picture taken in December 2022) | Panther Creek - 10 Years Later (Picture taken in December 2022) |
| Dunham Park - 10 Years Later (Picture taken in December 2022) | White Oak Greenway - 10 Years Later (Picture taken in December 2022) |
On the decennial anniversary of project completion, we caught up with Paul. Over the years, Paul has served in various capacities for Cary, NC, including as project manager, landscape architect, and overseeing all construction for Cary. As Capital Program Manager, he oversees Cary's capital program identifying funding and projects based on community needs.
Summarizing the impetus for working with PermaTrak, Paul recalls, "We were looking for a solution. We've experienced the need to perform maintenance on wood boardwalks, along with safety concerns related to holes and cracking. We were trying to provide our public works with something easy that they wouldn't have to worry about."
In exploring his options, he discovered concrete boardwalks. "We contacted PermaTrak and piloted the product with a couple of small projects. We ended up working with PermaTrak for projects that were 10 feet long and others that were several hundred feet long."
In all the projects completed, Paul notes, "Where timber boardwalks requires consistent maintenance and replacement, we haven't had any issues with concrete." Clean inspection reports further validate Paul's sentiments.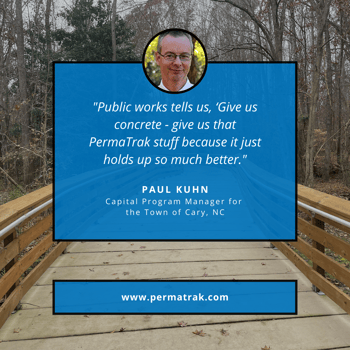 "The slip resistance is so much better," Paul says of another benefit of PermaTrak's product. With wooden boardwalks, Paul notes that mold will often grow on shady areas in the summer – requiring warning signs and potentially dangerous conditions for bikers.
"Public works tells us, 'give us concrete – give us that PermaTrak stuff because it just holds up so much better'," says Paul.
Ten years later, he's pleased with the PermaTrak solution, pointing out another benefit of concrete. With 2-foot plank widths and less joints, PermaTrak boardwalks also provide a smoother, simpler experience for recreational activities like rollerblading and biking.
Working closely with the Public Works Department that maintains structures, Paul says that anytime a new boardwalk structure is required - he's asked, "Can we do PermaTrak concrete?"