The Rocla PermaTrak concrete boardwalk system underwent a baptism by fire in January 2008, when a bushfire engulfed the boardwalk in a native vegetation reserve at Comet Bay, WA.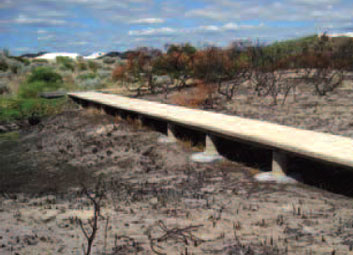 The PermaTrak boardwalk is part of a walking track through the reserve, which forms part of the new Comet Bay College campus. The boardwalk survived the fire undamaged and unmarked.
Landscape architect Stuart Pullyblank of Urbis Landscape Architects said the concrete system was specified for its permanence and low maintenance, as well as its imperviousness to fire and termites. "Timber is not so permanent in the dry climate around Perth, where it cracks and breaks, and jarrah is too scarce and valuable for applications like this."
The 120-metre boardwalk is made up of precast reinforced-concrete components, including
2-metre treads on 2-metre bearers, supported by precast stumps and risers.
(Taken from Rocla – July 2008)
See our related blog post for an explanation of boardwalk material fire resistance ratings.