Though there's been a surging demand for trails and greenways in the past few years, obtaining an environmental grant to develop them can be somewhat challenging. There are numerous federal grants and programs, many reserved for local and state government, nonprofits and communities. While privately funded grants are more rare, they do exist.
Below is a quick list of several grants available for the creation and/or preservation of trails and greenways across the United States. Much needed greenway funding isn't always easy to obtain, but we hope this will make your search a little easier.
Grants for Trails and Greenways – Planning, Design, and/or Trail Construction
American Hiking Society's National Trails Fund
The National Trails Fund is reserved for organizations in the Hiking Alliance that are also 501(c)(3) certified nonprofits. Members that lack that accreditation do have the opportunity to use a fiscal agent. Through this fund, the American Hiking Society has given over $560,000 to 182 trail projects. It is the only privately funded national grants program that gives solely to the building and protecting of hiking trails.
Federal Recreational Trails Program Grants
The Recreational Trails Program remains one of the most notable givers in trail maintenance and development in the United States. Its funds are pulled from the Transportation Alternatives funding pool. These grants can be put towards the repair and management of existing trails as well as the development of new ones, in addition to projects that meet other criteria. Private organizations are eligible if they meet the state's individual criteria.
Kodak American Greenways Grant
The Kodak American Greenways Awards Program is a partnership project of the Eastman Kodak Company, National Geographic and the Conservation Fund that gives a series of small grants ($500 to $2500) for the planning, design and implementation of greenways. Public agencies may apply, but nonprofits are given preference.
Bikes Belong - PeopleforBikes Community Grants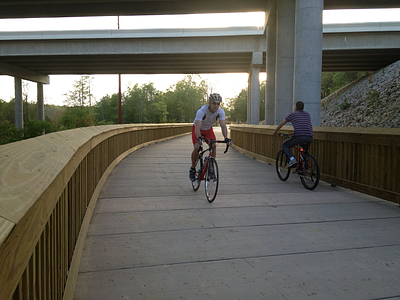 PeopleforBikes has an ongoing program called Bikes Belong that supports infrastructure for bicycle riding, from bike trails and mountain paths to BMX facilities.
Funding is reserved for non-profit organizations that focus on bicycling, active transportation and community development, as well as local, state and government agencies. Grants are only for specific projects or programs and not for general operational costs.
Though reserved for their clients, Alta Planning has grant specialists on staff and has leveraged over $95 million in grants for bicycle, pedestrian and trail projects. While not giving grants directly, they have a history of success in acquiring large amounts of funding from state, national and local sources, both public and private, for their clients' projects.
From 1989 to 2013, the Conservation Alliance has given over $12 million in grants to protect and preserve wild areas across North America, both for their habitat and for recreational purposes. These grants are for registered 501(c)(3) organizations that meet their criteria. While these funds are often for protecting land, they have been utilized for providing pedestrian access to wild lands, which includes trail development.
Bottom line: there are environmental grants out there for your trail and greenway projects!