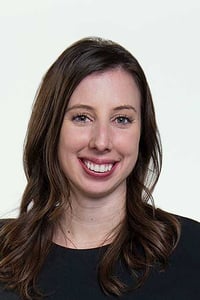 The PermaTrak featured designer article series showcases top performing landscape architects and engineers who discuss their design perspective, current projects, challenges, and accomplishments.
Our latest featured designer is Kara Beck, PLA from Eriksson Engineering Associates, Ltd. (EEA). Kara is a Landscape Architect who enjoys using her attention to detail to create unique spaces specific for a project's user to enjoy.
We recently talked with Kara about her background, advice for new landscape architects, and her experience with PermaTrak on a recent project.
Question: Tell us about your background and the work you do for EEA?
Kara: I joined Eriksson Engineering Associates in 2017 and support the firm's Landscape Architecture service offerings. While completing my bachelor's degree in landscape architecture at Michigan State University, I gained horticultural experience working at Frederik Meijer Gardens in Grand Rapids, Michigan and at Mt. Cuba Center in Hockessin, Delaware. Since graduating, I also worked in the design-build sector of landscape architecture as a project manager overseeing landscape construction projects. At EEA, I collaborate with our civil engineering team to make sure our designs are cohesively integrated into project sites. This ranges from small-scale items like selecting plant species that will thrive in a parking lot bioswale to producing large-scale, detailed landscape designs and plans.
Question: Tell me about the Lake Arlington project. What was the space like, and what did you do with it?
Kara: Lake Arlington is an existing regional retention lake used for recreational water activities and features walking/bike paths and playground equipment. The goal of this project was to make improvements to the park that created an inclusive experience for users of all ages. The new park features included playgrounds for wide a range of ages, exercise equipment for all fitness levels, a sensory garden, and a PermaTrak boardwalk framed with native dune plants that connects fishing and boat piers.
Question: How did you decide on PermaTrak for this project? Can you share anything in particular that set it apart from other material choices?
Kara: The park district selected the PermaTrak product, and EEA managed the design of the project with them. Since Lake Arlington is a regional retention lake with fluctuating water levels, the product's concrete planks and deep timber piles made it a good fit for the Lake Arlington improvements.
Question: What would you say is your favorite part of your job? What do you enjoy the most?
Kara: My favorite part of my job is going to the site for the final punch list because it signals construction is almost complete. It is extremely gratifying seeing a project that started as a concept all the way to completion.
Question: What's the biggest challenge you've faced on your projects, or in your career in general?
Kara: The biggest challenge on most projects is having enough time to prepare documents to the standards you would like them. Time management is one of the key principals to producing a quality product.
Question: Throughout your career, what project did you work on that you are most proud of?
Kara: I'm very proud of my contributions on the Lake Arlington project. In addition to designing the boardwalk, our team also created a sensory garden with specific plants, materials, and a basalt column fountain to give children of all ability levels a unique experience.
Question: What tips do you have for younger landscape designers starting out in their career?
Kara: Never underestimate the power of hands-on internships in areas closely related to landscape architecture. My two horticulture internships taught me a lot more about plants than I would have learned if I had only worked in a traditional office environment. This was an important primer to my landscape architecture career.