The PermaTrak featured designer article series showcases top performing landscape architects and engineers who discuss their design perspective, current projects, challenges, and accomplishments.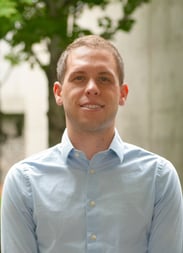 This month's featured designer is Patrick Ptomey from MESA Design Group in their Dallas, TX office. Patrick is a landscape designer who works on a full range of projects, from senior living, to campus planning, parks, commercial development, and more.
We talked with Patrick about planning inclusive playgrounds, critical steps and challenges in the design process, and the importance of taking the initiative to collaborate and gain experience in the world of landscape design.
Q: Tell us about your background and the type of work you do for MESA.
Patrick: I graduated from Kansas State University in 2013 and began my career at MESA that summer. Since then I have been a part of a variety of projects, including healthcare and senior living, commercial development, campus planning, and environmental education. However, much of my time at MESA has involved design work for city parks and recreation across North Texas, including Oak Point Park and Nature Preserve in Plano, Texas. The 800+ acre park will soon offer miles of recreational trails and include PermaTrak crossings at designated wetland areas.
Q: What would you say are your specialties? Why?
Patrick: I've spent some time researching and designing inclusive playgrounds, which I have found fascinating. Beyond the expanding industry of accessible playground equipment, landscape architects have a wonderful opportunity to create play environments that can accommodate users of all cognitive and physical abilities.
Many children with disabilities experience difficulty processing and filtering sensory stimuli, oftentimes causing them to become overwhelmed in playground settings. I have used available research and collaborated with occupational therapists to establish a framework for design of inclusive play environments.
Q: How would you describe your perspective on design? How do you approach your work?
Patrick: I've always enjoyed large-scale projects that are influenced by an abundance of both onsite and offsite factors. MESA's projects range in size from under one acre to several thousand acres, but understanding a site's context is always a critical step in my design process.
Some of the larger projects require an extensive understanding of the existing fabric and influences to fully determine what improvements are most suitable for the site. Therefore, I always begin my design process from the outside looking in, and use the collected information as a guide to create a site that holistically works with its surroundings.
Q: How are you different from other landscape designers? What makes you stand out?
Patrick: I don't know many landscape designers that approach site grading with enthusiasm – but I imagine there may be a handful out there. I've been fortunate enough to have a mentor who has assisted me early on in my career and took the time to teach me all the nuances that come with site grading for ADA and drainage requirements.
It's easy to get overwhelmed staring at a beautiful design on a two-dimensional sheet of paper wondering how in the world grading is going to work, but there are often more solutions than meets the eye.
Q: What would you say is your favorite part of your job? What do you enjoy most?
Patrick: As designers, I think we all aspire to see our ideas come to fruition; but at this stage in my career I am enjoying the learning opportunities that are being presented to me and the daily design challenges which encourage me to think critically and coordinate with others to find solutions.
It's a nice feeling when you find yourself able to contribute to the discussion and move a project forward to get the client a result that fits their vision and goals.
Q: What's the biggest challenge that you've faced on your projects, or in your career in general?
Patrick: One of the primary reasons I found a profession in landscape architecture appealing is the opportunity we have as designers to create spaces which elicit certain desired feelings and emotions. Although I've always enjoyed learning about the psychological impact of these designed spaces, attention to construction detailing was usually an afterthought to the design process and many of my drawings lacked depth.
Having worked alongside some detail-minded people, I've learned to place more emphasis on site detailing as well as construction methodology. I've found that it is often the composition of these individual details that adds that extra 'spark' to some of our most memorable public spaces. So, I would say my biggest challenge has been learning to effectively switch my mindset between the larger programmatic layout scale of a site and the more intimate pedestrian scale.
Q: Throughout your career, what project did you work on that you are most proud of?
Patrick: My first completed major project is a highlight in my short career. The T. Boone Pickens Hospice and Palliative Care Center is a unique care center in Dallas that offers 36 inpatient care suites that are surrounded by accessible terraced gardens and overlook an existing community pond. Other programmed amenities include private gardens, an amphitheater, labyrinth, courtyards, and trails, allowing patients and their families access to a peaceful and contemplative outdoor environment.
Q: Any other tips for younger landscape designers just starting out in their careers?
Patrick: Don't wait for experience. It sounds silly, but someone who has been in the profession for ten years doesn't necessarily have more experience than someone who has been in the profession for five years.
Experience comes to those who create it. If you want to gain experience as a landscape designer, don't wait for the "right time", or site visits, or meetings. Open up your Time Saver Standards book and study a section at a time. Then, take a step outside and make connections between the built environment and what you just read.
And finally, the meeting that you will probably gain the most experience from won't happen in a board room full of people talking over one another. It will happen in a one-on-one discussion over the phone or in person where you are forced to talk, interact, and collaborate in real time.