PermaTrak recently completed two concrete boardwalks for the Veranda project in Richmond, Texas featuring a composite pile foundation. The successful installation gives PermaTrak clients a durable, lightweight, and non-corrosive material option when deciding which foundational system will be best for their new boardwalk.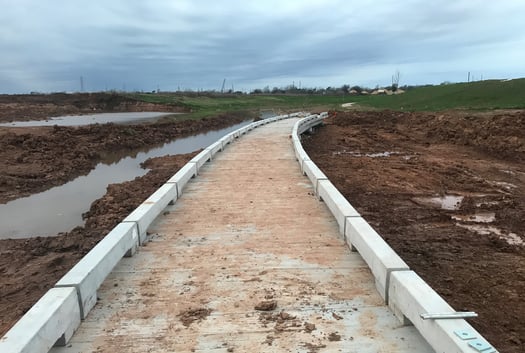 PermaTrak's first boardwalk project built using composite piles.
Prior to the installation, PermaTrak hired Shield Engineering, an engineering consulting firm located in Charlotte, NC, to conduct compression testing on the composite piles and measure their overall strength capacity. Typical factored loads on piles supporting a PermaTrak boardwalk are less than 40 kips (kilo pounds). Using sample piles from Pearson Pilings, PermaTrak engineers watched as the composite piles were crushed in a test chamber, with continuous pressure applied until the piles broke down. For each 10" diameter pile, the axial compressive strength was demonstrated to be in the range of 89 to 123 kips (kilo pounds). The composite pile's ultimate capacity far exceeded the expected 40 kips load of a PermaTrak boardwalk. After witnessing the test and its results, PermaTrak's engineers were confident that a composite pile system met their structural design requirements.
Shield Engineering measured the Pearson composite pile's axial compression strength by crushing it in a test chamber.
One of the key components of the composite pile installation's success was the use of uniquely shaped concrete "plugs" to connect the PermaTrak beams securely to the composite piles. As seen in the image below, the plugs look like large corks that fit into each pile. Additional Shield Engineering testing of the connection between the pile and the special plugs confirmed the overall system's structural strength. We would like to extend our gratitude to Clark Condon Associates Inc, a landscape architecture firm based out of Houston, TX, who drew up specifications for this novel PermaTrak installation.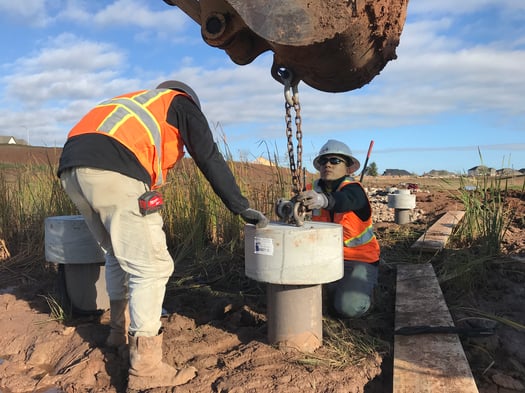 Engineers insert specially designed concrete "plugs" into the composite piles.
PermaTrak Boardwalk beams secured on top of composite piles using the uniquely designed concrete "plugs."
We are thrilled at the outcome of this first project with Pearson composite piles and delighted to be able to offer clients a high-quality, cost-effective option for their next PermaTrak boardwalk. The durable, non-corrosive nature of a composite pile foundation suitably complements PermaTrak's long-lasting, no-maintenance boardwalk system.
Pearson composite piling is a great option on wetlands or any other projects requiring top-down construction, including corrosive environments. Whereas timber piles deteriorate overtime from exposure to moisture or microbial attacks, composite piles do not corrode or break down. Unlike concrete piles or cast-in-place drilled shafts, which require heavy equipment and significantly disturb the ecosystem, composite piles are also lightweight and great for environmentally sensitive areas. Pearson composite piles provide more lateral stability and strength than helical piers, requiring less cross-bracing, and they are aesthetically more robust. Landscape architects will appreciate how their general appearance mirrors the actual demonstrated axial compressive strength. Composite piles are strong and durable, and they certainly look the part to a casual observer.
With the successful completion of the Veranda project, PermaTrak currently has multiple composite pile installations under construction across the country. Click here to find out which foundational systems and materials may be the right fit for your next boardwalk.
If you're interested in learning more about PermaTrak, here are some helpful links: