Specifying a Commercial Product for the Long Haul
Without a life cycle maintenance analysis, how do you know if the product you specify makes for a smart investment?

An investment takes into account the long-term implications of using the product: how it performs over time and how much ongoing maintenance it will require for the product to function as designed. This applies not just for boardwalks- but for splash pads, benches, railings, playground equipment, etc. When these products are specified for commercial park or trail projects, designers who perform the research and analyze the life cycle costs are creating a value for their clients. An important reason PermaTrak is selected and specified is due to designers using a life cycle maintenance cost analysis when comparing PermaTrak to timber or composite decking. For a wooden backyard deck or 10' swale crossing, maintenance costs may just mean a couple of hours Saturday morning powerwashing or re-staining each year (hundreds of dollars, not thousands). But on a commercial boardwalk or pedestrian bridge, having at least a rough "guesstimate" for life cycle maintenance costs is especially important. Due to the large amount of square footage and the heavy usage of the trail or boardwalk system, these maintenance costs can easily escalate into tens of thousands of dollars annually.
Boardwalk Maintenance Case Study - Texas
Below is a recent analysis performed by TBG Partners, headquartered in Dallas, TX. Several TBG landscape architects pulled this information together to share a "guesstimate" for life cycle maintenance costs with their client. This firm has previously worked with PermaTrak on a project in Prosper, TX - Windsong Ranch (see photos here). TBG Partners has specified PermaTrak's concrete boardwalk system on (2) additional crossings in the Dallas region.
The life cycle cost analysis shows PermaTrak's installed cost for this project at approximately $75 per square foot, compared to $55 for an all wood boardwalk or a timber substructure with composite decking. Initially, PermaTrak is often (but not always) more expensive than wood or composite decking boardwalk systems. TBG assumed several PermaTrak treads would need to be replaced due to unforeseen circumstances over a 60-year period. For the wood/composite decking option, TBG's landscape architects took into account common maintenance issues with wood and composite decking such as decay, rotting/warping boards and nails popping up. They also included 1.5 replacements for the entire structure (replaced every 40 years).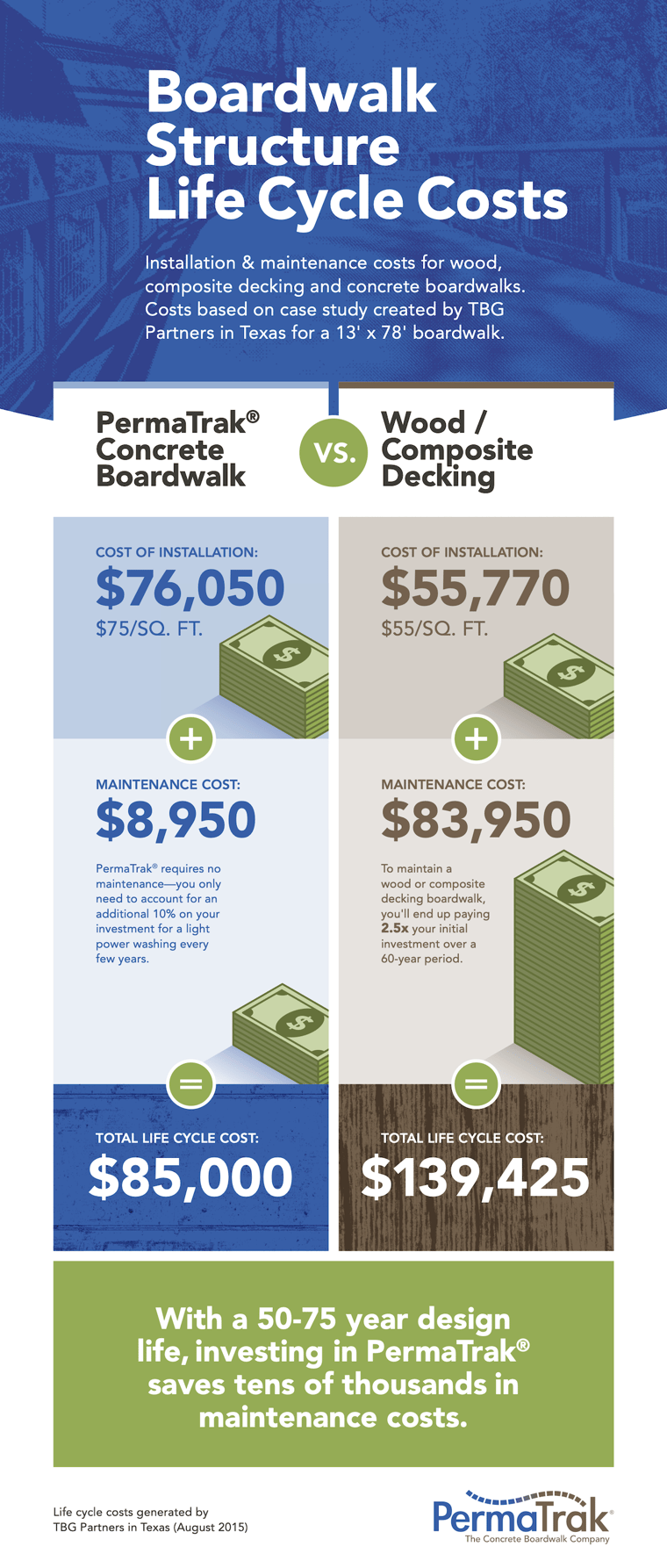 We hope this kind of information is taken into account for your next commercial boardwalk or trail project. Let us know if we can help!