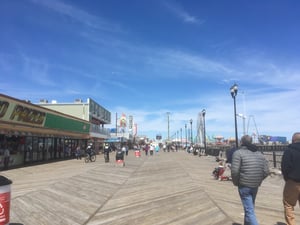 New Jersey recently proposed a measure that could greatly affect how boardwalks are maintained and funded in the state. In this measure, state legislators proposed that boardwalks should be included in New Jersey's definition of "public highways" so that state highway funding could be used to develop and maintain boardwalk projects.
Boardwalk mileage would also be added to the state's funding formula, allocating $400,000 a year for construction, repairs and maintenance.
We're waiting to see if this proposal makes it through the legislative process, but we love the creative thinking behind this idea! In many communities, we've seen boardwalks become popular thoroughfares for walkers and bikers. Some of these boardwalks connect neighborhood and other districts, and we believe that in some cases, greenways can become the primary way that some citizens move around a community.
Adding boardwalks to highway funding would provide more opportunities for cities and towns to design new greenways and trails and improve existing ones.
What do you think about this idea in New Jersey? Let us know!