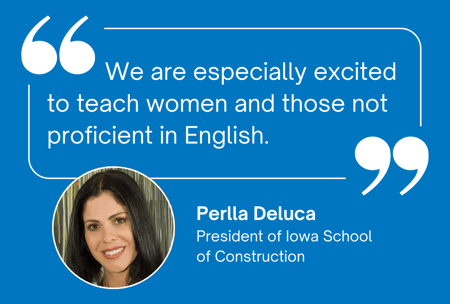 How one PermaTrak partner is building a path for construction industry newcomers
When Perlla Deluca immigrated to the U.S. in 1999, she began a career as a construction worker.
She had the opportunity to try her hand in several types of projects, getting a feel for what the historically male-dominated industry has to offer. She found first-hand that construction can be a lucrative career path for women and for others who were interested in going into trades.
Just before COVID hit, she and her crews began to feel the effects of the labor shortage – there was more demand for construction work than there were workers. It was then that a spark was lit and Perlla decided to pursue her desire to create change. She sought a way to open doors and create paths for others to enter the industry.
Perlla founded an inclusive construction school in Des Moines, Iowa, which is set to open in early 2023. The Iowa School of Construction (ISC) offers a unique three-month program that provides newcomers with entry level, hands-on construction skills training. Each week, students will learn a different trade and will be supported in earning certifications that make them more desirable to potential employers.
The program runs 5 days a week, with four days on-campus and one day remote. Perlla actually purchased a former elementary school for the campus infrastructure, and ISC boasts over 20,000 square feet and eight acres available for student learning.
Perlla's program also offers an employer platform, through which students have access to their live resumes, which are up to date with their earned certifications. To set students up for success, the program teaches soft skills, like what to wear for an interview, along with on-the-job and OSHA safety trainings.
The heart of Perlla's program is inclusivity. She aims to incorporate women and underrepresented communities into the construction industry, helping them build valuable skills that meet a growing need in the marketplace. "We welcome all student candidates, but we are especially excited to teach women and those not proficient in English," reflects Perlla.
Perlla is also the Owner/CEO of Southeast Contractors, Inc. (SEC), a general contractor firm that performs and manages projects in several trades, including bridge repairs and placement.
Iowa School of Construction Website: https://www.iowaschoolofconstruction.com/
Media Features:
Perlla has been featured on various local news broadcasts and highlighted in publications such as the Wall Street Journal. Check out the links below to learn more about the ISC Initiative: