PermaTrak Boardwalk Installation at Josey Lake Park – Cypress, TX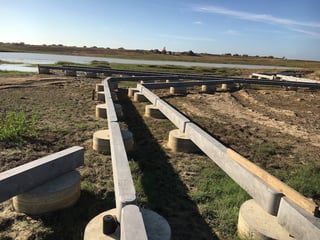 Construction is approaching the halfway mark at Josey Lakes Park in Cypress, TX, a new 100-acre park featuring a 3-mile long detention pond recreational waterway. Once completed, PermaTrak concrete boardwalks will meander alongside portions of Josey Lake, linking up with existing trails and allowing visitors access to enjoy the park's expansive water and wetland areas.
To kick off construction efforts for the two-phase project, coffer dams were installed to dewater the site due to the area's known tendency for flooding. This process left behind a dry mud slate for the varying sized concrete piers to be installed along the graded land.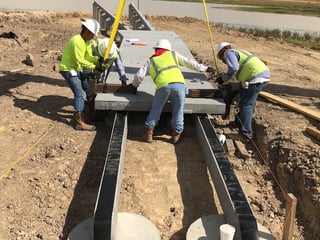 PermaTrak's precast concrete boardwalk system was installed as ten unique structures by the general contractor, D.L. Meacham, based in Houston. Cast-in-place concrete caisson piers were selected for the foundation because of the mud-rich soil. The low laying area under the boardwalks will eventually be filled with water once the project is complete.
"The Houston community has lots of these drainage structures, but this is probably one of the biggest ones in the area," explains Andrew Konyha, ASLA, PLA at Clark Condon in Houston.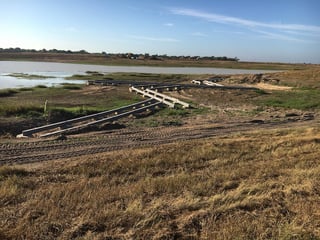 However, the Josey Lake Park area didn't always look the way it does now. Before the detention pond was excavated, the massive area was once almost entirely flat and was used for various types of farming – predominately rice farming. The need to keep up with the drainage efforts is anticipated to be ongoing due to flooding during Texas' spring monsoon-like rainy season.
"The real estate that we have above the high water mark, versus everything below the high water mark is probably 1:5. There's far more real estate going on down below the water line," Konyha explains. "We were limited on space where we could put permanent structures."
The need for durability
Clark Condon usually opts to design timber boardwalks for the majority of their projects. However, wood wasn't the appropriate choice for Josey Lake Park - its tendency to rot and warp in water-laden conditions made it necessary to scout out a more bulletproof material. PermaTrak's cost-effective and maintenance-free concrete boardwalk material was ultimately selected.
"We knew that wood wasn't an option for us. PermaTrak's durability and sustainability - the capacity to endure these elements made it the right choice for this project," says Konyha.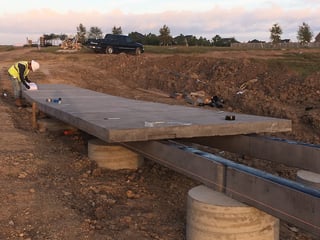 Josey Lake Park's two phase boardwalk installation includes 10 boardwalks total; four in Phase I and six in Phase II - with most being custom boardwalk pieces of varying length and width. As the pictures demonstrate, these PermaTrak boardwalk layouts include some unique zig-zagging and curved portions. The boardwalk widths vary from 8 ft. up to over 15 ft. Check out all of the boardwalk lengths below!
Josey Lake Park Boardwalk Lengths:
Phase 2:
Boardwalk #1 - 96 LF
Boardwalk #2 - 378 LF
Boardwalk #3 - 254 LF
Boardwalk #4 - 352 LF
Phase 1:
Boardwalk #5 - 109 LF
Boardwalk #6 - 421 LF
Boardwalk #7 - 68 LF
Boardwalk #8 - 16 LF
Boardwalk #9 - 56 LF
Boardwalk #10 - 18 LF
Wildlife and Plant Habitat at Josey Lake Park
Josey Lake Park stands out due to its more rustic, less manicured style compared to other Houston area parks and master planned communities. Josey Lake is lined with native wetland grasses with significant wetland shelves built into the lake itself. Additionally, the Josey Lake wildlife habitat includes fish (stocked in the lake), ducks, migratory birds and waterfowl that stay in the area year-round. Visitors can also spot the occasional beaver popping up from the lake.
If exploring the sprawling thoroughfare on foot, or canoeing down the waterway isn't enough of a draw, other desirable Josey Lake Park amenities include: a kayak rental facility, a large pavilion with public restrooms, a birding tower, a playground, and a child-friendly water "mist ground."
Bridgeland, called "Houston's premier master planned community" by its developers, is an upscale housing development comprised of four different villages that sits next to the Josey Lake Park area. Bridgeland residents can easily access Lake Bridgeland, Cypress Lake and Josey Lake - not to mention being able to enjoy the picturesque waterway scenery right from their front yards!