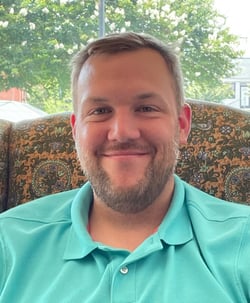 PermaTrak is growing, and we are extremely happy to welcome Stuart Salmon to the team. Stuart is joining our team as a Structural CAD Designer.
A Virginia Tech graduate, Stuart comes to PermaTrak with 6 years of experience including, highway bridge design and pre-engineered metal building design. He holds a Bachelor's degree in Civil Engineering and has worked as a Metal Building Designer at Varco Pruden Buildings and a Bridge Designer at KCI Technologies.
His structural design background was one of the reasons he wanted to work at PermaTrak; "PermaTrak is a small, growing company with good leadership and my education and work background are a great match for my position as CAD Designer".
PermaTrak's CEO and President, Jason Philbin, adds, "I am excited about Stuart joining our firm because he brings to us knowledge of bridge and pre-engineered building experience which are both very relatable to our work. I and our team welcome him and look forward to working with him on PermaTrak boardwalk projects."
When Stuart is not at the office, you can find him enjoying the outdoors. From disc golf, to hiking, to camping and exploring National Parks, Stuart is always on the go. Even if it is in a fast car!
Welcome to the team Stuart.