Do general contractors need to be pre-certified to install PermaTrak? Is a concrete boardwalk difficult to install for the first time, for a team that hasn't installed PermaTrak before?
Fritz Fromherz discusses types of general contractors who are best suited for installing a PermaTrak concrete boardwalk.
Learn more about concrete boardwalk construction in this short video below...

Does PermaTrak require pre-approved boardwalk installers?
In addition to the topics I address in the video above, many project owners or designers who specify PermaTrak's concrete boardwalk system will ask some variation of the following questions:
"Does PermaTrak have a list of pre-approved boardwalk installers?" or
"Do you require pre-certified installers for your boardwalk system?"
For boardwalk construction with a newer product like PermaTrak, these are very relevant questions. The simple answer: "No, PermaTrak does not have a list of pre-approved boardwalk installers, nor do we require a pre-approved or pre-certified contractor for boardwalk construction."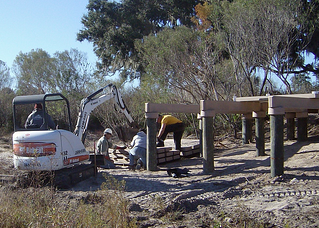 The reasoning behind the lack of pre-certified contractors is twofold.
The construction and installation drawings our engineering team provides to the contractor ahead of time are detailed enough that contractors unfamiliar with PermaTrak can quickly pick up on how best to install the system.
A PermaTrak representative will be on site offering technical field support and assistance during the boardwalk construction process. We understand there is a learning curve for installing a concrete boardwalk, with heavier boardwalk components, less fasteners, and interlocking treads instead of wood or composite deck boards. Typically, the PermaTrak employee will be on site for 1-3 days once the PermaTrak material is delivered, to help kick off the boardwalk installation process and address any questions the contractor may have. This installation support is included in the supplied cost of our boardwalk system.
So no matter what the application is for your project (boardwalk, pedestrian bridge, observation deck, etc.), we do not require special contractors that need to be pre-certified.
Is PermaTrak difficult to install? What does the boardwalk construction process look like for first time installers?
Many times we'll hear from the contractors that they liked installing the PermaTrak system. It's a good feeling to hear them ask about when they can install the next one!
We believe most contractors prefer to install a PermaTrak boardwalk over a timber or composite decking system due to the simplification of the boardwalk construction process.
Many installing contractors have told us post-boardwalk construction that they believe PermaTrak to be a simple system. That doesn't necessarily mean it's easy to install; a good installer will pay attention to detail and have the necessary skills to set and secure PermaTrak's precast concrete components according to the construction and installation drawings provided.
A simple boardwalk construction process results in part from fewer boardwalk components overall. For example, in place of headers and stringers (runners) every 12'' or 16'' on center typically seen on a wood boardwalk, PermaTrak is designed to have just 2 longitudinal beams. For the installing contractor, this means the equipment operators, foreman and laborers will need to become familiar with, and maneuver, fewer pieces overall.
Constructing a boardwalk system with precast concrete components also eliminates cutting, sawing and drilling in the field.
All of these factors can add up to a quicker installation process for the contractor. In some cases, the rate of boardwalk construction can be up to 100-150 LF of PermaTrak boardwalk installed per day. (This assumes the foundations are already installed and depends on the boardwalk design, site access, etc.).
I hope that helps answer your questions about PermaTrak's boardwalk construction process, pre-approved boardwalk installers, and which type of contractors are best suited for installing PermaTrak!
Let us know if you have any other boardwalk construction questions we can answer.
---
Read the full video transcript below:
"What type of contractor would we recommend to install PermaTrak?" And based on our experience, now four years here (United States) and the previous experience in Australia for seventeen years, we can say that the most common contractors that have success installing PermaTrak are those that are familiar with drainage projects, civil site design where they maybe moving some dirt, "dirt contractors" would be another name for those people, utility contractors...

Anyone that's designing projects or building projects that are designed where elevation is important, the fall of a drainage structure, placing precast units, be they manholes or catch basins, variety of pipe types, they're going to be concerned with elevations- that's similar to our product.
The contractors are going to pay attention to the elevation of the foundations. And if those are installed properly, the product itself is going to fit very well. And when those types of contractors partner up with the right equipment and the right site crew, it's a very efficient installation. Note: this video was originally posted in May 2014.