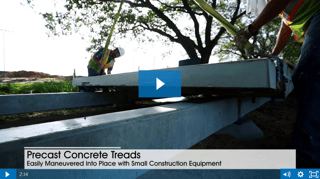 As part of the current renovation at Tampa's Julian B. Lane Riverfront Park, PermaTrak has come alongside the city's designers, engineers and developers to design and produce an elevated concrete walkway, which park-goers can use to enjoy the new sites and amenities. Using a PermaTrak precast concrete base component, the 583-foot boardwalk minimizes tree root disturbance while providing a maintenance-free solution for the City.
Check out the 2-minute installation video!
Julian B. Lane Riverfront Park - Historic Ground in West Tampa, FL
The park's $35 million renovation marks the most funding the City of Tampa has ever dedicated to a park.
The new Julian B. Lane Riverfront Park, expected to reopen to the public in early 2018, will offer the community new access for kayaks, boating and aquatic sports, as well as tennis, basketball and volleyball courts, a multi-use football field, areas for lacrosse and soccer and a performance pavilion with green spaces for concerts.
Concrete Boardwalk Installation by Westfall Construction
Installation of the PermaTrak concrete boardwalk system was finished in late July 2017 by Westfall Construction (click here for video testimonial). Stretching nearly 200 yards, ten-foot-wide concrete treads with occasional bump-outs for benches rest atop load-bearing beams and low-impact footers.
In previous years, the City had trouble with the live oak tree root systems heaving the paver walkway, creating an unsafe and unattractive walking surface. In some areas, the roots would pop up through the surface of the paver walkway, creating an uneven walkway and hindering the health of the trees.
To solve for this tree root challenge, designers from Civitas specified PermaTrak's precast concrete pier foundation system so the boardwalk could be elevated and avoid penetrating the tree root system. Resting atop the foundation system are steel-reinforced precast concrete beams and treads, followed by PermaTrak's precast concrete curbs.
Thank you!
On behalf of all of us at PermaTrak, we want to extend a big "thank you" to the following parties on this boardwalk construction project:
Installing Contractor: Westfall Construction
General Contractor: Skanska
Designer: Civitas, Inc.
Owner: City of Tampa, FL
We are proud to be a part of this project that the Tampa community will be able to enjoy for years to come. Thank you for working with us!