Timber Boardwalk Replaced at Keowee Key - South Carolina
The list of amenities at the upscale Keowee Key gated community continues to grow in order to accommodate the active lifestyle of the residents. An overhaul of the Leisure Trail in 2016 is one of the most noteworthy upgrades.– replacing the timber Keowee Key boardwalk on the Leisure Trail with a long-lasting 8 ft. wide, 374 ft. long PermaTrak concrete boardwalk.
Seeking a timber boardwalk alternative
The previous weathered, warped and discolored timber boardwalk sprawling alongside Lake Keowee in Salem, South Carolina was in need of an update. The railway leaned in some spots and was loose in others. Unappealing and no longer structurally sound, not only did the timber boardwalk need to be replaced, it needed to be exchanged with a material that wouldn't create those same issues later on.
"The old boardwalk was seriously deteriorating. Rotten wood was prevalent and we needed to replace it," says Kevin McCracken, PCAM, Keowee Key Community General Manager.
When first looking into materials for replacing the timber boardwalk, project managers at Keowee Key Community were considering two options: a pure composite material, and a timber-based, steel-reinforced, composite-topped boardwalk. However, Keowee Key ultimately chose PermaTrak's complete concrete boardwalk system as the best option: a turnkey and cost-effective solution.
"Durability. That was one of the selling points that led us to consider this product. Because of the challenging location, we didn't want to bite off this project again any time in the near future, and concrete offered us the best option."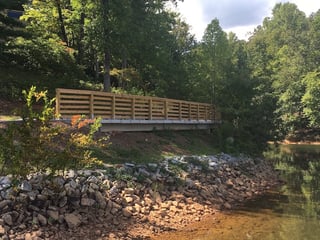 As you can see in the photos, the meandering boardwalk curves around beautiful Lake Keowee with lakeside homes in the background, peering over the community. One portion of the boardwalk sits atop the lake, just a few feet above crushed rock that leads into the lake's shallow waters. Another portion of the boardwalk sits over top of a water fountain with mature trees lining the opposing side.
Overall construction of the boardwalk was complete in two months. Keowee Key residents were able to stroll the boardwalk by the end of May last year – just in time for folks to take the trail to enjoy the outdoor pool opening on Memorial Day.
Keowee Key's Leisure Trail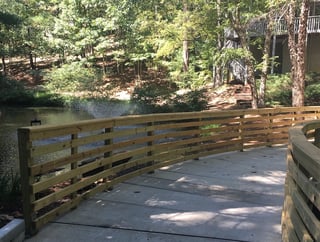 Ask Keowee Key residents about their favorite amenities, and they will likely tell you that one is the winding "S-shaped" 2.6-mile long Leisure Trail that skirts the shores of Lake Keowee. "
Residents that peruse the waterfront trail can appreciate:
gardens
gazebos
a pavilion with a grilling area
a volleyball court
sandy beach, and
a children's playground
As an added bonus, the entire walkway is lit for residents to enjoy beautiful lakeside strolls any time – day or night.
The Keowee Key lakeside retirement community's website describes the area as "South Carolina's premier lifestyle community" tucked back in the foothills of the Blue Ridge Mountains in upstate South Carolina, surrounded by 28-mile long Lake Keowee. "The lake is easily our best attraction. Lake Keowee is very clean and not overcrowded like many lakes that are located near metropolitan areas," McCracken says. He notes that most community members are retired, but enjoy an active lifestyle golfing, playing tennis and boating.
Keowee Key is located just 12 miles from Clemson University, and less than two hours from Atlanta and Charlotte. Other impressive Keowee Key amenities include: a dog park, a golf course, tennis courts, pickleball, a club/restaurant, an indoor gym, two outdoor pools and an indoor pool.