Heavy Boardwalk Components, Heavy Equipment?
Architects, engineers and city/county project managers are often concerned that installing a concrete boardwalk will require a crane or some other heavy lifting equipment. And for good reason- cranes can be expensive and they require a large footprint on the project site.
Here's the truth: cranes have been used during PermaTrak boardwalk installations, but they are not required to lift any of our boardwalk components. To date we've provided on-site technical support on over 60 concrete boardwalk structures in the US, and just 3 of the installing contractors have decided to use a crane.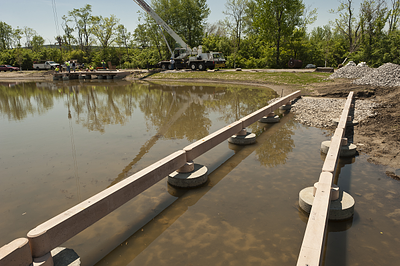 For example, to install a multi use path boardwalk project in West Chester, OH, Bray Construction chose to install PermaTrak with a crane because it allowed their men to construct (2) separate concrete boardwalks without moving the equipment back and forth. The crane stayed in the same position for both boardwalk segments of the multi use trail: one over an existing weir wall and another over a wetland area (near right). In doing so, the contractor stayed efficient with time and labor required to install both structures.
Concrete Weight
Before we get into too many boardwalk construction details, let's address what we know about concrete and its weight. First, not all concrete is created equal. In fact, there are a myriad of factors to consider when mixing concrete. Traditional methods rendered a fairly heavy type of concrete, though in modern times, concrete has grown remarkably light. The type of concrete used for a project depends on the needs of the project design engineer. There is not a universal weight for concrete. The reinforcing components and raw materials vary for different concrete needs, altering the densities.
Density Differences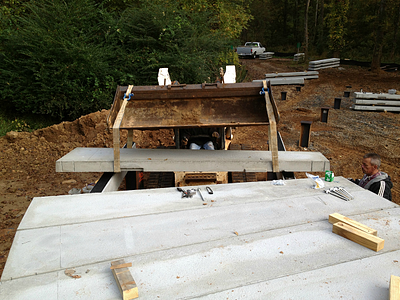 Typical reinforced precast concrete has a density around 150 lbs./cu ft. Lightweight concrete can have a density as low as 90 lbs./cu ft. while high density concrete can range anywhere from 190 to 260 lbs./cu ft.
How Do Our Concrete Boardwalks Weigh In?
Yes, PermaTrak's concrete boardwalk components are much heavier than typical timber or composite decking products. These standard components range in weight from 70 lbs. to 2,300 lbs., depending on the boardwalk's design specifications. Typically a front-end loader, mini excavator or Bobcat can effectively move these components around the project site. Smaller pieces weigh around 200 lbs. and can be installed and assembled by hand with an accessible project site. (Watch the video clip below to see a team of installers placing the concrete boardwalk treads by hand.)
All things considered, that's light lifting.
---
Related Resources:
If this article was helpful, you can see a typical concrete boardwalk construction process or read more informational blog articles on boardwalk construction.
Related Article: