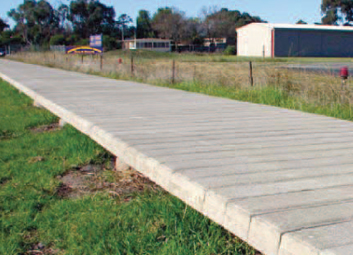 This pathway beside the Tyabb Airport, on Melbourne's Mornington Peninsula, is part of a $10 million Shared Pathways Strategy by Mornington Peninsula Shire to construct more than 80km of paths for pedestrians and cyclists.
Although at first glance it appears that a simple asphalt footpath would have sufficed, this particular trail was fraught with hidden problems. The ground was undulating, so the footpath would have to be raised in some spots, which would have acted as a dam for run-off from the airport. Re-grading of the levels, or even building a conventional timber boardwalk, would have meant dealing with a range of obstacles lurking under the surface, including high voltage cables, gas pipes and a water main.
The council solved all these problems simultaneously by using the Rocla PermaTrak concrete boardwalk system, which sits lightly on its own stump risers and can be assembled quickly and easily with no more preparation than providing a level bearing surface.
Akron Roads constructed the 80-metre long, 2-metre wide path for Mornington Peninsula Council. A specialist engineering consultant was not required as ground conditions were reasonably stable, and the boardwalk system is pre-engineered by Rocla's own design team, who generated site-specific layout drawings and typical construction details for the pathway.
(Taken from Rocla – October 2005)