A pedestrian underpass at Henley Beach in South Australia has allowed Rocla's PermaTrak concrete boardwalk system to become an important element of Adelaide's unique Linear Park.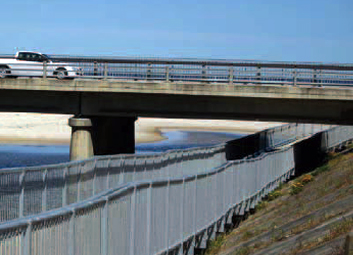 As well as providing safe access to the beach for pedestrians and cyclists, the 135-metre boardwalk forms the final stage of the River Torrens Linear Park, a continuous trail running for 35 kilometres along the river and connecting the Adelaide hills to the sea.
The walkway provides a connection between the Linear Park and the Coast Park, another pedestrian and cycle path under construction which runs north-south along the coast of Gulf St. Vincent for 70km.
While it was possible to walk and ride the entire length of the Linear Park from east to west without obstruction, users were forced to come to a halt at the Henley Beach end and wait to cross busy Seaview Road.
The height of the bridge carrying Seaview Road over the mouth of the River Torrens provided an opportunity for a walkway under the bridge. The concrete revetments of the river banks, although dating from the 1930s, were still in excellent condition and provided a stable foundation for the boardwalk.
Consulting engineers Parsons Brinckerhoff specified the PermaTrak system for its design flexibility and durability in the marine environment. The boardwalk is cantilevered off the sloping bank, with footings on the revetments as well as piers in the river bed.
The system was installed by Civil Tech using Rocla® flush joint concrete pipes as piers, with PermaTrak precast stumps, and bearers and treads in 2m and 3m lengths.
(Taken from Rocla – December 2008)