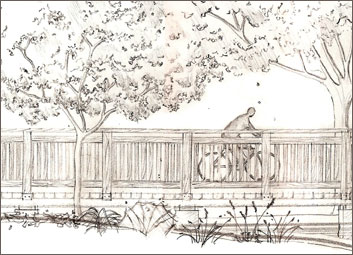 PermaTrak North America is pleased to announce its support of West Chester Township's Phase III development initiatives at Beckett Park in southeastern Ohio. PermaTrak's multi-use concrete boardwalk will connect with existing trail systems, providing increased access to the park's meadows, wetlands and extended ponds. The finished project will provide a path to restroom facilities, parking areas, a picnic shelter with fireplace, and children's playground area.
Woolpert Inc., an engineering design and consulting firm based in Cincinnati, Ohio, worked with PermaTrak to draw up plans for 60 linear feet of an 11-foot wide boardwalk, as well as a 110 square foot deck suspended over one of Beckett Park's ponds.This platform area will extend over a portion of a pond that "has recently been deepened and connected by a wetland to another pond upstream as part of the overall project scope to obtain better water quality and enhanced fishery," according to Bruce Rankin, Woolpert's Project Director.
After a PermaTrak on-site consultation, Woolpert and West Chester Township agreed to use a PermaTrak beam design that would allow sufficient access for occasional cleaning of the overflow control system underneath the boardwalk. "A couple of the advantages that come with using PermaTrak include the engineering and site support we provide with our product," said Jason Philbin, PermaTrak President.
The design-friendly product will allow for a pier system to be placed in front of the existing headwall and weir wall, thus eliminating the need for any rebuilding efforts on the surrounding design elements. "We didn't want to reconstruct the outfall structure for the pond; with the PermaTrak system we could leave the existing structure untouched, operating as it was designed to operate," Rankin said.
Design flexibility wasn't the only consideration. "We looked at life-cycle costs, and the heavy-duty nature of the PermaTrak is going to long outlast wood or other materials we could have used. It gives us the look we wanted but with a much more durable material," Rankin added.
Bray Construction Services, Inc. plans to install the PermaTrak system over the course of a few days. See a complete case study for the multi use path at Beckett Park here. For more information on Beckett Park's facilities and their Phase III development plans, a link to their website is included below: https://www.westchesteroh.org/departments/community-services/beckett-park
Related Article: