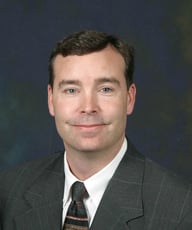 The PermaTrak featured designer article series showcases top performing landscape architects and engineers who discuss their design perspective, current projects, challenges and accomplishments.
This month's featured designer is Jeff Ashbaugh from Benesch (headquartered in Chicago). Jeff is a Senior Project Manager at Benesch and is responsible primarily for large-scale non-residential parks and green spaces.
We talked with Jeff about how he executes design, how Benesch focuses on sustainable solutions, and the two decade long overhaul of Village Park in North Carolina.
Jeff Ashbaugh, PLA, Senior Project Manager is in his 16th year with Consulting Engineering firm, Alfred Benesch. Benesch's 600+ employees include engineers, landscape architects, scientists, construction managers, surveyors and planners; the firm's market focus is large scale transportation initiatives including bridges, roads and airports. Jeff's particular area of expertise is parks, greenways, and recreational facilities of all types. He works out of Benesch's Charlotte, NC office.
Q: What would you describe as specialties at Alfred Benesch?
Jeff: Some of our specialties are simply the leadership that we bring to the table. The fact that we can deliver a park, a greenway or a trail– all the way from the preliminary vision to opening day. We can deliver all aspects, not just the design services but the master planning as well.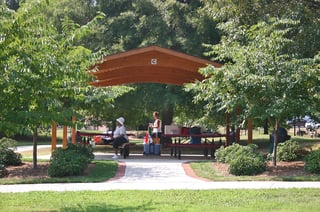 It's not just looking at one specific part, but looking at the whole park system or the whole trail system. From a technical standpoint – we've seen a lot. We've built and developed parks and trails in a lot of different places and we've seen a lot of different things.
We're always trying to design parks and trails that have a low impact on the environment. We have experts that focus on quality site recon – where we go into a site make sure the park and the trail fit the land and that we have a really low level of disruption to the land.
"We don't force the design on the land, we let the land drive the design. We're always trying to be real sensitive to the site that's there."
Q: Tell us more about those environment-focused processes. What do those look like?
Jeff: We do a lot of careful research. First we'll look at a site on paper. We'll look at the topography and we'll do a slope analysis. We examine the slope and terrain of the land. For example, if a site has steep slopes, we wouldn't want to put a ball field on it because the land is not suitable for that type of change. So maybe that park is more oriented toward nature and trails – projects that don't require mass grading.
We look at trees and the vegetation at the site, the open areas, and see those as areas that can withstand some more development. We will look at the soil type to see if there's any special engineering that's needed, which will then make the site more expensive. We look for soil and land that's more suitable to develop. It's also important to observe the drainage patterns – the lakes and streams and wetland areas, so that we can avoid disrupting those. We try to pinpoint areas that are very scenic and attractive and we try to preserve and highlight those spots.
"We also always like to put our feet on the ground and walk sites so that we know how it feels, note the different parts of the site – Is there a really big tree or a section of the woods that has beautiful fall colors that we can really enhance with the design? Those are all things that we really think about for each project."
Q: How would you describe your perspective on design? How do you approach your design work?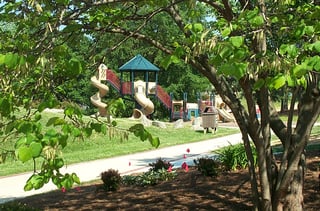 Jeff: There's a lot of different principles that we follow. One is being sensitive to the environment, but also there could be a preservation component. If an area includes streams and lakes, we want to provide buffers and preserve the water quality of all of those corridors.
We also look at the function, how we organize spaces. We try to think through how people are going to use that space. We try to organize the elements so that it creates more interaction. For instance, you might put a drinking fountain beside a bench, so that someone sitting on the bench strikes up a conversation with someone coming by to take a drink of water. You're bringing two people together that otherwise might not have talked to each other. We think about creating places of retreat. Someone might want a quiet place in the park to eat their lunch. We think of areas that accomplish that serenity. Think through how people are going to use that space and we try to enhance that space.
"For instance, you might put a drinking fountain beside a bench, so that someone sitting on the bench strikes up a conversation with someone coming by to take a drink of water. You're bringing two people together that otherwise might not have talked to each other."
Q: What's the favorite part of your job - what do you enjoy most?
Jeff: My favorite part is working with people because parks are very public. So, getting to design and plan spaces where people play or where they come to unwind, relax, get healthy – those are all very positive things. So I love designing spaces for people to do those things.
Q: On the flip side, what's your biggest challenge?
Jeff: Probably budgets. Trying to deliver a quality space with a very limited budget.
Q: Do you have a particular project that you're most proud of?
Jeff: One is definitely Village Park in Kannapolis, North Carolina. We created a master plan back in 1998 so we've been working on this park for almost 20 years. It was a 17-acre unused green space/park with a sidewalk coming through it. It's in the middle of a downtown area – and there might have been five people that walked through the park on any given day back then. Today, it is a thriving downtown park where hundreds of thousands of people visit a year – it's really transformed the community. People come there to see concerts and movies. They have a splash pad, they're adding a carousel. There's a lot of school children that come to field trips there, to play and have a picnic and they have a wonderful playground. We've taken an unused green space that was lost and now created this wonderful thriving park that the whole community enjoys. The community has become stronger because of that space.
Q: Do you have any words of wisdom for a someone just starting their career in your field?
Jeff: The biggest tip I have for someone interested in this line of work is to go out into the spaces that you want to work on and experience them firsthand. Spaces in your community in your state, all over your region. Go experience the spaces to make sure that you understand them not only from a book standpoint but understand them with all your senses. Put your feet on the ground.
Check out some more photos below of North Carolina's beautifully updated Village Park!
Photo credits: Jeff Ashbaugh & Alfred Benesche & Co.