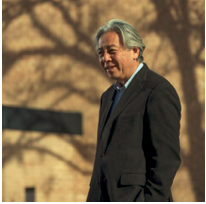 The PermaTrak featured designer article series showcases top performing landscape architects and engineers who discuss their design perspective, current projects, challenges, and accomplishments.
This month's featured designer is Keiji Asakura from Asakura Robinson. Keiji is the principal designer in Asakura Robinson's Houston office, and has over 36 years of experience in urban design, landscape architecture, and community planning.
We talked with Keiji about how he got into the world of landscape architecture, the specialties of his firm, the Westbury High School project, and more.

Tell us about your background and the type of work you do for Asakura Robinson.
My first introduction into the line of work that I do, landscape architecture, was when I was in high school. I worked for a retail nursery, where I learned about plants. My first choice of study in college was computer science, but I was disillusioned by that. I was into ornamental horticulture because I was working for the nursery, and then one of the professors introduced me to landscape architecture. I switched studies to landscape architecture, leading me to the industry.
What would you say are your specialities and the specialties of Asakura Robinson?
We do planning, landscape architecture, and urban design—those are the three areas that we specialize in. We do a variety of community planning work, from area planning, to housing issues in a development, to urban design. We look at urban areas in terms of multimodal transportation to urban area infrastructure. We do landscape architecture in terms of green infrastructure, to schools and education including the design of parks, all the way down to individual gardens. That's the full gamut of what we do.
Tell me about the PermaTrak boardwalk project you worked on with Westbury High School...what was the space like? What did you do with it?
We had been working with the Westbury community on their open space management issues with flood control districts. They have a large retention basin and a sort of parkland. They wanted to make an enhancement, so the Westbury group got together with Westbury High School, and the school identified that they wanted to create a fishing pier, or a pier to get out onto the water. So we looked at a number of options and that's when PermaTrak came up, and everybody liked the idea because it's more durable and maintenance free.


Walk me through your material selection process, how did you decide on PermaTrak on this project? Can you share anything in particular that set it apart from the other material choices?
It started out with a very conventional wooden construction for the piers—that's what the high school students researched. Then I threw out the idea of the more durable construction methodology that PermaTrak offers, which really reduces the maintenance but also adds to the durability and longevity of the structure. It's very low maintenance, so they thought that was worth consideration. Other durable wood constructions, like tropical woods, are pretty costly items. When we did a comparative study, we found that the PermaTrak product is more affordable.
Do you believe this product will hold up to the weather in Houston?
Yes, I think so, because this is fresh water, it's not salt water. It's not a particularly challenging environment in terms of weather so I think it will hold up fine.


What other materials do you typically use for installing a project like this and in your opinion how do those compare in product longevity?
We typically use wood, but wood has a limited life. We've used piers like this in other parks. Wood construction, even treated lumber, in a climate like ours where it's hot and humid would have a limited life. It gets moldy and slippery and is also more prone to vandalism. The PermaTrak product offers much better durability in that aspect.
Would you refer others to use PermaTrak?
Yes, based on our experience thus far I think so. We'd like to see how this will hold up, and that will be the test of how well it will weather, but yes.