Boardwalks on the Beach and Beach Walkovers in Florida: Permitting, Florida DEP, and Design
Many of us have traveled to Florida with friends or family to enjoy the hundreds of miles of beaches the state has to offer. The tourism industry has a $67 billion economic impact on the state of Florida, with an estimated 87.3 million visitors a year.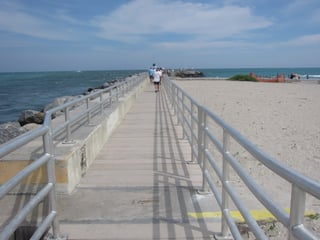 So it's no surprise that enhancing public access to these beaches and providing durable structures to encourage tourist enjoyment of these beaches is a high priority for local towns and cities, as well as county and state agencies.
Not only are these beach boardwalks or walkovers important to the Florida tourism industry, but proper design of these access points has long-term implications for the ecological health and protection of natural areas.
As the Florida Department of Environmental Protection (DEP) puts it, the agency "encourages the design of beach access, including beach and dune walkovers, to protect the dune topography and dune vegetation from pedestrian traffic and allow for the natural recovery of damaged or eroded dunes."
Benefits of Beach Walkovers:
Provide protection for beach topography
Prevent disruption to vegetation and coastal ecosystem from foot traffic
Allow access for pedestrians to conveniently and safely reach coastal landmarks
Permitting Seaside Florida Beach and Dune Walkovers
Permits are a required first step for landscape architects or engineers looking to design a walkover in Florida that fronts the open waters of the Atlantic Ocean or the Gulf of Mexico. By Florida law, permits are required for any "excavation, construction or other activities with the potential to cause beach erosion or damage coastal vegetation" (Florida Dept. Environmental Protection, FDEP). They are necessary in any areas in which a Coastal Construction Control Line (CCCL) has been established. However, specific conditions must be met in order to obtain a permit before engineering and construction begins.
Minimizing Environmental Disturbance
According to the FDEP, the following pre-permit stipulations exist for beachside walkover construction:
Any construction taking place must be minimally invasive to the area's vegetation.
If existing vegetation is destroyed during construction, it must be replaced with similar plant life suitable for the area's ecosystem.
Only limited excavation and construction activity may take place during turtle-nesting season.
Construction material that could become debris during a storm must be kept to a minimum.
Walkover Elevation Guidelines/Clearance Guidelines
While not all beachfronts require elevated walkways – in general, it is recommended that elevated walkovers be constructed perpendicular to the shoreline and of an elevation appropriate for the type of beach land.
Walkover Elevation Guidelines Based on Beach Land Type
| | | | |
| --- | --- | --- | --- |
| | Characteristics | Main Objectives/Concerns | Elevation Specifics |
| On Grade Beach Site | Minimal dunes, sparse vegetation, not near turtle nesting area | | Little to no elevation necessary |
| Uplands | Stable soil not commonly affected by blowing sand & storms, mature vegetation | Avoid disruption of soil & root systems | Lower elevation: Between 6 in. to 2 ft. high |
| Bluffs | Erosion heavy area similar to uplands | Reduce damage to vegetation/root systems | Lower elevation: Between 6 in to 2 ft. high |
| Dune Crests | Blowing sands & storms common, grassland plants prolific | Allow space for sand movement and vegetation growth | Higher elevation: at least 3 ft. (depending on structure width) |
Other resources you may find helpful on this topic:
FL Department of Envirnonmental Protection Beach and Dune Walkover Guidelines (3-page PDF)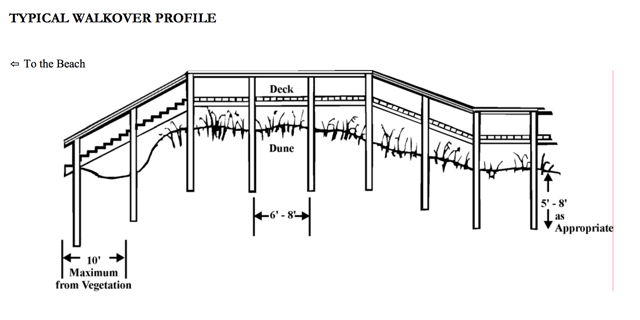 Coastal Construction Control Line (CCCL) Program (6-page PDF)
Florida DEP Application for a Permit for Construction Seaward of the Coastal Construction Control Line (CCCL) or 50-foot Setback (2-page PDF)
Jupiter Inlet Beach Walkover – a case study with PermaTrak's concrete boardwalk system

After years of enduring sand, sun and Atlantic Ocean sea spray, Jupiter Beach Park's Southern Yellow pine boardwalk became a warped and dangerous liability.
The Jupiter Inlet District decided to switch gears with their coastal boardwalk material, testing both a composite and hardwood decking product on 10-foot segments of the boardwalk.

After only a couple of years, substantial erosion left a smooth, ultra-slippery surface for pedestrians to walk on, across both the composite and hardwood test sections – creating worrisome slip concerns for the Jupiter Inlet District and the Palm Beach County Park and Recreation Department.
PermaTrak solved Jupiter Inlet's boardwalk woes with its maintenance-free, durable and slip-proof concrete material. Taylor Engineering worked with the Florida Department of Environmental Protection (FDEP) to obtain necessary permitting for the Jupiter Inlet coastal walkover.
For more details on the boardwalk material evaluation process and construction of PermaTrak concrete boardwalk at Jupiter Inlet, click here.
Project Profile: PermaTrak Concrete Boardwalk at Jupiter Inlet, FL (1-page PDF)
Concrete, Wood or Composite: Which is the Best Material for a Coastal Walkover in Florida?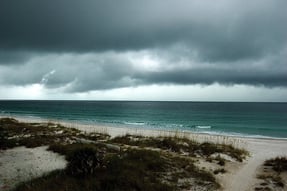 Florida is known for its sunshine, sandy beaches and seasonal storms that hammer the coastline. This seaside environment is not conducive to boardwalk materials that fail to stand the test of time. While wood and composite material can rot, warp, twist and deteriorate within years of installation, PermaTrak's concrete boardwalk walkways are a fitting long-term solution for Florida's seaside climate.
PermaTrak concrete boardwalks, walkovers and pedestrian bridges are durable, maintenance-free and cost effective. When it comes to selecting a material for a beach walkover in Florida, many are surprised to discover that is a legal and viable option, if all of the proper steps are taken.
If you have questions about PermaTrak concrete walkovers or boardwalks, send us a quick note. We're happy to help!
*Third image: courtesy of JWolff-STL