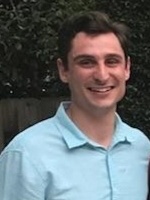 The PermaTrak team is growing! We're excited to welcome Kyle Stanton to our team as a Structural Engineer. In his role, Kyle will be responsible for project management, product/plan development, and sales support.
Kyle joins us from Tampa, Florida and previously worked as an Engineering Intern at The Structures Group and as a Foreman at Veteran Sod, LLC. He explains, "l gained valuable experience during this time [in Tampa], and I became very interested into the components of bridge design, as well as a newfound appreciation for the detail and precision that goes into a design such as that."
Jason Philbin, President of PermaTrak, adds, "The team is excited to have Kyle join our growing team and I look forward to watching Kyle become a PermaTrak expert. His talents are greatly needed to support the demand for our product in the trails and greenway sector."
He holds a degree from the University of South Florida and is in the process of moving into his first home in Charlotte with his fiancé, Kaila. He has been playing soccer since he was six years old, and is a devoted supporter of English soccer club Manchester United.
Please join us in welcoming Kyle to the team!