Pirates Cove Greenway Improvements: Boardwalk Replaced and Shifted
After getting an estimated 20 years out of the timber boardwalk at Pirates Cove Greenway, the Town of Cary, NC decided it was time for a change.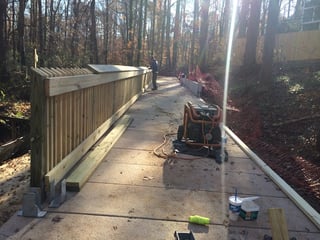 While the decking seemed to be in decent shape for public use, the timber railing had deteriorated over time. With the boardwalk's worn headers and stringers, as well as a widened stream channel that was impacting the concrete pier foundations, the Town of Cary opted to remove the entire structure and start from scratch.
The new PermaTrak boardwalk is positioned further away from the stream channel to avoid an existing sewer line and to account for the stream's movement and expansion over time.
Timber Boardwalk Contractor Installs a PermaTrak Concrete Boardwalk
Span Builders LLC of Raleigh, NC was responsible for the removal of the old timber boardwalk as well as the installation of helical pile foundations and the PermaTrak boardwalk system. Interestingly, Span Builders prides themselves on being a "turnkey design build company that specializes in heavy timber steel construction of bridges, boardwalks and park structures."
This was the contractor's first time installing a concrete boardwalk system like PermaTrak. But the installation went very smoothly, given the straightforward nature of installing a PermaTrak concrete boardwalk.
"We were very impressed by the ease of installation and speed at which our guys could install the boardwalk system," says Robbie Whitfield, Project Manager at Span Builders. "We were happy with how well the components matched up, the plans were very precise and easy to read. Also, as far as the overall quality of the PermaTrak - it's an awesome looking product."
Speed of Boardwalk Installation
Timber boardwalks require more hardware and more components (headers, stringers, deck boards all fastened down) than a PermaTrak boardwalk. You can read more about the design differences between a timber boardwalk and PermaTrak boardwalk here.
Many times, installing contractors can save time (and therefore money!) by taking advantage of the PermaTrak system's simple overall design: far fewer components and no required fasteners. This boardwalk installation at Pirates Cove is a great example of this efficiency in boardwalk design.
"Honestly it's kind of plug and play; our guys picked it up really quickly. They actually really enjoyed it because it only took 4-5 days to install the PermaTrak vs. what would have been two to three weeks for a timber boardwalk. On a wood boardwalk we typically need two carpenters or two carpenters' helpers...with this PermaTrak I have one senior guy and three helpers- and that's all we need. The guys were happy with the speed of the boardwalk installation so they could get off the project and on to another one," added Whitfield.
Concrete Boardwalk Installed on Helical Piles
Constructed on steel helical piles, PermaTrak's precast concrete beams extend 20 ft. linearly. These boardwalk spans provide a cost-effective structure that not only sped up the installation, but also eased impact on the environment with 1/2 the number of typical boardwalk foundations (typically every 10 ft.). The new PermaTrak boardwalk is roughly 114 linear feet (LF) and 8 ft. 6 in. wide and carries a standard design live load of 90 psf pedestrian loading and 5,000 lb vehicular loading.
Retaining Wall Design with PermaTrak Treads

Additionally, PermaTrak's engineering team was able to design a long-term retaining wall solution by using PermaTrak treads, placed vertically.
The project required a pure vertical wall behind the boardwalk and tie backs weren't an option due to the unknown location of existing utilities.
To accomplish this, Span Builders slid PermaTrak's precast concrete treads, typically used as the walking surface of the boardwalk, inside the track of driven steel H-piles just 1/2'' to 2'' from the side of the boardwalk.

Greenway Connectivity in Cary
With connections to MacDonald Woods Park and Hinshaw Greenway, the improved 0.7 mile long Pirates Cove Greenway will continue to be heavily used by the Town of Cary's cyclists, walkers, roller bladers, parents with strollers, dog walkers and more!
For more information, see the Town of Cary Pirates Cove Greenway page.