I wanted to discuss a topic that comes up often with landscape architects or engineers: composite decking. Specifically, we're going to dive into the pros and cons of Trex - the company and the decking materials they offer.
Trex is the most well known wood-composite decking material on the market, and for good reason. The company controls approximately 35-40% of the composite decking market, using plastic bags to make the boards.
If you have experience designing pedestrian bridges, trails, elevated boardwalks or fishing piers, you're probably already familiar with Trex. Today I want to share some lessons learned in the boardwalk industry to help you develop a deeper understanding of Trex's wood-composite decking.
We have found that our PermaTrak concrete boardwalk is a great fit for about half of the projects ideas we're approached with. The product can be cost-effective, save thousands in maintenance dollars and withstand heavy use over the long haul - but the project must be a good fit.
You might be surprised that this article is not meant to "bash the competition." Rather, it's intended to help you decide which boardwalk material is best for your project. It's intended to help you find that "great fit" between your project and the product/company you choose.
Trex Composite Decking vs. PermaTrak Precast Concrete Boardwalk
Determining if Trex or PermaTrak is the right product for your project can be a lengthy evaluation - the answer depends on your project site, client needs, budget, timeline, engineering support, intended boardwalk usage, method of construction, and about 20 other factors!
Probably the most important factor to consider among all of these: commercial product versus residential product. Upfront you should know PermaTrak is best suited as a commercial product - watch this video to learn more about this.
In an effort to help you determine which material is right for your boardwalk project, you'll find a detailed comparison of Trex's composite wood decking products and PermaTrak's concrete boardwalk system below.
Here is how you can determine where your priorities lie and which boardwalk material best lends itself to your project. Let's dig in...
Trex vs. PermaTrak: Material Overviews

Trex Composite Decking Intro
"Trex is the world's largest manufacturer of high performance composite decking, porches, railing, lighting, storage, framing and furniture." Currently the company offers three primary lines of composite wood decking: Transcend, Enhance and Select.
Composed of 95% recycled materials, Trex products are considered to be environmentally friendly. Millions of plastic bags are heated and combined with wood shavings (reclaimed sawdust) into a pliable mixture that is poured into molds. The material forms and cools before it is cut to length. According to Trex, the composite deck boards, encased in a protective shell, offer a longer-term alternative to real wood decking, with reduced annual maintenance. While energy costs for production can be high, the use of virgin materials in production is very limited.

Warranty information from Trex: "...under normal use and service conditions, Trex® products shall be free from material defects in workmanship and materials, and shall not split, splinter, rot or suffer structural damage from termites or fungal decay. The term of such warranty shall be twenty-five (25) years from the date of original purchase for a residential application, and ten (10) years from the date of original purchase for a commercial application."
Important: Trex products are primarily marketed and produced for residential construction rather than for commercial projects. As seen in this video below, Trex's marketing materials are focused on residential applications like decks, back porches, etc.
PermaTrak Concrete Boardwalk System Intro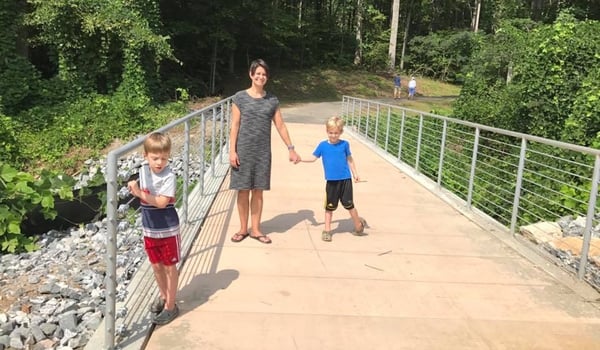 Reinforced, precast concrete components that form a complete boardwalk system. Originally invented by a landscape architect in Australia in 1996, licensee PermaTrak North America was formed in 2009. The system is designed and produced for commercial applications, including boardwalks, pedestrian bridges, observation platforms, fishing piers, and elevated greenways.
PermaTrak's engineering team provides design support for landscape architects and engineers looking to specify a maintenance-free product with 50-75 year design life. With over 350 concrete boardwalk installations in the US and Canada, PermaTrak is most often specified on publicly funded projects.
Common PermaTrak applications include heavily used trail systems, pedestrian bridges under 45' spans, boardwalks with heavier loading requirements (10,000 lb. vehicle, ambulance, maintenance truck, etc.), and walkways located in harsh environments (coastal, extreme heat/humidity, floodplains, etc.).
Trex vs. PermaTrak: Pros and Cons
PermaTrak Advantages (Pros)
Maximum durability with reinforced precast concrete components
No required

maintenance

Increased safety benefits over time: will not rot, twist, warp, splinter, pop up nails, etc.

Noncombustible material

unlike timber, wood-plastic composite, or recycled plastic materials (more on fire ratings and fire resistance here)
PermaTrak Disadvantages (Cons)
Higher initial cost than most pressure-treated timber boardwalks
Cost-prohibitive in residential applications
Requires use of light lifting equipment such as a mini excavator, Bobcat, or skid steer - cannot be carried into project site by hand
Requires pre-determined trail, boardwalk or pier alignment - sawcutting in the field not recommended
Trex Advantages (Pros)
More durable than pressure-treated wood
No heavy machinery required for most installations
Lower maintenance than pressure-treated wood decking, no splintering or splitting
Highly resistant to insect damage, rotting, decay
Can be easily sanded or cut in field
Trex Disadvantages (Cons)
Higher initial cost than pressure-treated timber
Retains more heat than other boardwalk decking materials
Slip and fall concerns as imprinted texture wears down
Not a structural material; should only be used for decking.
Past mold, sagging, curling, and twisting issues
Trex Composite Decking Lawsuits
Over the last decade, Trex has been involved in numerous lawsuits. These lawsuits allege issues with the material itself (rotting, molding, discoloration, etc), false advertisement (false claims that the material is maintenance free, and failure by Trex to honor their warranty (or failure to honor it to the customer's satisfaction). In recent years, the company has finalized two class action settlements: for surface flaking in 2010 and mold and color fading/variation in 2013.
So there you have it! Hopefully this article serves as a good reference in comparing Trex vs. PermaTrak. Still have questions? Contact us and let us know!