Introduction
Occasionally our engineering team here at PermaTrak works with designers who need to specify a trail or greenway structure that is designed for heavy loading requirements, above a standard pedestrian loading of 60, 90 or 100 psf. This is especially common with commercial multi use trail projects, wide boardwalks, pedestrian bridge segments and structures that must be built via top down construction. Here is some information on the heavier loading that has been incorporated into our PermaTrak concrete boardwalk designs.
Designing a Concrete Boardwalk for Heavier Loading
Pedestrian Loading
Most often, a boardwalk is designed for a 100 psf pedestrian live load and possibly a small maintenance vehicle (say 5000 lbs.). See here for more on commercial boardwalk design requirements.
This live loading requirement is met with the typical PermaTrak concrete boardwalk system, combining a small beam series and either 4" or 5.5" thick treads.
H-5 Truck (10,000 lbs.)
The LRFD code requires that when the clearance width of a boardwalk is greater than 7'-0" but less than 10'-0", the design vehicular live load shall be H-5 Truck. It is also common for an agency or municipality to run pickup trucks or larger maintenance vehicles over the top of the boardwalk, thus validating the H-5 truck. The H-5 truck would be equivalent to a 10,000 lb. vehicle. In this design case, again- PermaTrak's standard boardwalk system can support this boardwalk live load requirement. The PermaTrak material difference from the lighter load to the H-5 load is in the reinforcing design and precast concrete mix design.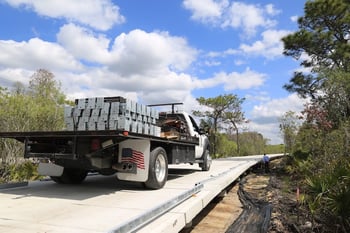 Emergency Vehicle (15,000 lb. ambulance or fire truck)
The next level of design could possibly be for an ambulance or emergency vehicle which is typically around a 15,000 lb vehicle. In most cases, PermaTrak can support this with the same beam depth and 5.5" treads.
Wide Boardwalks
The code requires that clearances greater than 10'-0'' shall be designed for a vehicular live load of H-10 (20,000 lb.). PermaTrak's medium beam series is designed and produced for wider boardwalks that require this type of heavier live load requirement.
Highway Vehicle
For a highway vehicle live load such as the HS-20 truck (72,000 lbs.), PermaTrak can support that load with a combination of 8" thick treads and 18" tall precast concrete beams, depending upon the span length requirements.
The example below, taken from the Eisenhower Golf Course project, was designed for a 72,000 lb. vehicle.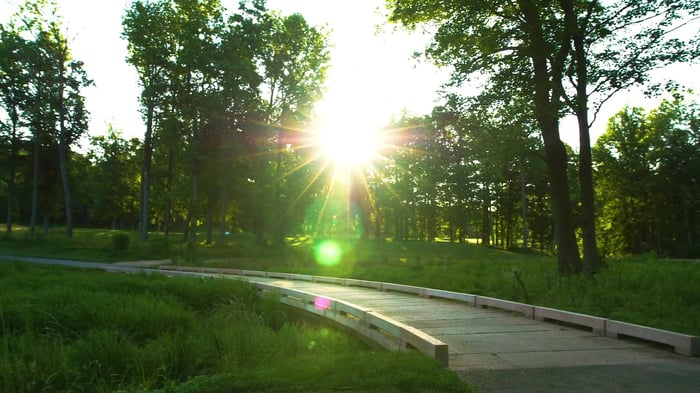 Designing a Timber or Composite Decking Boardwalk for Heavier Loading
One of the advantages to using precast concrete components as a complete boardwalk system is that the material lends itself to heavier live loading requirements. In other words, concrete boardwalks don't require many more additional components to "bulk up" the boardwalk system. Rather, the reinforced, precast concrete material allows engineers to cost-effectively design a structure to support a maintenance vehicle, ambulance loading, snow loads up to 250 psf, or more. As we all know, the boardwalk's overall cost is almost always a high priority for publicly funded projects. For more of an explanation on this concept, see this video: Top 3 Benefits of PermaTrak's Concrete Boardwalk System.
However, if you are a boardwalk engineer (or awarding a design contract to a structural engineer) designing a timber or composite decking system for heavier loading requirements such as a H-5 or H-10 load, you will most likely be concerned with:
Verification of shear and bending capacity of decking planks, headers and stringers
Upsizing requirements for connection hardware
Avoiding the use of nails and requiring screws
Ensuring a professionally-engineered system signed and sealed by a P.E.
| | |
| --- | --- |
| | |
| Thick timber boardwalk planks at The Villages, FL | Vehicular timber bridge on Legacy Trail in Florida |
Concluding Thoughts
These design items are important to the successful construction of the boardwalk, but also to ensure the long-term safety of the structure for commercial pedestrian, cyclist, and vehicular use. If you have design questions about timber or concrete boardwalks, please don't hesitate to send me an email, or set up a free boardwalk engineering assessment so we can determine which material is best for your project.