While presenting the PermaTrak system to a new audience, we are often asked about the best practices used during the design process for pedestrian bridges.
Pedestrian bridges are typically built to allow people to cross a space, water, or a physical geographic feature. While designing a pedestrian bridge, there are seven simple considerations that will have a major impact on the long-term success of your project.
1. Determine Width
Establishing the planned width for the trail and pedestrian bridge is a basic starting point. Pedestrians and runners, walkers, bicyclists and others may use the pedestrian bridge. What size structure is required? A trail width may be as little as four to five feet; some reach out to 12 feet or more depending on the expected usage and location.
2. Site Conditions
Once the designer identifies the width, they must then decide the siting conditions the pedestrian bridge may encounter. Fairly flat terrain often does not call for anything more than following the site contours. Additional design considerations must be evaluated if the site includes water crossings, intersections, or steeper elevation changes.
3. Geotechnical Analysis
Acquiring a geotechnical analysis is a prudent choice for learning site details for any bridge structure. The analysis will help you determine if deep foundations are necessary. If you have an idea of the surrounding soil condition, you can use this information to your advantage in the footing design.
4. Abutment Plan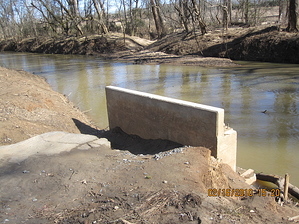 A clear span over a physical, geographic site feature can be as simple as developing an abutment plan for transitioning from the trail itself to a pedestrian bridge crossing. If soil conditions are favorable, a simple abutment plan will suffice.
If you are crossing water, more than an abutment must be considered for the design. Deeper foundations may be necessary to avoid the effects of scour at the site.
5. Permitting
Consider a longer span for water crossings, as it may help in the permitting process. The pedestrian bridge can be designed to span the waterway itself, the waterway banks or other environmental features at the site.
6. Safety
Any pedestrian bridge design must be well engineered to provide safe, long-term performance. Small bridges must provide a uniform deck surface, with elevation changes under ½'' from one tread to another. Cracked, split or splintered deck surfaces will not meet ADA safety guidelines. Certainly boards with protruding screws, nails or other fasteners would be considered a tripping hazard. The pedestrian bridge should have safety design features, including a textured deck surface that will stand up to bikes, rollerblades and heavy pedestrian foot traffic.
7. Durability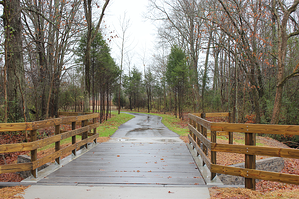 Many pedestrian bridges are located in the harsh environment found at outdoor recreation sites. Providing a durable, maintenance free pedestrian bridge can be a cost-effective solution to a difficult design challenge.
In summary, the pedestrian bridge design process includes seven important considerations: trail width, site conditions, geotechnical analysis, abutment plan, permitting, safety and durability. Each item marked off the design checklist is another step towards a long-term successful project.