Our engineering support (
in-house team of Professional Engineers, registered in 30+ states
) plays a major role in the design document and construction document stages, so we like to let people know how we operate in advance. When the design document stage begins, we consult with the designer on the applicable
design codes
and the live load requirements– this could be a 90 psf pedestrian loading, H5 truck (10,000 lb vehicle), H10 truck (20,000 lb. vehicle), or more. We prefer to partner with the specifying landscape architect or engineer, by offering:
Design and engineering support – for the boardwalk system itself, from conceptual layout drawings through signed and sealed construction drawings

Technical support during the bidding phase – prior to bid openings, we coordinate with the bidding contractors to review scope of material, installation recommendations, and delivery timelines

Technical field support during installation – a PermaTrak representative will be on site offering assistance. In other words, we don't simply deliver a truck full of boardwalk material and say, "Good luck!"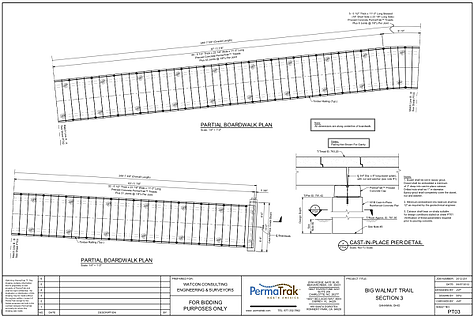 These three items are included in the supplied cost for our concrete boardwalk system. In addition, our engineering team will often detail the foundation system, basing the design on site-specific information. Local soils information and/or a geotechnical report drive this process. On 95% of projects where PermaTrak is specified as the base boardwalk option, we do not charge additional engineering fees for the foundation design. This is determined on a case-by-case basis. If you have a specific project in mind, please contact us and we'll discuss your options.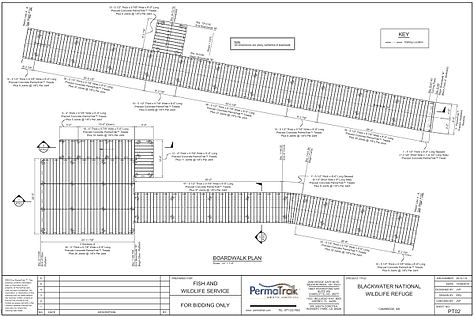 These detailed construction documents we offer are often directly plugged into the bid document set. Why do we not charge engineering fees for these drawings? Because with our engineering support, we can add value to a project design team that wants to specify a concrete boardwalk. This is a core tenet of our business model; we have found this methodology to be successful for us as a company.
Related Articles: