As a boardwalk designer, I've been lucky to team up with a number of outstanding landscape architects in designing some fine boardwalks. However, along the way I've made my fair share of mistakes and I wanted to pass these items along to you.
These tips can help boardwalk designers use their time more effectively, and save money for owners on final boardwalk construction costs.
1. AVOID VAGUE SPECIFICATIONS IN CONSTRUCTION DOCUMENTS
Generating a boardwalk detail that leaves important decisions to a bidding contractor will only escalate the bidders' quotes. If you aren't specific with your construction (bidding) documents, the contractor certainly won't stick his/her neck out prior to bid by making a decision. Most contractors will simply cover all possibilities by including a large contingency in their final bid number. This contingency is meant to cover themselves with enough in their bid to complete the project, resulting in more money from the owner.
Detailed specifications help keep a project on track with the original design intent for the boardwalk. Attention to specification detail and diligence when compiling construction process requirements will help owners avoid expensive change orders during the construction phase.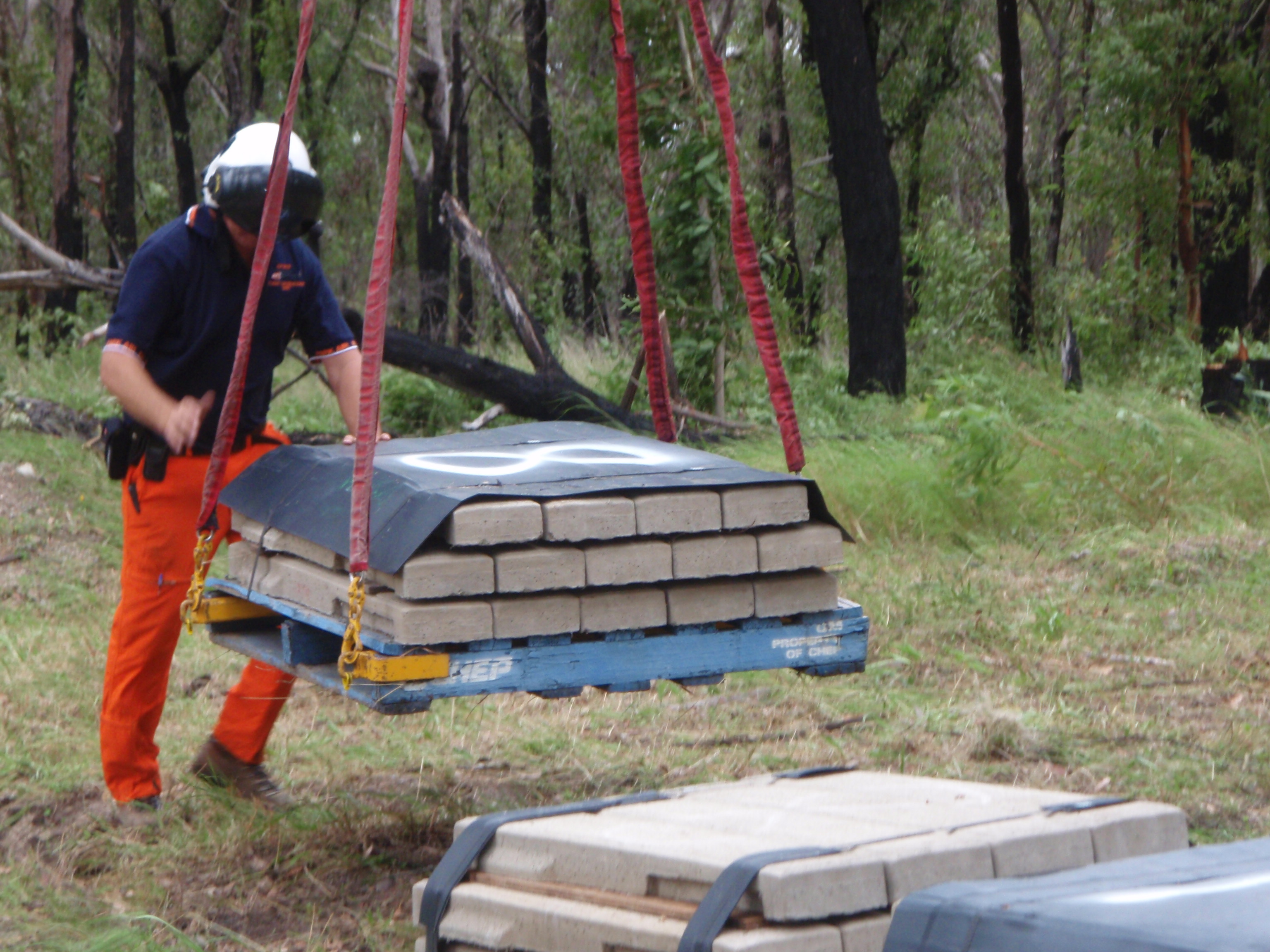 2. UNDERSTAND THE CONSTRUCTION PROCESS
Every boardwalk designer should be familiar with how the selected material will be delivered to the jobsite, handled, and assembled in the field. Selecting concrete as your boardwalk material for your Appalachian Mountain observation platform may seem like the best choice because of the wintery climates, but if the only way to get material there is by helicopter, you might reconsider.
I am frequently asked during early design discussions, "My boardwalk is in an environmentally sensitive area, we cannot disturb the natural environment. How will this boardwalk be constructed??" Top down construction refers to the construction process where a boardwalk is built from on top of the boardwalk. This method requires that the constructed boardwalk be capable of supporting the construction equipment. See more top down construction photos here.
There are many contractors familiar with this construction process, whether the material is concrete or timber. If top down construction is a requirement for your boardwalk, be sure to include the construction vehicles in the structural evaluation.
3. MAINTAIN REALISTIC MATERIAL LIMITATIONS
Just because it looks good, doesn't mean it is right for your situation. A shiny, polished, composite boardwalk material may look good on your back patio next to your grill and hot tub, but it probably doesn't make sense to specify it as the decking material for a 50 ft wide boardwalk at your favorite beach town.
Commercial boardwalks can be subjected to live loads as large as an emergency vehicle. If this is the case, boardwalk designers may want to require the design live load be an H-10 design truck, or even specify an ambulance loading (i.e. 15,000 lbs, axles spaced at 14 ft on center and 10,000 lbs front axle and 5,000 lbs rear axle).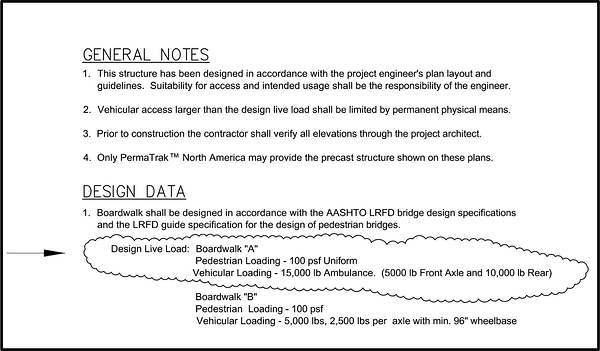 Certain boardwalk materials lend themselves to this type of live load requirement. Assuming an ambulance loading as described above, specifying boardwalk materials meant for non-commercial use or lighter loads can dramatically increase the boardwalk construction cost.
For example, you could design a timber boardwalk for H-10 loading using treated Southern Yellow Pine timber material. In doing so, however, the boardwalk will become twice as expensive with heavy-duty timber stringers spaced 2-3x tighter than normal.
4. ASK THE EXPERTS
If a runner needs a pair of properly-fitted running shoes, would they go to a department store to get fitted? Never! So, as you begin your boardwalk design, ask a boardwalk designer how it's done. Learn the steps involved.
For example, you don't have to reinvent the wheel with a hand railing for your boardwalks. Remember that railing systems can have a high impact on the total installed cost of the structure. Many styles exist that probably will suit your needs. Boardwalk systems can easily be found on the web and boardwalk companies generally are very willing to discuss and send (for free!) standard construction details.
If you survey our website, you'll find a lot of useful information about the variance in PermaTrak's cost per square foot (SF) and why oftentimes the lower cost per SF is on wider structures. We are happy to share this information because giving you a clear understanding of our concrete boardwalk system will help you make an informed decision about whether or PermaTrak is a good fit for your project.
5. LEVERAGE LOCAL KNOWLEDGE
You know the saying "When in Rome do as the Romans do." Local knowledge can save thousands of dollars on your project. After speaking with the locals about a recent Texas project, I learned that my boardwalk foundation was located in a geologic region consisting of expansive, highly plastic clays. Because of this, it was common to design foundations using concrete caissons socketed into rock. It was also common to use caisson sizes of 12-, 16-, 18-, 24-, and 30-inch diameters. Oftentimes overall boardwalk cost dependents heavily on foundation type, so it was important that I considered this recommendation.
I decided to take well-informed advice from the locals and go with common practice. Designing a driven pile for this project would have been much more expensive and time consuming.
These cost-saving design tips apply not just to boardwalks, but to a wide range of hardscape structures– elevated greenways, piers, trail crossings and pedestrian bridges. Hopefully these items will help with your next design project! As always, feel free to comment if you have any other tips for cost-effective boardwalk construction.