Are you running a cost estimate for a boardwalk or pedestrian bridge project?
If so, keep in mind that the final construction cost will be based on more than the decking material. To get a sense for the "all in" price of your structure, pay attention to the following variables: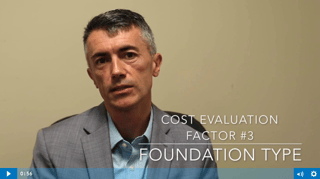 I wanted to share some insight into the process of running a cost evaluation for a PermaTrak boardwalk or pedestrian bridge. I'll describe how we approach a detailed boardwalk budget estimate, but you can apply this information to wood or composite decking boardwalk products as well.
Related Articles Note: Browse the following articles on commercial boardwalk cost information:
What does a concrete boardwalk budget estimate entail?
The per square foot (SF) cost estimate we deliver to a consulting landscape architect or engineer is a combination of:
foundations
boardwalk components (caps, beams and treads)

railing system

labor and equipment to install the structure

PermaTrak's President, Jason Philbin, P.E., discusses more in the video below-
I recently sent a detailed project cost estimate to a landscape architect working on a pedestrian bridge application. He was comparing available boardwalk materials and PermaTrak was one of the options. Here is my follow up email:
"...Like I mentioned on the phone, I'm estimating the total cost for your particular project to be in the $60-$70 per square foot range, so we are looking at $36,000-$42,000 for your 100 linear feet x 6' wide structure.

This would be an installed cost and includes materials, shipping and what we believe to be a good estimate for a contractor's installation costs based upon our historical data. This also includes a handrail allowance which could cover the costs for a basic timber handrail. Based upon the geotechnical report that you sent along, this is assuming pin piles for the foundation which would be required due to the weak soil layers."
You'll notice I included some preliminary information on the pedestrian bridge's foundation type.
How do you estimate boardwalk maintenance costs?
Most landscape architects and engineers will reference life cycle maintenance costs in their evaluation. Many times these boardwalk maintenance numbers are presented to an owner as they determine which boardwalk material is best suited for their project.
This could be as simple as forwarding a page of historical data dedicated to commercial boardwalk maintenance, like this: Commercial Boardwalk Maintenance Costs.
Balancing foundation costs with precast (concrete boardwalk system) cost
A thorough boardwalk budget estimate strikes a balance between foundations and precast components (PermaTrak material). Sometimes a lower PermaTrak material cost makes more sense for the overall project cost. We want the project to ultimately go to construction, so pricing transparency is crucial.

However, foundation costs can be higher than the boardwalk decking material itself. This is a common scenario, especially when the boardwalk becomes elevated (over 5 feet), or if piles need to be deeply embedded. Typically, steel piles are more costly than wood piles or many cast-in-place concrete foundation systems. So if the only foundation solution involves one of these scenarios, we ought to evaluate the total project cost for PermaTrak's different precast concrete beam spans.
This design flexibility is one of PermaTrak's biggest advantages. Many times, increasing the PermaTrak beam span and decreasing the overall number of piles (decreasing pile costs) is the most cost-effective solution. We do not stock any of the precast concrete boardwalk components, so each project's pricing is completely customized. An important factor to note is that a PermaTrak substructure is virtually the same no matter the width of the boardwalk - it includes two beams in the walking direction of the boardwalk as opposed to stringers used every 12-16" for a timber structure.
Running a detailed cost evaluation (example from a FL boardwalk project)
This is another example of a cost estimate I provided to a Florida engineer. He was evaluating material options for a large commercial boardwalk project.
Hi ______,

I evaluated the following 4 scenarios for your review. All cases used the PermaTrak boardwalk system and included an allowance for railing on both sides of the boardwalk. I considered a total boardwalk length of 1620 linear feet and a 10 ft. clearance between the railings. Our PermaTrak tread width of 11'-3" would allow for a 10 ft. clearance. At this size, you have the option of a 24" tread or a 36" tread for the same price. Since the boardwalk is located over salt water, I included corrosion protection over the reinforcing in the precast components. A design live load of H-5 truck is required by LRFD.

As we discussed, we can produce beams up to 20 ft. with conventional non-prestressed reinforcing. PermaTrak concrete beams larger in span up to 40 ft. are certainly possible but quickly jump in price due this being a specialty item.
Cost Estimate Summary
Here is a summary of the different scenarios:
Case 1: Timber Piles and 20 ft. PermaTrak Beams – installed cost = $71/sf
Case 2: Timber Piles and 10 ft. PermaTrak Beams – installed cost = $74/sf
Case 3: Concrete Piles and 20 ft. PermaTrak Beams – installed cost = $92/sf
Case 4: Concrete Piles and 10 ft. PermaTrak Beams – installed cost = $114/sf
So, the most economical option becomes Case 1. For the area of 18,225 sf (1620 LF x 11.25' width) a project cost of $1,293,975 is my estimate. I have made many assumptions; but taken recent bid data into account and feel like these are accurate bid numbers for your to run with at this point. Attached is a cross section of Case #1.My goal is to be as accurate as possible and not lead you down an unrealistic path. As a comparison, the PermaTrak boardwalk for Upper Tampa Bay Phase IV Trail extension was bid for less, at $62/SF. So I feel these are accurate numbers for your project at this time.

This project is a good example of foundation cost being a driver to the "all in" installed boardwalk cost. We've learned how important the balance is between selecting the right PermaTrak beam size and specified foundation system. If the foundations become expensive due to soil conditions, PermaTrak can supply larger beams. Larger beam spans = fewer piers and lower installed project cost overall. Once footing information is known, our engineering team at PermaTrak can help evaluate the most cost-effective solution.
Can you include an allowance for timber, composite, aluminum or steel railing system?
Absolutely. While PermaTrak does not supply the railing system, we have integrated all types of railing products with PermaTrak boardwalks. A low cost railing (aluminum picket for example) can keep your boardwalk cost manageable. Railings can range from a basic Southern Yellow Pine to aluminum to stainless steel cable strand. Boardwalk railing costs can range from $35-350/LF installed.
As the project designer, you can dictate which type of railing you'd like, or we can make recommendations based on the project budget. You can see more railings here.
Can you help with preliminary engineering or design support for my project?
Evaluating foundation types and their associated costs is an important step in pulling together a detailed boardwalk cost estimate. Our engineering team has a combined 30+ years experience in foundation design, with backgrounds in precast concrete bridges and foundation design contracting. With that industry knowledge, we can analyze foundation options and share real construction numbers to help you find the best foundation system for your project
.
What information does PermaTrak need from me?
If you'd like us to take a look at your specific boardwalk project, PermaTrak's design team can assemble CAD details that can be used for your project. Please forward a CAD or PDF document showing the geometrics of the boardwalk. We also need to know width, length and alignment of the boardwalk, trail, etc. If you have soils information that will help us budget foundation cost for you also. You can use the Contact page or submit your project information for PermaTrak engineering support here.
To Summarize: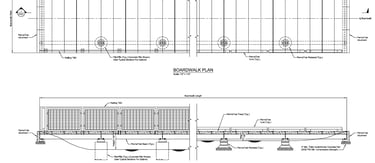 The big drivers to boardwalk costs are railing and foundation system. In the past, we've seen our boardwalk system (footings + PermaTrak + railing) be installed for under $70/SF. This represents an installed cost and keep in mind- no maintenance after this. Deep driven piles for foundations and customized railings can drive this cost upward. Recent bids have been coming in higher than historical averages due to current economic conditions. We recommend getting a project specific cost estimate whenever possible. Contact us today for a complimentary estimate.
There are some things we can do to help lower this cost while custom colors or textures could push it upward. However, this information should get you started and hopefully provides an order of magnitude for this type of boardwalk system.
Background photo: gruenewiese