DOT Approval with PermaTrak Concrete Boardwalk System
During conversations with designers working on trail projects, pedestrian bridges or commercial boardwalks, often the question comes up about whether PermaTrak can be approved for use by the state's Department of Transportation (DOT).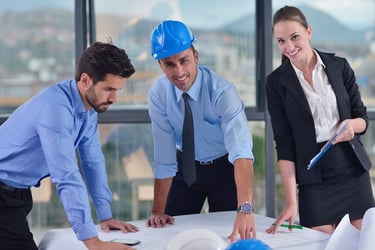 With a background in precast concrete bridges used for publicly funded projects, our PermaTrak team is familiar with the arrangements different states have related to approved product listings (APL) or similar.
There are a few important things to know about PermaTrak's concrete boardwalk system and individual state DOT product approvals. I'll do my best to explain these points below.

Specifying PermaTrak on DOT-funded projects or projects requiring DOT approval
If PermaTrak's concrete boardwalk system isn't registered on a state DOT's Approved Products List (APL) - is it possible for designers to specify PermaTrak? If so, how?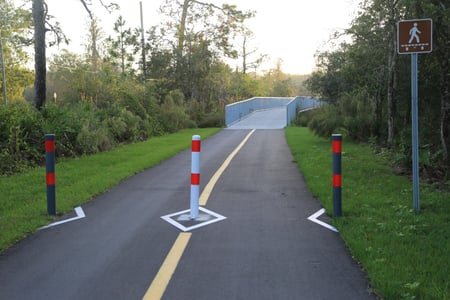 PermaTrak has been part of several projects that were funded by either state or federal funds. Following a standard review process, PermaTrak's boardwalk system has been approved by multiple state DOTs. This process is similar to how a precast concrete bridge would be reviewed by a state DOT.
Keep in mind PermaTrak is a boardwalk system made up of reinforced concrete components. As a material, reinforced concrete is not new - it has been around for centuries. DOT engineers are very comfortable with concrete design, so the review process should be fairly straightforward.
The following are examples of installed PermaTrak projects with DOT approval:
Our PermaTrak engineering team is also currently working with CTDOT on multiple projects where the design team is looking to specify PermaTrak directly, as a reinforced concrete boardwalk fits the needs and wants of the agency.
Lastly, I will add that PermaTrak is a unique product without many direct competitors, unlike timber companies or composite decking manufacturers. But that doesn't prevent designers and owners from specifying a PermaTrak system to be approved and procured by public agencies for publicly funded projects. In fact, 99% of installed PermaTrak projects have followed this public bid process.
DOT Approval Case Study: Upper Tampa Bay Trail Phase IV (FDOT)
State DOT requirements will vary, but below is one example in Hillsborough County, FL where the FDOT approved PermaTrak as a sole source product for use in a trail system.
Richard Sanders, Project Manager with Hillsborough County, submitted the following letter to FDOT District 7, requesting approval to sole source products for Hillsborough County
Local Agency Program (LAP)
projects. The letter includes several reasons for the request - ranging from durability and lack of required maintenance to PermaTrak's ease of installation in a wetlands area (see the red box below). The request was granted by FDOT District 7, which allowed Hillsborough County to purchase a boardwalk system that wouldn't require more maintenance money or a replacement after 5-7 years in the harsh Florida climate.
---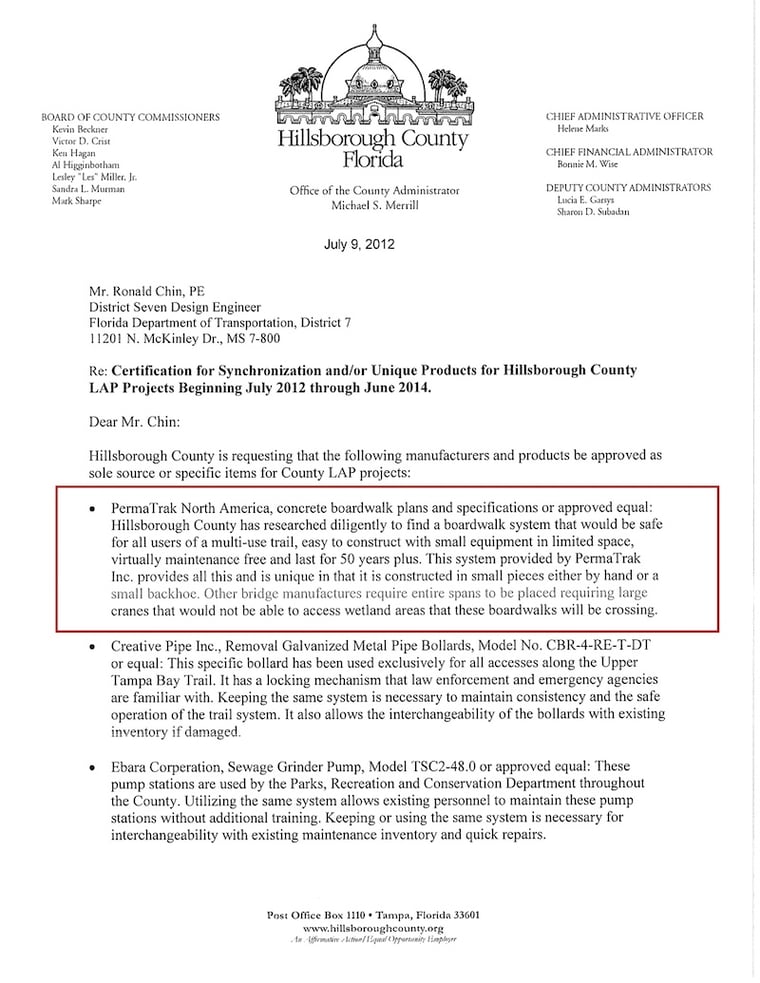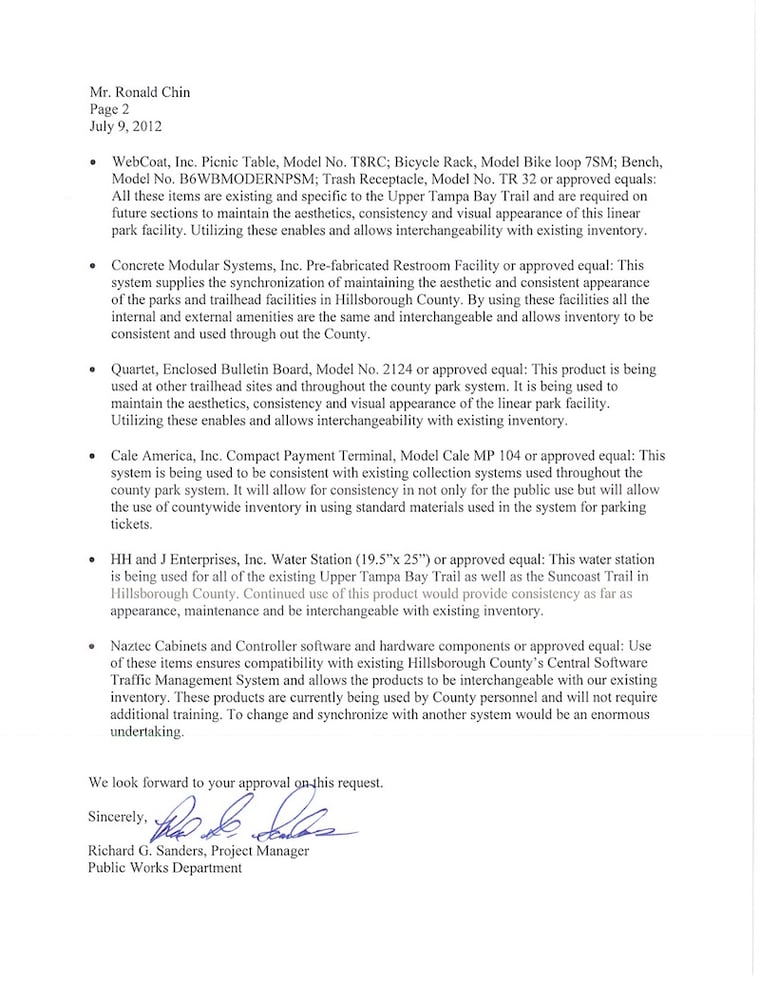 ---
Construction Drawing Samples
Below are a couple pages of construction drawing examples prepared by PermaTrak's engineering team for Cardno TBE as well as finished photos from the project.
Summary
Specifying PermaTrak for a DOT project or project requiring DOT approval is absolutely possible - it really comes down to determining what is desired (what the owner wants) and then designing the boardwalk system and technical specifications to meet that requirement.
Call me directly at (980) 229-3036 or send me a note if you have any related questions - I'm happy to help.