Erie Canal Towpath Pedestrian Bridge – Clifton Park, NY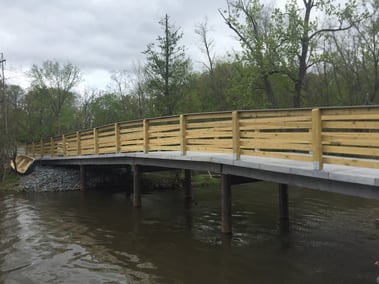 PermaTrak is excited to announce that a 13 ft.9 in. wide, 140 ft. long elevated PermaTrak pedestrian bridge sitting above the historic Erie Canal is complete.
Linking up with the original Erie Canal Towpath built in the 1820's, the PermaTrak pedestrian bridge spans a breach in the towpath. It lies just over Wagers Pond, which connect to the Mohawk River - the largest tributary to the Hudson River.
Trail enthusiasts can now enjoy the connection between two New York towns - eastern Clifton Park and western Halfmoon (about 20 minutes north of Albany).
Greenman-Pedersen, Inc. (GPI) served as the project's engineering firm, with Ed Snyder as the Project Manager and Frank Gates as the site's Field Engineer.
The Erie Canal Towpath Project was a joint venture between the Towns of Clifton Park and Halfmoon; a locally administered federal aid project comprised of roughly 80 percent federal funding and about 20 percent sponsor funding.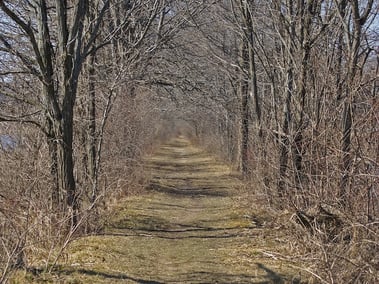 The abandoned towpath, originally used by mules to tow boats and barges up and down the canal, had become completely overgrown with trees and debris due to decades of not being utilized. "There was a lot of tree growth from years of the towpath not being used. The existing towpath was retired from operation around 1918. It hadn't seen any use since then," Gates explains.
Once the towpath bridge addition became a reality, GPI began clearing the towpath to give walkers, bikers and horses (yes, horses – read more below!) a restored navigable route.
A boardwalk construction solution for Erie Towpath's tight corridors
Clearing the narrow (10-12 ft. wide) towpath was one hurdle. The next question to consider – how can a boardwalk product be transported to a site with such constricted quarters?
Originally, the plan for boardwalk construction involved floating large segments of a completed pedestrian bridge structure down the Mowhawk River to the site. However, the river water depth was not sufficient enough to ensure the structure could traverse the waters to the pedestrian bridge site.
"The limited access was the biggest challenge. From the east end of the project it was a half mile path that was about 10-12 ft. wide, and on western side it was a mile of the same thing – so we had very limited access to get any type of bridge system in there," says Gates. Building a bridge with cast-in-place concrete would have been costly given the installation location. "PermaTrak saved time and was a solution for the difficult to access project area. This would have been a difficult place to try and get fresh concrete in there for a conventional bridge," Gates explained.
The design and installation teams also considered a pre-fabricated solution, such as an aluminum or steel truss pedestrian bridge. "We looked at doing a single span pre-fabricated bridge and we wouldn't have been able to navigate to get in there. So PermaTrak's multi-span solution worked well for this project," he added.
Snyder then discovered PermaTrak - a maintenance-free precast concrete solution that offered a more straightforward product delivery process. His team learned about PermaTrak and started to develop a plan to use the boardwalk system's individual components to negotiate the area's limited space.
"We held a brainstorming session to figure out how to find a bridge system that offered the paneled look in smaller components to get this into a tight corridor. When we discovered PermaTrak and conversed with the team, we found that the concrete treads could be loaded onto a flatbed truck, transported on the towpath and assembled at the location. We knew this was great solution for this tricky-to-navigate area," Snyder explains.
Ed Snyder of GPI also saw the value in PermaTrak for its 50 to 75-year design life and straightforward installation. "Without it [PermaTrak], it would be tough to obtain a different solution. We had thought about laying steel beams and building a wooden boardwalk to sit on top, but nothing would provide the same life cycle as PermaTrak," he says.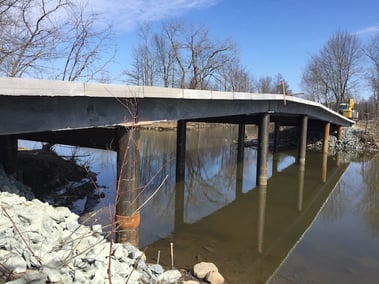 The PermaTrak concrete pedestrian bridge installation took about two weeks in total. "If this had been done with a different type of material, it could have taken longer. Because this was a precast solution, it's kind of like building a bridge out of Legos. You stack it together and you're done," Gates explains.
Equestrian Traffic on the Erie Canal Towpath
One exciting and nostalgic feature of the Erie Canal Towpath and new pedestrian bridge is that it's not only being heavily utilized by residents and visitors in the area, but also by horses! With a few local farms in the area, horses have been spotted walking from the gravel towpath, onto the new bridge, and back to the other end of the towpath right off the bridge.
"I went out to visit the finished area, and I saw someone walking their horse just about to approach the bridge. I was skeptical that the horse would actually step foot onto the bridge to cross the river, but it did so with very little reluctance," Snyder laughs. "We do quite a bit of trail work. Some trails are equestrian accommodating, like Erie Towpath's stone dust trails. They're are a lot better for the horses' hooves. I think this trail will see quite a bit of equestrian traffic."
History lesson: the Erie Canal: a waterway steeped in history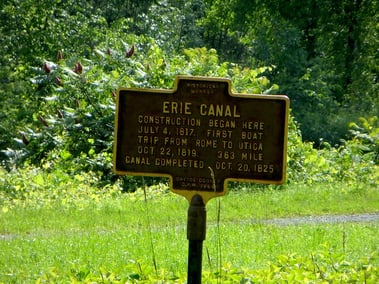 You may be able to hum a few bars of the song: "Erie Canal/Low Bridge – Everybody Down" (covered here by Bruce Springsteen), but a look at the song's lyrics offers a glimpse into the canal's historical significance. The song, written by Thomas A. Allen in 1905, tells the story about horses and mules pulling barges filled with lumber, goods and even people under the original bridge and through the canal, and up and down the canal's multiple lock systems. This was the primary mode of transportation during the time.
Erie Canal/Low Bridge - Everybody Down
"I've got a mule and her name is Sal
Fifteen miles on the Erie Canal
She's a good old worker and a good old pal
Fifteen miles on the Erie Canal
We haul'd some barges in our day
Filled with lumber, coal and hay
We know every inch of the way
From Albany to Buffalo
Low bridge, ev'rybody down
Low bridge, we're coming to a town
You'll always know your neighbour
And you'll always know your pal
If ya ever navigated on the Erie Canal"
Trail enthusiasts making the most out of the Erie Towpath
Snyder was happy to have observed tremendous usage of the towpath and the bridge connecting Halfmoon, NY to Clifton Park, NY. "We talked to folks using the trail. The overall sentiment was one of gratitude – people were truly happy that the existing gap had been bridged. This bridge and trail allows for additional trail expansion to continue in the future," he says.
*Photo credits
Header image: P.A. Fraterrigo
Towpath image: Roy Saplin
Erie Canal signage: Russ Nelson
Check out photos below of the construction process and the finished Erie Canal Towpath Pedestrian Bridge!