PermaTrak as a Pedestrian Bridge Solution
While most PermaTrak projects use the system for commercial boardwalks or multi use trail crossings, our engineering team can also provide you the support needed to create a pedestrian bridge solution for your project.
PermaTrak Pedestrian Bridge at MacDonald Woods Park in Cary, NC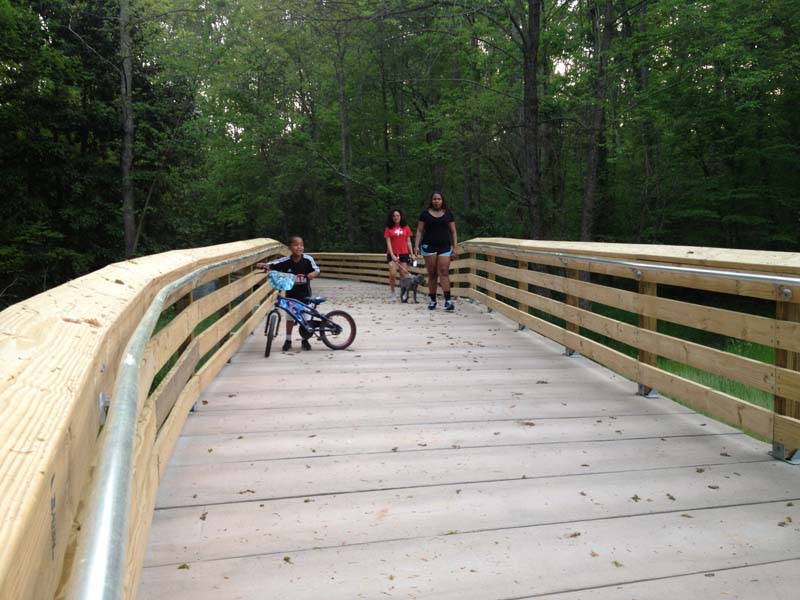 In Cary, N.C., MacDonald Woods Park needed to fix a failing culvert, connect two areas of land for cyclists and pedestrians, and combat floodwaters in its low-lying plain. Using PermaTrak as a pedestrian bridge, the Town of Cary was able to find a solution for these issues, resulting in a structure that doesn't require ongoing maintenance while adding to the aesthetics of the park.
There are several important factors to review before deciding to specify a PermaTrak pedestrian bridge- you can read a summary of them here. At the MacDonald Woods site, these items were assessed before the Ward Consulting Engineers design team decided to move forward with the precast concrete option over a wood structure. PermaTrak's engineers were able to offer technical design support to Ward Consulting for their hydraulic modeling. Here's a further look at the type of support our engineering team gives to each of our projects at no additional cost.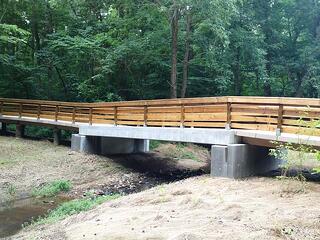 The PermaTrak system allowed Ward Consulting Engineers to design a bridge that used an extended beam length from PermaTrak's "large" beam series, eliminating the need for additional piers (which had caused debris buildup for the park's old bridge system). The result was a 26 ft. span pedestrian bridge linking two pieces of MacDonald Woods Park, featuring boardwalk ramps on either side. You can learn more about beam span lengths and spacing between piers by reviewing our Q&A here.
Additionally, the project included a shorter boardwalk (22 ft.) in a separate area of the park - unique because it needed to be strong enough to support an ambulance load. See another example of heavy duty equipment being safely used on a PermaTrak boardwalk here, where a top down construction technique was used to install the boardwalk in a wetland area.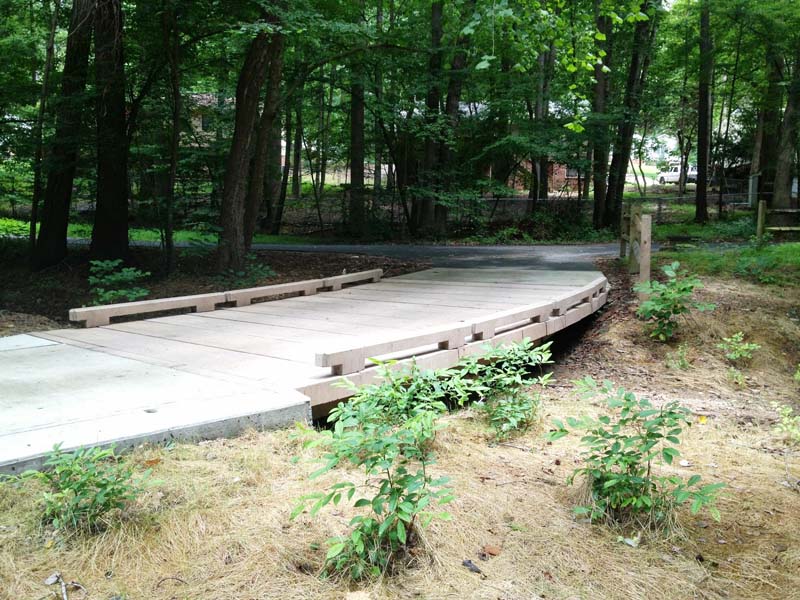 The MacDonald Woods site is just one example of the versatility of the PermaTrak system, as it is adaptable for a pedestrian bridge solution as well as a boardwalk with a significant live loading requirement.
PermaTrak Pedestrian Bridge for Stream Crossing at Burns & McDonnell World Headquarters
PermaTrak's engineering team, together with Burns & McDonnell landscape architect Brittney Swartz, created the construction documents for this pedestrian bridge project. Assistance was provided for foundation design, superstructure and railing details for the 40 ft. clear span pedestrian bridge on the Burns & McDonnell World HQ property in Kansas City, Missouri.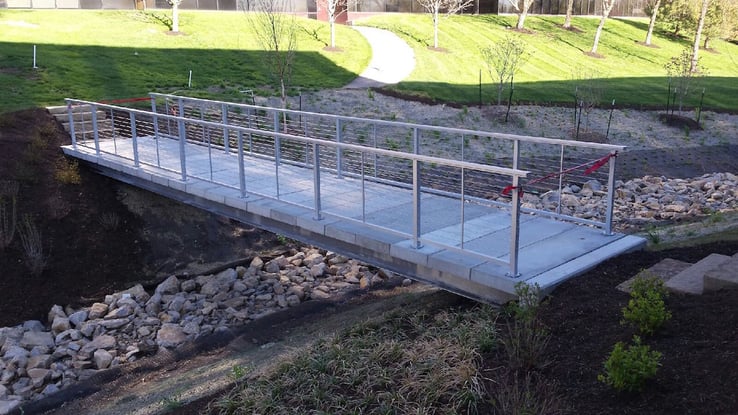 If you have questions about whether or not PermaTrak would be a good fit for your pedestrian bridge, trail, or boardwalk project, give us a call and we can discuss.