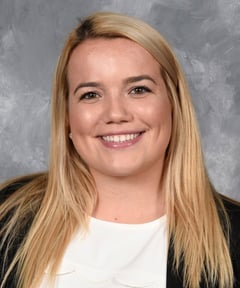 PermaTrak is off to a great first quarter of the year; we have added two new staff members to the team! First up is Kylie Halbert who is joining PermaTrak as a Project Consultant.
Kylie joins the PermaTrak team with a background in Engineering and Business Administration. Kylie holds a Bachelor's degree in Mechanical Engineering and a Master's of Business Administration from Florida State University. Prior to joining PermaTrak, Kylie worked as both an inside and outside Commercial Sales Engineer for Carrier Enterprise.
Kylie's educational and career background, along with her energetic and friendly personality, will be a great addition to our sales team. On joining the team, Kylie says, "Being a part of a healthy work environment and having a president that cares so much about each employee really stuck out to me and was a big reason why I wanted to join PermaTrak."
PermaTrak's President and CEO, Jason Philbin adds, "I am excited to have Kylie join our PermaTrak team. She will be a great addition to our team as she possesses the ideal team player qualities of humble, hungry and smart. Kylie has the skillset and mindset to succeed with helping us solve owner's challenges in the boardwalk and small bridge market space".
A competitive gymnast for 13 years, Kylie gave back to the gymnastics community by coaching kids as young as two all the way up to adults. Kylie stays true to her Florida roots by spending as much time as she can at the beach as well as hiking with her two dogs. When she is not soaking up the sun, Kylie can be seen by the ice cheering on the Charlotte Checkers during the hockey season.
Welcome to the team Kylie!