In honor of summer, we're taking a look at a few places that are hard not to love. They're packed with kiosks selling tasty confections, restaurants serving up seafood and French fries, roller coasters, carnival-style games and attractions and, really, just a whole lot of fun.
Beach boardwalks are likely the most renowned type of boardwalk - especially in recent years, these commercial structures have become an important part of our country's cultural tapestry. Beach boardwalks are functional- offering pedestrians, cyclists and skaters an ideal path to traverse beaches across the United States, but they also usually come with large attractions and activities that become summer destinations.
What makes beach boardwalks special? What we find most interesting is the mix of boardwalk design concepts as well as materials - ranging from wood decking, composites, precast concrete, pavers or brick.
There is much variety when it comes to boardwalk design and materials, from classic wood decking to more modern concrete - here are just a few of the most popular beach boardwalks in the United States.
Brooklyn, NY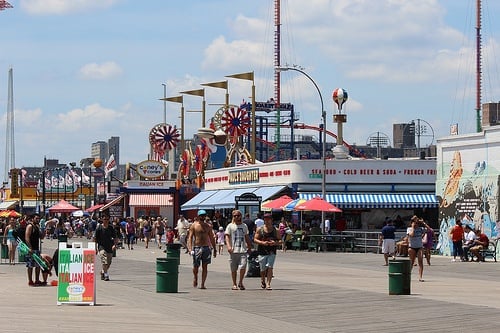 The Coney Island Boardwalk is likely the most well known commercial boardwalk in the U.S., and perhaps the world. Most people have at least heard of Coney Island Boardwalk and some would call it legendary. Built in 1923, Coney Island Boardwalk is still serving up Nathan's Famous hot dogs, and its Wonder Wheel keeps turning. For 60 years, the boardwalk saw a lull as Luna Park, its amusement park, was closed. It reopened in 2010, giving it a well-deserved revival. Some of the rides in Luna Park, The Cyclone roller coaster (1927) the Wonder Wheel (1918) and the closed Parachute Jump (1939) are all National Historic Landmarks.
In recent years, there has been a bit of controversy about replacing sections of the 2.7-mile, 92-year old boardwalk — five blocks — with composite decking materials and precast concrete slabs. Other wooden boardwalks on the East Coast (including Rockaways Beach) especially in the wake of Hurricane Sandy, are facing similar decisions about converting their boardwalks to more durable materials like hardwoods or concrete.
Santa Cruz, CA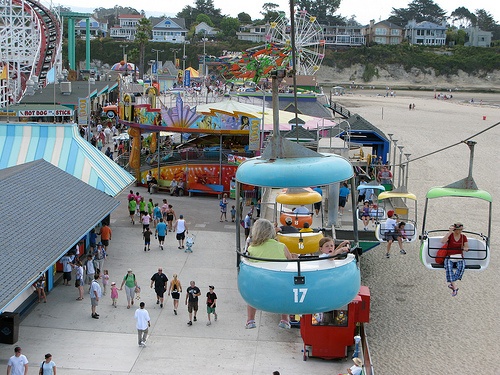 The Santa Cruz Boardwalk was designed to be the "Coney Island of the West." Does it succeed? We think so. This boardwalk on Santa Cruz's main beach is the last boardwalk of its kind on the West Coast — family-friendly and carnival-style. Similarly to Coney Island, it's home to a few National Historic Landmarks. Both its 1924 wooden Giant Dipper roller coaster and 1911 Looff Carousel hold that distinction.
Hollywood, Florida
Between Fort Lauderdale and Miami rests Hollywood, Florida. It has timeless Florida beach charm that's attracted visitors to its 2.5-mile brick-paved boardwalk that follows along the Atlantic Ocean. While you won't find carnivals and street shows in Hollywood, there are dozens of boutiques, restaurants and three oceanfront parks to keep visitors occupied when they've had their fill of surf and sand.
At the Hollywood Beach Theatre, free concerts are a common attraction, as is Josh's Organic Market that makes a home on the southern end of the boardwalk every weekend. Trolleys allow access to downtown, and the boardwalk itself is large enough to accommodate pedestrians, bikers, skaters and strollers.
Venice, CA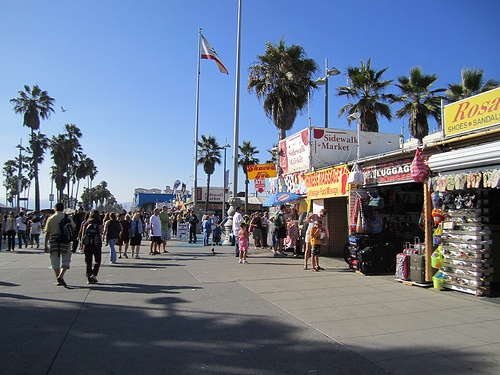 The 1.5 mile Venice Beach Boardwalk in Southern California has no shortage of sights. Though it has no rides or carnival games, street performers and vendors are abundant. Performers breakdance and walk across broken glass, mimes put on a show and musicians share their talent with the public.
Besides these spectacles, there are also artisans and craftsmen that sell their paintings, photography and wares, shops selling clothes and souvenirs and dining options ranging from full blown-restaurants and bars to unassuming kiosks.
Virginia Beach, VA
At 28 feet wide, Virginia Beach Boardwalk spans 3 miles and features a separate paved bike path. This boardwalk is all about the beach. Charming restaurants, shops and hotels line the beach, along with places to rent bicycles and surreys.
During summer months, live musical entertainment is a nightly happening on four separate oceanfront stages. Nautical sculptures have a home here; the most famous is King Neptune, a 24-foot-tall, 12-ton bronze sculpture and ideal photo opportunity.
Ocean City Boardwalk
Ocean City, NJ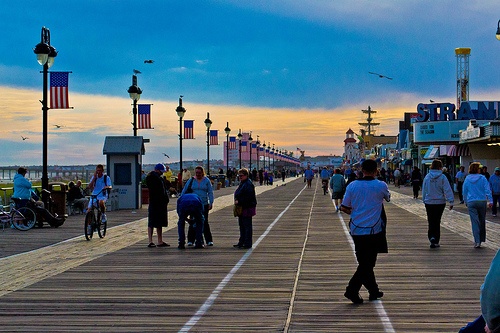 In the heat of summer, the island city of Ocean City, New Jersey, sees its modest population of just over 15,000 jump tenfold. This 2.5 mile wooden boardwalk is open to pedestrians, joggers and cyclists. Attractions, apart from the sand and the water, include two family-friendly amusement parks that sport two large Ferris Wheels. There are roller coasters, go-karts, bumper cars, a water park, a miniature golf course and two movie theatres.
In July and August, every Thursday night is "Family Night," where families can enjoy live entertainment, face painting, magicians and karaoke in addition to the rest of the boardwalk's attractions. Shopping includes everything from clothes and souvenirs to homemade taffy and fudge.
---
As with any boardwalk, location matters. Not only do all of these boardwalks offer easy pedestrian access and recreational opportunities along the beach, they also tend to have plenty of attractions nearby. Whether it's a family-friendly carnival atmosphere or a quirky landscape of artisans and street performers, it's what people can see and experience that keeps bringing them back.
Again, the common thread throughout all of these beach boardwalks is the opportunities they offer — whether it's the natural beauty of the ocean, amusement parks or special confections. Beach boardwalks have been a fixture in our culture since their beginnings — and that shows no sign of changing.
Happy summer!
---
Other Resources:
Photo credits:
1st photo: La Citta Vita
2nd photo: Bob
3rd photo: Kevin Jarrett
4th photo: Shinya Suzuki
5th photo: Aaron & Carol
6th photo: Epitomized