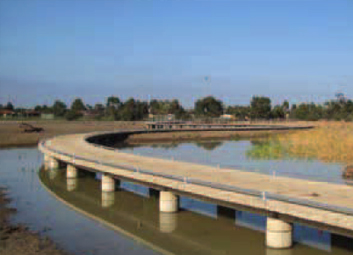 The Rocla PermaTrak concrete boardwalk system provided a cost-effective solution for Wyndham Council when it replaced a timber boardwalk at Heathdale Glen Orden Wetlands in Werribee, Victoria.
First priority for the council was a boardwalk that was highly resistant to vandalism. The two previous boardwalks in the wetlands were subject to extensive fire damage, as well as water damage, resulting in the removal of one of the boardwalks. Another problem was reactive clay soils that had pushed the timber footings out of the ground, making the existing boardwalk uneven and hazardous for users.
A third major criterion was aesthetic. The old timber boardwalk was made up of linear sections which zigzagged across the wetlands. The council wanted a gentle S-bend, which is easily achieved using tapered treads with the modular PermaTrak system. Contractor Max Bright & Sons installed the boardwalk to council's design, providing a high quality and accurate construction. The 2-metre wide boardwalk is 183 metres long and supported on precast stumps and risers, plus columns for elevated sections constructed from Rocla® steel-reinforced concrete pipes. Wyndhams Council is rehabilitating the wetlands as part of a major project to improve the amenities of Heathdale Glen Orden Reserve. The works include improving water flow through the wetlands, planting of indigenous trees, shrubs and aquatic plants, construction of playgrounds, a fitness circuit connecting to the boardwalk, and an observation shelter for viewing wildlife.
(Taken from Rocla – March 2009)