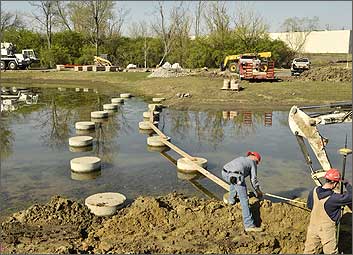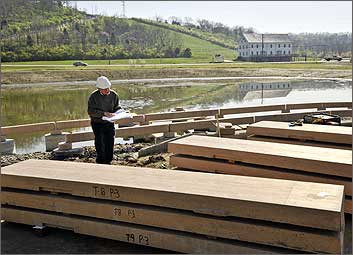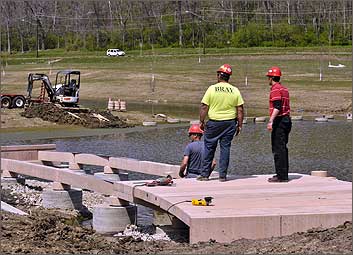 May, 2011. Picture taking your children to a neighborhood park with the whole package in tow: bikes, picnic lunches, possibly the family dog, and that nifty new camera that desperately needs to be broken in.
Here's a would-you-rather (one of our favorite ways to kick-start an article): would you rather walk around the edges of the ponds and wetland areas with a viewing platform to look over the water? Or would you like to be surrounded by water as you stroll over a boardwalk through wetlands? Woolpert Inc. and West Chester Township's recent decision to request an additional section of PermaTrak boardwalk would enable you to do both!
Their move will provide recreational visitors with a wide access path through a man-made wetland area designed to nurture wildlife and vegetation growth. Concrete piers with a connection to PermaTrak's precast concrete caps will serve as the substructure for this low-lying concrete boardwalk. The kids and dog (probably) won't realize it, but that's a foundation parents can feel reassured by.
With a slight curve and low profile nature, this second boardwalk application will accentuate the aesthetic appeal of the ponds, trees, and wild grasses at Beckett Park. Adding to the scope of Beckett Park's Phase III efforts not only provides more physical access to other areas of the park, but it also increases the connection one can feel to the nature around them. Who wouldn't be able to feel a connection to nature with water all around them? Not to mention the photo opportunities a boardwalk surrounded by ponds provides – commence spring family photo shoot number 1!
Bray Construction Services, Inc. has installed treads measuring 24'' wide, 5 1/2'' deep, and 11'3'' long. Each PermaTrak precast component is integrally colored as "Phoenix Tan," and the surface of the treads is finished with a "Timber" texture, for that natural wood look, minus the splinters. An aluminum railing connects to the concrete boardwalk cleanly with thru-bolts to a heavy steel plate underneath the treads, firmly securing the entire railing structure.
Without sealants, potentially hazardous epoxy mixes or chemical treatments, this concrete boardwalk also serves as an environmentally-friendly alternative to traditional boardwalk materials like timber or composite lumber. The wildlife and vegetation underneath and around the structure is sure to benefit…one day your kids will appreciate it too!
Contractor: Bray Construction Services
Consultant: Woolpert, Inc. http://www.woolpert.com/
Owner: West Chester Township http://www.westchesteroh.org/
If you're in the area and would like to see an application of PermaTrak's boardwalk over a wetland area, please use see directions here: Beckett Park Place Page.