The rehabilitation and extension of the Norwottuck Rail Trail, originally opened in 1992, will continue this fall before reopening in 2014. This reconstruction effort will include a widening of the trail, improved crossing signage, bridge redecking and a PermaTrak boardwalk providing 130 linear feet of connectivity over a wetland area. With over 12' of usable space, the boardwalk extends a bustling multi use path that originally stretched from Northampton to Amherst. Today the trail gives pedestrians and cyclists access to Belchertown in the east and Easthampton in the south.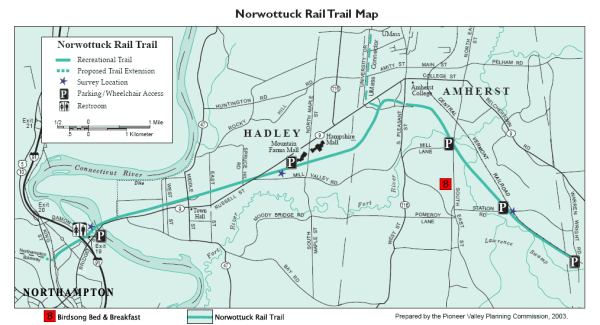 This boardwalk portion of MassDOT's project runs through Hadley, MA. Officially referred to as Northampton - Hadley - Amherst Norwottuck Rail Trail Rehabilitation project, it will be produced and installed over the next 2-3 months by C&A Construction Co., based in Ludlow, MA. The H-10 truck (20,000 lb. vehicle) design live load will allow rail trail staff to safely access other segments of the multi use path for greenway maintenance and emergencies.
Below is a portion of the installation drawings from MassDOT's first PermaTrak project.
Project Update:
The PermaTrak boardwalk at Norwottuck Rail Trail in Hadley, MA was installed in the summer of 2014. You can see installation and finished pictures of the concrete boardwalk below.
Related Article: