Landscape architects and engineers are faced with multiple options when it comes to selecting the best material for their design projects.
Today, we're going to take a look at TAMKO's line of composite decking, called Envision.
Generally speaking, homeowners and deck builders, as well as some landscape architects, are familiar with Evergrain decking. Evergrain decking is one of four products under the TAMKO Envision decking products line we'll discuss below.
Envision Composite Decking vs. PermaTrak Precast Concrete Boardwalk: Residential vs. Commercial
The most important consideration when considering a decking product such as Envision is: residential vs. commercial. What type of project is the product primarily designed and produced for?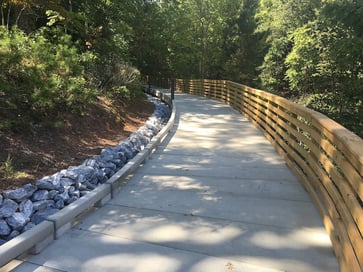 The biggest differentiator between these products is that PermaTrak is best suited for commercial projects, while Envision decking is better for residential applications.
With that in mind, we've put together a detailed comparison between the Envision line of composite decking from TAMKO and PermaTrak concrete boardwalk system. Let's go!
Envision Composite Decking
TAMKO has been a manufacturer of building products since 1944, starting with a roofing shingle product. Based in Joplin, MO, TAMKO launched the Envision line of composite decking in 1999. Envision decking uses compression molding to create a realistic wood grain surface and, like other brands, is made of recycled plastic.
TAMKO's Envision line features four products:
EverGrain Composite Lumber
Envision Expression
Envision Inspiration
Envision Distinction
Each product is compression molded; the deck boards are 1" thick by 6" lay length (direction of travel) and come in lengths of 12, 16, and 20 feet. The Envision website promotes their products as having "TRUE" beauty, which stands for:
True colors – Unique color variations give Envision decking a natural wood look.
Random grain patterns – Grain patterns do not repeat on any given board.
Unique grain beauty – Grain patterns on Envision decking are compressed into the board instead of being embossed on top.
Exclusive compression molding – Each piece is designed using very high pressure and heat to produce the composite decking.
Now, let's look at each product in more detail.
EverGrain Composite Lumber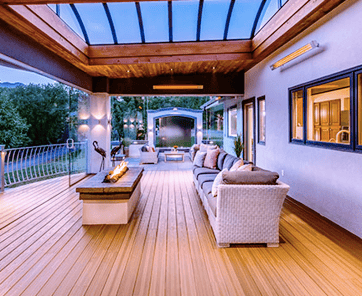 EverGrain Composite Lumber is TAMKO's most economical solution for composite decking. Currently, it is available in five colors (Cape Cod Grey, Cedar, Redwood, Weathered Wood, and Forest Green), is compression molded and features deep, realistic wood grain textures.
Envision Expression
Envision Expression is a mid-grade composite decking solution. It is currently available in four colors (Canyon Ridge, Caribou Brown, Harbor Grey, and Woodland Bark). Like EverGrain Composite Lumber, it is compression molded; however, this product has been taken a step further in that the outer layer and core board are bonded for more durability.
Envision Inspiration
Envision Inspiration is another mid-grade option. The biggest difference in this line is that it uses two colors of ink to create a more natural wood grain look. The decking is currently available in three colors (Barnwood Plank, Tangled Twine, and Weathered Wicker.
Envision Distinction
Envision Distinction is the luxury version of TAMKO's composite decking. Four different ink colors are used on the boards to create a look that is very similar to natural wood. Decking is currently available in four colors (Spiced Teak, Shaded Auburn, Rustic Walnut, and Greywood).
Warranty
All TAMKO composite decking comes with a 25-year limited warranty against things like "excessive degradation," splitting, splintering, checking, or termite damage. Within the first five years, TAMKO will replace decking at its full value; however, the replacement will be pro-rated during the last 20 years of the warranty period. The warranty also includes protection for stain resistance, but only if the stain is tended to in accordance with the warranty.
The warranty does not cover surface wear, scratches, "minor degradation," or color variation. Reviews say that the warranty claims can take months, if not years, to process.
PermaTrak Concrete Boardwalk System
PermaTrak is a reinforced, precast concrete boardwalk system. Invented in 1996, the system is designed for commercial applications, including boardwalks, pedestrian bridges, observation platforms, fishing piers, and elevated greenways.
Landscape architects and engineers who are looking for a maintenance-free product will find that PermaTrak offers a 50-75 year design life. With over 100 concrete boardwalk installationsin the US and Canada, PermaTrak is most often specified on publicly funded projects.
Common PermaTrak applications include heavily used trail systems, pedestrian bridges under 45' spans, boardwalks with heavier loading requirements (10,000 lb. vehicle, ambulance, maintenance truck, etc.), and walkways located in harsh environments (coastal, extreme heat/humidity, floodplains, etc.).
Envision Composite Decking vs. PermaTrak Concrete Boardwalk: Pros and Cons
PermaTrak Advantages (Pros)
PermaTrak Disadvantages (Cons)
Higher initial cost than most pressure-treated timber boardwalks

Note - occassionally lower installed cost than pressure-treated timber, depending on application

Cost-prohibitive in residential applications
Requires use of light lifting equipment such as a mini excavator, Bobcat, or skid steer - cannot be carried into project site by hand
Requires pre-determined trail, boardwalk or pier alignment - sawcutting in the field not recommended
Related Video: 3 Applications Where a Concrete Boardwalk Is Not a Good Fit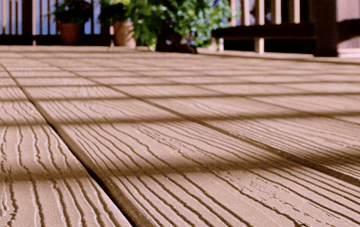 Envision Advantages (Pros)
More durable and less required maintenance than traditional wood decking
Warranty against common pressure treated wood decking defects like splintering or checking
Resistant against rotting, splintering, splitting and insect damage
Good for DIY-ers; no contractor needed
No heavy machinery required for installation
Can be cut on site to fit a project's needs
Natural wood-grain look in a variety of colors
Wide product selection for different budgets
Envision Disadvantages (Cons)
Cut ends are unprotected, leaving boards vulnerable to water absorption and damage over time
Warranty is limited with many caveats
Potential color fading issues
Can be slippery when wet
Not a structural material; can only be used for decking
Higher initial cost over wood decking
Spills must be cleaned immediately to avoid staining
Conclusion
Making the right choice between Envision composite decking and PermaTrak depends on the project type (residential or commercial), owner/client needs, budget, timeline, and many other factors.
We hope this comparison between Envision Composite Decking and PermaTrak has been helpful as you research your decking product options.
Let us know about your experience in the comments below!
*Photo credits:
2nd photo: (outdoor rediential decking) Envision website
4th photo: (up close Envision decking texture) Envision website