The PermaTrak featured designer article series showcases top performing landscape architects and engineers who discuss their design perspective, current projects, challenges, and accomplishments.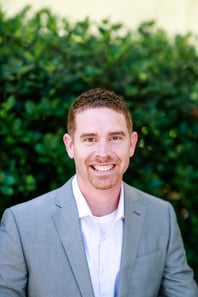 This month's featured designer is Jonathan Campbell from Kimley-Horn in their Frisco, TX office. Jonathan is a landscape architect who works on a full range of projects, from single-family to commercial.
We talked with Jonathan about how he approaches design, tips for being successful in the landscape architecture world, the Windsong Ranch project, and more.
Q: Tell us about your background and the type of work you do for Kimley-Horn.
Jonathan: I graduated from Oklahoma State in 2007 with my BLA in Landscape Architecture and moved to Florida, where I started working for a firm named Lucido & Associates. It was there that I started working on a project with Indian River State College and was first introduced to the PermaTrak product. While I was with Lucido & Associates we worked on a lot of single-family, and then when the recession hit, that really forayed into a lot more public work which is where PermaTrak came into play. The owner of the firm had some influential golf relationships and we did some golf course and resort design work all over the Bahamas, East Coast, and over into China.
I moved to Dallas in the beginning of 2013 to work for a firm called TBG Partners, where I reengaged with PermaTrak through Fritz Fromherz for a project I was working on up in Prosper called Windsong Ranch, for which we needed a boardwalk. This past January was my one year anniversary at Kimley-Horn, so I've been here for a year and four months. We have a number of projects on the books and we're already trying to find places to use more PermaTrak, since I've been really impressed with the product and the relationship.
Q: Can you tell us more about the purpose of the Windsong Ranch project? What was the space like, what did you do with it?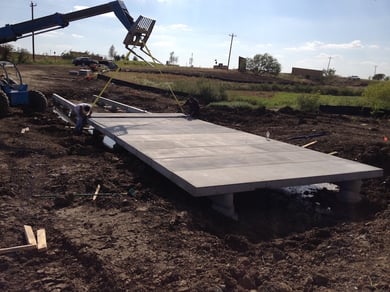 Jonathan: Windsong Ranch was a project I worked on while at TBG Partners. It's a 2,100 acre single-family development—multi-phase, multi-year—probably a 7-10 year full buildout. We were lucky enough that the client really sees the value of design and longevity of products that last over the course of time, instead of saying let's just get something in for now and we'll worry about fixing it later.
That project is also very blessed by having about 600 acres of open space. A lot of it is floodplain that was to include hike and bike trails. We had to analyze where best to cross, and which places to preserve by going around with the trails. The community will end up having over 50 miles of hiking and biking trails throughout the development at full buildout, so it was inevitable that we were going to cross some of those wetlands. The drainage way had the potential for flooding in large storm events, which we get in this area, so we were keeping that in mind when deciding where we wanted to build a boardwalk.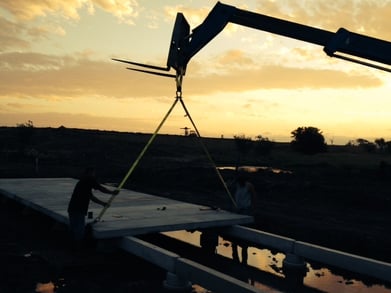 The boardwalk we were planning would be adjacent to a four-acre pond that was being reshaped and amenitized. What we didn't want is a bunch of railings that would impede people's views. There are a lot of young families in the community, so we were looking at it from a safety standpoint as well—we wanted to make sure we could keep the boardwalk close to the water, but by doing that it meant that it could be inundated from time to time. Low and behold, we got the boardwalk installed and within about a month, it was completely under water for about three weeks straight. It was interesting just by the timing of things, this was the wettest year on record. Over the course of the first year, the boardwalk was inundated three or four times.
It was funny, because the client was saying, "Well Jonathan, let's see if you really did sell us on the right thing here!". I don't even know if the epoxy on the bumpers were dry yet, but it performed just like we thought it would! The little bit of extra cost for the maintenance-free system ended up paying in dividends.
We knew of a couple of other wood boardwalks in the area that also had inundation and those had incurred some damage. Over the next year and a half, you could really see initial deterioration on the wooden boardwalks; however, the PermaTrak boardwalk looked immaculate. During that time, the only maintenance needed on the PermaTrak boardwalk was pressure washing. After the water dried, you couldn't tell that anything had ever happened.
The client was extremely happy with it, we were all extremely impressed by the initial installation. It looks great, it's pretty much indestructible, and we like that fact that if something did become damaged, you just replace that piece, it's not like the whole framing system, the deck boards, or railing that would need to be replaced on a typical wood boardwalk.

Q: For you as a landscape architect, tell us about your specialties? What sets you apart from other designers?
Jonathan: As far as my background, I've been lucky to work on many different genres within the landscape architecture realm including a lot of single-family, commercial, parks, trails, resorts, golf course communities, and more. I think that this has made me a much better designer, because I've been able to look at things from many different perspectives.
Instead of sitting in an office and drawing up the coolest, most expensive things in the world, which some people are incredible at, I've had a different experience with more everyday designs. By working on these different types of projects, and certainly because I went through the recession, I have gained a better understanding of how proformas work, the needs of a project, and what a project or client can afford. I feel like I've been successful because I've been able to look through all those different lenses in each project and in almost all cases, have been able to get to that final design or solution for the client that is creative from the design side, timely in construction, and reasonable in cost limitations as well.
I think that's served me and a lot of people I've worked with very well. Not just looking at something from one perspective, but looking at projects from as many perspectives as possible. Since I've joined Kimley-Horn, there hasn't been a landscape architect who has really had much of a single-family focus.
We've got a very strong single-family practice from the civil engineering / land development side here, so that's one of the things that drew me here and the work has since exploded. Kimley-Horn now has nine landscape architects in our Frisco office, and around 35 landscape architects in the metroplex. A few years ago, there were only 11 total in the Texas region. Bringing that mentality here and communicating those thought processes to our partners and staff has been very beneficial for our practice. Right now a lot of our focus is single-family, because in this market single-family is very hot, but that's not all that we're working on. We're also working on corporate campuses, commercial sites, parks and trails, multi-family, and many other projects.

Q: How would you describe your perspective on design? How do you approach your work?
Jonathan: A lot of my perspective comes from a pretty modest upbringing. I grew up out in the country on ten acres of land and my nearest neighbor was a quarter mile away, so I spent a lot of time outside just working on things with my hands and seeing how things are built. I think that's given me a good background and base to see things a little differently. It's helped me to be able to come up with a good design without a lot of heartache on either the contracting or client side throughout the project.
Regarding design philosophy, I want our group to create spaces that engage all types of people and provide opportunities for those people to have lasting memories while using those spaces. We have such a great opportunity to truly affect people's lives by the spaces that we design.
Memories are made in these spaces and those memories could be with large groups or in times of solitude and accompanied by feelings of joy, grieving, surprise, or curiosity depending on the setting. It is our duty to be mindful of those elements when in design.

Q: What would you say is your favorite part of your job? What do you enjoy most?
Jonathan: That's really tough. I think that landscape architecture is so cool because it's always changing and there are so many different aspects of it. But honestly, I think my favorite part of what I do is mentoring the younger staff.
I've always said, "There are two types of leaders—you can lead from your seat, or you can lead from your feet." I've always tried to adhere to the "lead from your feet" mentality, not saying, "go do this," but saying, "come do this with me."

I've really tried to bring that home with anybody that I'm working with. My goal with these young people is, I want them to take my job. If they can do my job better than I can, that means that I've done a good job teaching them.
So, as fun as the design is, and the marketing, business development, and client interaction, I probably get the most enjoyment out of seeing some of our young people growing, doing good design, building relationships with clients, and getting the experience in the field. That is by far my favorite part of the job.
Q: Any other tips for younger landscape architects just starting out in their careers?
Jonathan: Don't say no to anything. It kills me when I hear young people saying, "Oh I've done three of these multi-families, I'm ready to work on a different type of project." I'm still learning about this stuff and I've been doing it quite a while, so don't ever think that you've mastered anything. Be willing to work on everything.
Even if on the surface something doesn't seem like the coolest project, or we won't win an award for it- it's not always about that. You can get so much information from any type of project, because you're going to be handed so many situations. So, most definitely, never turn down an opportunity and go into things with an open mind, because there's always information you can glean from every instance.
Q: Throughout your career, what project did you work on that you are most proud of?
Jonathan: I've been fortunate enough to work on many projects that I've greatly enjoyed, but the one that sticks out the most to me is Windsong Ranch, and I attribute a lot of that to TBG. They worked on that project from a master plan perspective years before I came on board. Once I started at TBG and took that project over in phase one, I was able to take the groundwork that they laid, as far as the overall master plan, and bring it to fruition, while carrying that design sense all the way through construction.
Not only is Windsong Ranch a wonderful project, it was probably one of the best clients that I've ever worked for and maybe ever will work for. They see so much value in what we do as landscape architects. I always say that I honestly don't do this for accolades or awards, but when you get them it's always nice, and Windsong Ranch has won so many awards for their community. They were one of the first communities to win a National Association of Home Builders design award for Master Planned Community of the Year and they're the first to ever win in Texas. Normally the winners are in New York or on the West Coast, so to see Windsong break through into that realm and get seen on a high level across the country was really gratifying. They've been winning awards over the past couple of years by the armful, and you can see them in their main amenity center as a lot of them are up on display.
My wife and I still go out to Windsong for events through the HOA and I am able to see many of the residents and community members using some of the design components that our team came up with in the way, or even different ways, that we intended. Everyone seems to really love being part of that community. A good budget and a great client always helps, but this one by far is probably the most proud I've ever been of any project I've worked on.
Q: What's the biggest challenge that you've faced on your projects, or in your career in general?
Jonathan: I'd say the biggest challenge is budget. Timing and design are certainly always important, but to be creative with a limited budget, and even the biggest budget is always limited. I always want to make sure that the design really is good and meets the intent of the design team, but at the end of the day it's got to be built and the client has to be able to pay for it.
So, if I come in and design something that costs three times what the client is able to spend, the relationship won't be good and the project won't be good at the end of the day either. So, trying to stay within budget all along the way, and trying to keep a sense of reality is very important, but it's always a challenge. In this day and age, even with the amount of development that's going on, everybody is still very budget conscious.
Q: Any closing thoughts that you'd like to impart to others?
Jonathan: Flexibility is always key in my opinion, in being able to relate different types of design across different genres of projects. That's been one thing that's helped me a lot. That flexibility in being able to look at things from different lenses is the most important thing.